Dutch TV Host Alberto Stegeman Leads WSOPC Rotterdam High Roller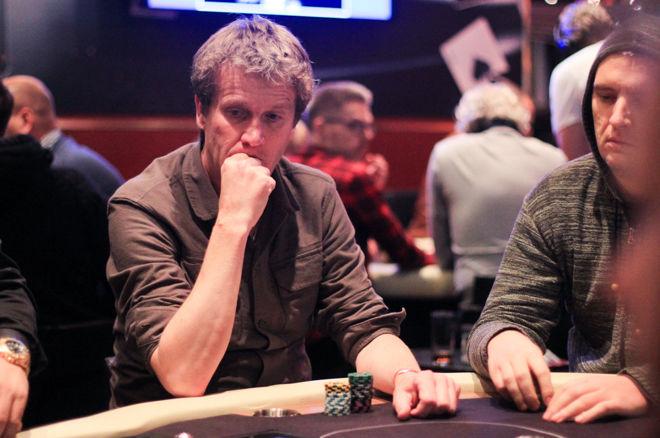 On Monday, August 28, the High Roller of the inaugural World Series of Poker International Circuit Rotterdam got underway.
It's the highest buy in of the week, and a respectable field of 38 players took their seat when the shuffle up and deal was announced. Throughout the day, the number of registrants grew to 59. With registration open till the start of Day 2, today at 4 pm local time, an even bigger field is expected in this €3,500 buy in event.
A lot of the players entering had spent last week in Barcelona. Still in the mood for playing poker, regulars like Jans Arends, Luuk Gieles, Jasper Meijer van Putten, and Mark Roovers entered.
Roovers was one of the satellite winners for this event, but he was forced to reenter early when his kings got cracked by Joris Ruys' flush draw. The 2 of them got it in on jack-six-three with two diamonds and a diamond on the turn resulted in Roover walking to the payout. Roovers cashed in the Barcelona Main Event last week for €11,420, apart of it he reinvested in this event. He didn't fare too well on his second bullet when he ran ace-king suited into aces and the poker player and poker commentator called it quits.
Bracelet winner and Dutch Poker Hall of Fame member Rob Hollink won the High Roller at the WPT Amsterdam back in May, and entered again to make it 'back-to-back'. While he still has a chance to reenter, he didn't do well enough on his first bullet. He busted towards the end of Day 1.
Alberto Stegeman, a popular Dutch tv host most well known for his program 'Undercover in Nederland' where he goes undercover to expose wrongs, has been playing more and more poker. He's a frequent WSOP player and a regular at the Dutch local poker series. He too busted his first bullet when he couldn't get away from tens to aces. He reentered and did much better on bullet number 2 as he ended the day with a massive 180,400, chip leader of the tournament.
When Day 2 gets underway at 4 pm local time, blinds will be 1,000/2,000 with a 300-ante. PokerNews will be on sight to cover the event so you don't have to miss a thing.
| Player | Chip Count |
| --- | --- |
| Alberto Stegeman | 180,400 |
| Govert Metaal | 141,900 |
| Firoz Mangroe | 133,800 |
| Tobias Peters | 126,200 |
| Farid Yachou | 125,800 |
| Raoul Refos | 92,700 |
| Freek Scholten | 82,000 |
| Marijn van Riffelen | 78,200 |
| Niko Mykleanen | 78,200 |
| Kees van Brugge | 67,900 |
| Z Chon | 63,900 |
| Jakub Wojtas | 56,200 |
| Joris Ruijs | 48,000 |
| Luuk Gieles | 47,000 |
| Hans Bosman | 45,900 |
| Niko Koop | 40,900 |
| M Kachraoi | 34,000 |
| Farid Chati | 30,100 |
| A Karkkainen | 21,600 |
| Abdelhakim Zoufri | 2,300 |
Chip counts and results courtesy of Pokercity.nl.