Hold'em with Holloway, Vol. 78: Wyoming Poker Action & Wild South Dakota Hand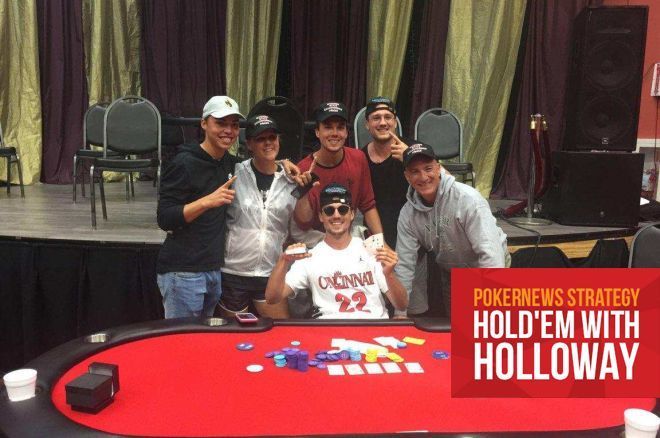 In this week's column, I want to talk about two tournaments you probably haven't heard anything about. These tournaments may not be as big nor as prestigious as bigger events such as take place on the European Poker Tour and World Poker Tour, but oftentimes they are life-changing for the players who win them.
Kobey Simpson Wins Wyoming State Poker Championship
One tournament that recently played out was the $400 buy-in 2018 Wyoming State Poker Championship at Wind River Casino. The casino is located on the same Indiana reservation featured in the Jeremy Renner flick Wind River. The tournament drew 220 entries (192 unique + 28 re-entries) representing 11 different states and offered up an $88,000 prize pool.
In the end, 21-year-old Kobey Simpson of Lander, Wyoming came out on top not only to win a $21,120 cash prize, but also a $10,000 seat into the 2019 World Series of Poker Main Event.
Simpson: "With the final three people the blinds were so heavy that if you put a three-bet down preflop people would drop."
"I started playing five years ago, it wasn't anything serious," Simpson said after the win. "In the last year-and-a-half, I started to get more involved with it. The biggest thing is I'm a competitive guy. It brings out a competitive aspect when you look at the other guy and get reads on him if you can tell he's weak or strong,"
Simpson began Day 2 of the tournament with just 15,000 chips, and with the blinds and antes so big, he knew he had to double up sooner than later.
"I had certain spots I had to take advantage of and soon I was at 75,000," he explained. "I had two bluffs that were huge momentum shifters. I shoved all in representing a flush and the other guy folded trip sixes. I had nothing. He didn't like it. It was a pretty big momentum booster."
He continued: "With the final three people the blinds were so heavy that if you put a three-bet down preflop people would drop. Picking my spots where I could isolate someone was the goal. In the final rounds the key isn't to win it all on one hand, but to eliminate the other players one by one until only one remains."
In the final hand of the tournament, the flop came down with two nines and a six. Simpson had
for an open-ended straight draw and got it in against a player who had pocket sevens. Simpson missed his straight but it didn't matter as he paired his eight to seal the deal.
I have a soft spot for tournaments in faraway places, which is why I wanted to give a little love to the 2018 Wyoming State Poker Championship.
Wild Hand in South Dakota
This past weekend, I was in Sioux Falls, South Dakota to live report the $1,100 MSPT Grand Falls Main Event, a tournament that drew 226 runners. On Day 2, just 15 players remained when an interesting hand went down in Level 19 (4,000/8,000/1,000).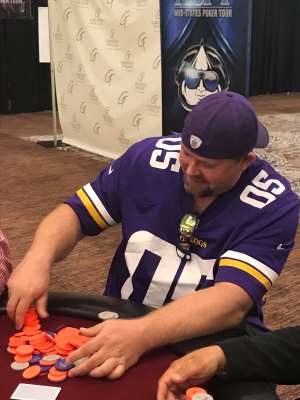 It began when Jon Midler moved all in for 97,500 from early position and Todd Helspar called off for 65,500 from the hijack. James Girouard then called out of the small blind to put both players at risk.
Midler:

Helspar:

Girouard:
"Five on the flop," Midler said. The dealer obliged and dealt
to give Midler his set.
"Ten on the turn," Girouard countered. He had it his way as the dealer burned and turned the
, giving him a better set.
"Five on the river," Midler tried again.
The dealer burned one last time and put out the
!
Helspar was eliminated on the hand in 15th place for $3,266, while Midler and Girouard went on to finish in 10th ($3,919) and third ($24,385) place respectively.
It was a fairly standard hand preflop given position and chip stacks. I suppose a case could be made for Girouard to fold the tens preflop, but I don't think you can really fault him for calling and putting two short stacks at risk.
Anyway, I thought this hand was worth sharing just for the wild way it unfolded. Not often you experience a street-by-street rollercoaster that ends in quads over a full house.