Hold'em with Holloway, Vol. 77: Joseph Cheong Gets Crazy with a Pair of Ladies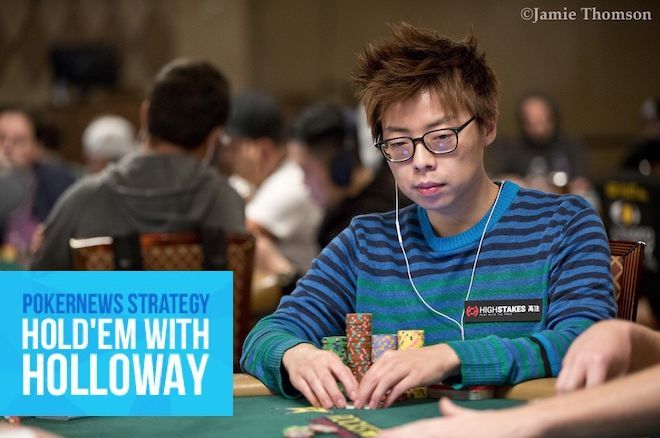 The 2018 Seminole Hard Rock Poker Open was an exciting affair. Highlights included Alex Foxen defending his title in the $2,650 NLH event, Jake Schindler taking down the High Roller, and Brandon Eisen defeating Jeremy Ausmus to win the SHRPO Championship for $771,444.
I had the privilege of attending the festival, and while there I witnessed some big hands I felt were worth talking about in this column. Last week, I highlighted Matt Bretzfield getting tricky with aces. This week I'm going to look a big multi-way hand that involved Joseph Cheong and two opponents.
Cheong: "It's really close, right on the cusp of calling or folding."
The hand took place with 108 of 914 players remaining. In Level 17 (4,000/8,000/8,000), Tanner Millen raised to 20,000 from the hijack and Cheong flatted the button. Hoan Nguyen then moved all in for 198,000 from the small blind and Millen called.
Cheong, who back in April made two World Series of Poker Circuit final tables in a single day, then sprung to life with a limp-jam for 770,000. Millen ended up calling Cheong's shove as well to create the largest pot of the tournament up to that point.
Cheong:

Millen:

Nguyen:
Cheong, who was fresh off a Venetian DeepStack Championship Poker Series win, was ahead, but the
flop hit Nguyen big time. Still, there was a large side pot at stake and Cheong remained the favorite for it.
Neither the
turn nor
river changed a thing, and Nguyen tripled to about 600,000 while Cheong claimed the side pot to chip up to 1.15 million. Meanwhile Millen was left with just 50,000 and busted a short time later.
"The two players in the blinds had like 25 BBs each, so it was a good chance they'd shove," Cheong told me later in the day. "If they did, [Millen would] have to reshove or call with small pairs, and I had the bigger pair. I was hoping he'd just shove after Nguyen moved in, but he just called. Luckily he still called when I moved all in."
There's a name for what Cheong was planning — a "back-shove." It's a term that originated on the East Coast and happens when a player either calls an open or limp and someone behind comes in with a raise. If the initial person in the pot either calls or folds and you shove, that's what is known as a back-shove.
It's a tricky play that's growing in popularity, so be wary of players like Cheong who limp in position. They might have a back-shove play up their sleeve.
As for what Cheong thought of the hand, specifically whether or not he felt Millen should have called him, he recognzied Millen faced a difficult decision.
"It's a really tough spot for him," said Cheong. "It's really close, right on the cusp of calling or folding. It's hard to say what he should have done. I won the side pot and still chipped up from 770K to 1.15 million, but I was pretty pissed off. Nguyen had been getting me all day."
Executive Editor US, PokerNews Podcast co-host & 2013 WSOP Bracelet Winner.