Hold'em with Holloway, Vol. 90: David Peters Makes Beastly Call Against Will Givens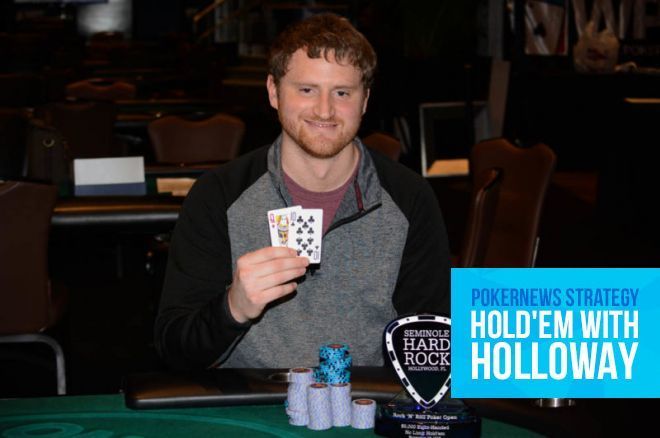 David Peters is one of the best poker players in the world. There's no way around that. With nearly $30 million in lifetime earnings and two dozen titles under his belt, Peters is arguably the best no-limit hold'em player in the world.
On Monday, Peters was down in Florida making a deep run in the Seminole Hard Rock Rock 'N' Roll Poker Open (RRPO) one-day Event #16: $5,000 NLH 8-Handed, which surpassed its $250,000 guarantee by drawing 95 runners and generating a $421,250 prize pool. Remarkably, it was the same event Peters won a year prior.
In Level 19 (5,000/10,000/10,000) of the tournament, eight players remained when Peters played a hand that showed just why he's one of the best. The hand began with Will Givens raising from under the gun and Peters defending his big blind holding
.
When the flop fell
, Peters check-called a bet of 30,000, then the dealer burned and turned the
. Peters checked again and called once more when Givens fired 50,000.
When the
completed the board on the river, Peters checked for the third time and Givens, who barely had Peters covered, moved all in. Peters had 228,000 behind and tanked for several minutes before calling off with second pair.
Peters: "I thought there were a lot of hands like he had that are trying to blow me off a nine."
A dejected Givens tabled
to show he had bluffed, and Peters turned over the winner to ship the double.
"I think you're the only player that makes that call," Givens said. "What a beastly call."
Peters didn't say a word — until later.
After Givens bowed out in eighth place for $15,794 and Peters went on to win the event for a second year in a row to claim a $143,159 first prize, the champ addressed the hand with RRPO reporters.
"I felt that there was a lot of small pairs, a lot of low suited connectors, queen-jack, jack-ten suited type hands that would keep barreling," Peters explained regarding his call on the turn.
"I was blocking the nut flush, and the ace, jack, and nine are all out there, so there aren't too many combos of flushes," Peters said of the river action. "I don't think he'd bet that sizing on the flop with top set. I block queen-ten suited. I don't think he'd immediately go all in with two pair or a set or hands like that."
"I thought there were a lot of hands like he had that are trying to blow me off a nine," Peters continued. "I have a lot of weakish ace-x type hands that are obligated to call the turn. So, I felt he was trying to blow me off a lot of those hands. So, I called. It worked out."
In a twist of fate, it ended up working out for Givens, too. That's because the following day he was one of 88 entries to fire Event #19: $1,100 NLH Turbo, which he ended up winning for $28,380.
"It's a big difference [from] the $143,000 [for first] yesterday," said Givens. "But still, I'm just happy that I learned my lesson."
Event #19 Final Table Results
| Position | Player | Prize |
| --- | --- | --- |
| 1 | Will Givens | $28,380 |
| 2 | Alexander Gofman | $17,160 |
| 3 | Patrick Quinn | $10,670 |
| 4 | Stephen Song | $7,216 |
| 5 | Anthony Utnage | $5,500 |
| 6 | Jake Embres | $4,400 |
| 7 | James Baune | $3,652 |
| 8 | Alberto Rodriguez | $3,080 |
| 9 | Darryll Fish | $2,838 |
Images courtesy of RRPO.