Hold'em with Holloway, Vol. 13: Knowing When to Call It Quits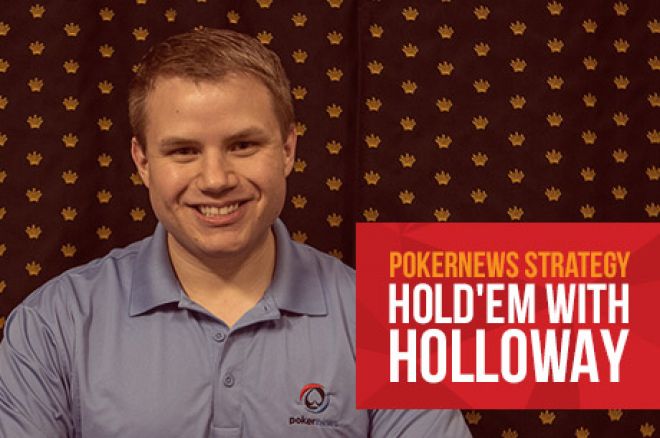 "I quit. I'm done playing poker."
I've told myself that several dozen times over the years, undoubtedly after I busted a big tournament or lost too much in a cash game. I may be heated with a boiling rage, but I always mean it when I say it. However, it's inevitable that, after a day or two, the itch will return. I'll vow to improve my game, motivate myself, and get back on the horse. It's a predictable cycle, and eventually I had to accept a hard truth — I'll never quit poker.
The fact of the matter is poker is too ingrained in my life. It's my job, my hobby, and despite how much I hate it at times, my passion. I'll never quit altogether, but that doesn't mean I shouldn't quit certain things. For instance, I need to quit a game when I'm not playing my best, to quit making bad decisions, and to quit being my own worst enemy. For far too long I've ignored that voice deep down inside that says such things as "walk away" and "don't do this."
I think the main reason I've failed to heed that voice is because I often fail to look at poker in the long term. Instead, whenever I play I'm focused on that game, that single moment in time, with no thought of the future. Thinking that way serves me well on occasion, but oftentimes it leads me down the road of bad decisions (e.g., playing badly, digging myself a hole, throwing bankroll management out the window). I just don't want to quit. I have the insatiable need to be in action.
For instance, this past weekend I traveled to the Twin Cities for the Season 5 finale of the Mid-States Poker Tour (MSPT) at Canterbury Park, the first cardroom I ever visited. I hadn't played tournament poker for months, and I was very much looking forward to getting back in the swing of things. I sold some action and went into the tournament prepared to fire two bullets into the $1,100 buy-in Main Event, which ultimately attracted 432 entries and was won by Peixin Liu for $106,483.
The plan was to play Day 1a on Friday, and ideally advance so that I'd save a bullet and have Saturday off. If I failed, then I planned to fire my second bullet on Day 1b. Unfortunately things didn't go down that way. I lost about 15% of my starting stack on the second hand of the day, and over the next six levels I slowly bled out. I was card dead and my stack dwindled as the blinds increased. It was both frustrating and unsatisfying.
Eventually I busted when I shoved with
only to run into
. No ace appeared and I went out with a whimper. Now the smart thing would have been to call it a night and return the following day to try again, just like I'd planned. Instead, I once again ignored that voice of reason. I still wanted to play, and I figured my bad cards couldn't possibly last. Late registration was still open, so I decided to fire my second bullet on Day 1a.
In Level 9 (400/800/100), Mark Sandness, who won the opening event of the MSPT Season 5, opened with a raise to 1,700 from middle position and Aaron Johnson called. I came along from the hijack with
, Bill Criego called from the button, and the big blind put in 900 more to make it five-way action to the
flop.
Two checks saw Johnson bet 3,700, and I moved all in for 14,000 total with my top pair and flush draw. I loved the spot, but I didn't like it so much when Criego moved all in over the top. Everyone else folded and Criego tabled
for two pair.
I was behind, but according to the PokerNews Odds Calculator I had a 45.76% chance of either hitting my flush or a bigger two pair. The
turn didn't hit me directly, but it did give me an added straight draw and counterfeit options. I still had a 38.64% chance of winning the large pot, but alas it did not come to pass as the
blanked on the river.
I was pissed. Not necessarily because I lost — I don't see me playing that hand any differently (at least after the flop) — but rather because I once again served as my own worst enemy by tossing my well-laid plan out the window. I made a mistake by slashing my own tire, and now I had the urge to slash the rest. The poker player in me — and part of that is to say my ego — wanted to come back the next day and fire a third bullet, which was technically an option as I had the money in my pocket.
The urge was strong, but that voice in my head said there were too many reasons against trying again. First, I went in budgeted to fire two bullets, so going over that would be bad bankroll management. Just because I slashed one tire is no excuse to slash the rest. It just doesn't make sense. Second, I know me, and I was 100% positive that if I returned on Day 1b and failed on what would be my third bullet, I would be so angry I would think, "Well, I'm in this far," and then proceed to fire a fourth bullet, which is something I definitely did not want to do. As I'm sure you can tell, sometimes I struggle with self-control.
Finally, I had to consider those who were kind enough to buy a piece of my action. They had invested in two bullets — for which I was incredibly grateful — so how would it look if I fired a third on my own dime and then shipped the thing for over $100K? That'd have been great for my bank account, but in my opinion a bad thing for my reputation, which in the poker world is everything. Sure, I probably could have sold more action, but that didn't seem reasonable after losing two bullets in quick succession.
I didn't want to quit. In fact every part of me wanted to try again and battle for poker glory. But I knew that if I was going to improve in the long run, then I needed to start listening to that voice of reason. I packed my things, said goodbye to my friends, and decided to make the four-hour drive back home, which to me was the only definitive way to remove temptation.
As I sweated the PokerNews live updates from the event, I couldn't help but wonder what could have been. It was torturous not being there, but I knew calling it quits for that particular tournament was the right thing to do. Poker is a marathon, but I'm a sprinter. If I ever hope to succeed, then I need to know when to run.
Get all the latest PokerNews updates on your social media outlets. Follow us on Twitter and find us on both Facebook and Google+!