Hold'em with Holloway, Vol. 95: The Equity of Leveraging Time Extensions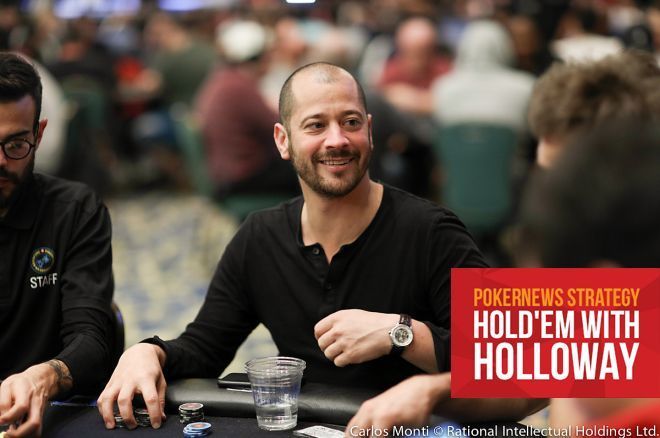 One of the biggest hands from the $25,000 PokerStars NL Hold'em Players Championship was when Thi Xoa Nguyen laid down queens full of aces against Athanasios Polychronopoulos. That hand has been covered in depth across the poker world — including right here on PokerNews — so I really don't have much to add.
That said, I did witness another hand involving Polychronopoulos, the player whom we in the poker community affectionately call "Control V" after the keyboard shortcut for pasting a copied name. (You try remembering how to spell Athanasios Polychronopoulos!)
The hand, which was actually Polychronopoulos' bustout, took place during Level 22 (10,000/25,000/25,000) after the tournament had reached the money. It was curious to me for the shot clock strategy involved.
"It's really not that interesting of a hand, but it could be," Polychronopoulos explained. "In my bustout hand, I looked at the tournament board and noticed there were 72 players left. At 71 there was a pay jump — $45,700 for 72nd, $56,800 for 71st. Buy-in wise it wasn't a huge pay jump, but money-wise it was."
"I forgot to leave myself with a single chip so I could get another 30 seconds to make a decision if it got back to me."
"So, I was paying attention to that," Polychronopoulos continued. "An aggressive player, Finnish pro Jussi Nevanlinna, opend and another aggressive player flatted. They were both in early position but I think their ranges were wide enough for my ace-queen suited to beat. I decided to use all my time banks, one at a time, hoping someone would bust because I wanted to make the pay jump."
Indeed, Polychronopoulos burned through all of his remaining time extensions before moving all in for 290,000 with
.
"I forgot to leave myself with a single chip so I could get another 30 seconds to make a decision if it got back to me," he said with a smile. "I got called by the initial raiser. He had tens and we lost the simple flip. Leading up to my bustout, I had a lot of chips. I think it was just poor distribution. There were some good boards for my range that I wanted to bet, and I ended up turning a lot of equity, [and then] bet again and [was] running into the top of their ranges. General poor distribution, but there were no big hands towards the end that really hurt or helped me."
Polychronopoulos failed to get the pay jump, but it wasn't for lack of trying. In fact, many pros have taken similar lines to try and maximize their EV. Case in point was "Mad" Marvin Rettenmaier in the World Poker Tour Gardens Poker Championship, which is now on a final table hiatus.
In his final hand before busting in 11th place, Rettenmaier raised to 110,000 on the button and left himself 10,000 behind. Jonathan Abdellatif then moved all in from the blinds and Rettenmaier, who was clearly going to call off, used a time chip apparently in the hope someone would bust at the other table.
Eventually, Rettenmaier called off with
and was up against Abdellatif's
. The board ran out
and Rettenmaier earned $43,220 for his 11th-place finish, one spot shy of the 10th-place pay jump to $53,385.
These two hands are indicative of the small things you might want to consider when playing a shot clock tournament. Even if you know you're going to get it in, you may want to consider taking your extra 30 or 60 seconds, especially if it might result in an extra $10,000 as it would have for Polychronopoulos and Rettenmaier.