Hold'em with Holloway, Vol. 88: John Beauprez on Why He Folded a Set of Jacks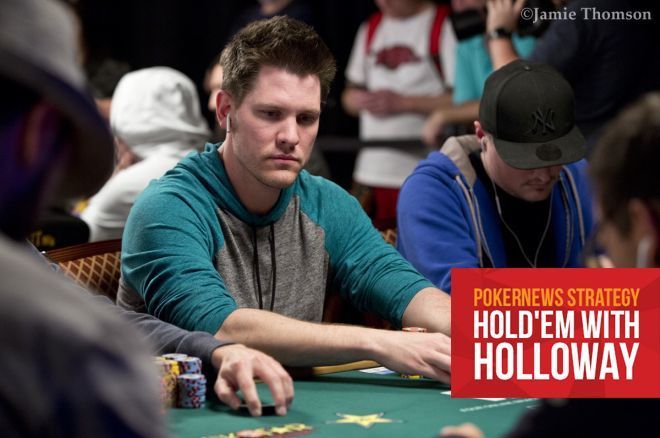 Last weekend, I was in Black Hawk, Colorado for the 2018 MSPT Denver Poker Open, a $1,100 buy-in Main Event that attracted 383 entries, one of whom was poker veteran John Beauprez.
Known as KasinoKrime online, Beauprez was the founder and lead instructor of PLO QuickPro. More recently, he helped start Chip Leader Coaching alongside Chance Kornuth.
The Colorado native is a World Series of Poker bracelet winner as well, having won a $1,500 no-limit hold'em six-handed event in 2013 for $324,764.
In Black Hawk, Beauprez was playing his first tournament since last summer's WSOP, and I asked him to keep an eye out for any interesting hands worth discussing here in "Hold'em with Holloway." He delivered.
The hand took place in Level 9 (400/800/100) when Beauprez opened from UTG+1 for 2,000 holding
. The player in the cutoff called and Tye Rogers, who would go on to finish the night with the Day 1b chip lead, also called out of the big blind.
On a
rainbow flop, Rogers checked, Beauprez continued for 3,800, and the cutoff folded. Rogers made the call.
"Everything preflop is standard," Beauprez explained. "On the flop you can essentially narrow [Rogers's] range down to an open-ended straight draw and one-pair hands (excluding bottom pair). Given his timing pre and also the size of my postflop bet, you can just completely remove his bottom pair hands.
Given that I have jacks he also doesn't have very many jack combos," Beauprez continued. "So, given that he calls fairly quickly preflop, I think his range will be a bit stronger. It wasn't like he made a marginal call pre with a one- or two-gapper like
or
."
Beauprez: "When he check-raised I felt pretty bad about the hand."
"Rogers then checked the
turn and Beauprez bet 5,200. Rogers responded by check-raising to 15,200.
"On the turn I think my value bet is good even though the turn connects well with his range," said Beauprez. "When he check-raised I felt pretty bad about the hand. It's not a spot where people bluff in these sorts of tournaments. Sometimes in a cash game you might see a player YOLO repping the straight, but particularly when deep-stacked in an MTT like this, people are extremely nutted to check-raise the turn."
That said, Beauprez wasn't necessarily ready to let go of his set of jacks just yet.
"But given my implied odds and also given that if he did somehow value/raise a turned
or
type of hand, I believe he's always going to check the river and allow me to either value bet or check back depending on what the river is. He will only bet straights," Beauprez explained.
Beauprez called the check-raise, then a
fell on the river to make the completed board
. Rogers didn't check — he moved all in for 39,000. Amazingly, Beauprez folded his set.
"I think he messed up by jamming all in," judged Beauprez. "It's a polarized spot, and given my read that he'd never bluff and never value bet thinner than a straight, it seems like a fairly trivial fold even though my hand is very strong."
For those wondering, it proved to be the right laydown for Beauprez.
"When we bagged he revealed to me that he did in fact have
," said Beauprez.
For more from Beauprez, be sure to follow him on Twitter @JBeauprez.