Hold'em with Holloway, Vol. 87: Matt Alexander Caught in Between w/ Two Red Aces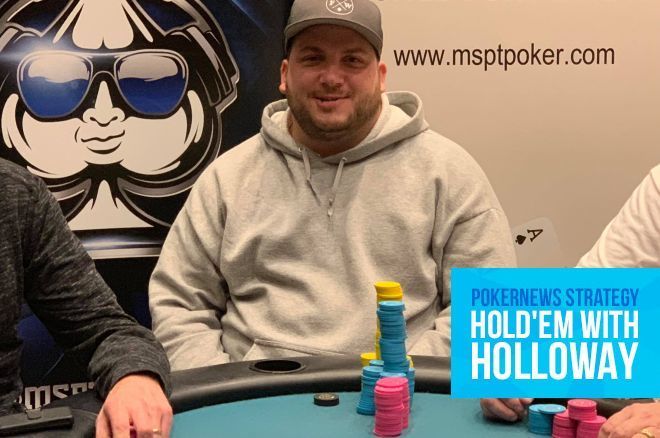 This past weekend, I was in Tama, Iowa for the Mid-State Poker Tour's latest $1,100 Main Event at the Meskwaki Casino. The tournament attracted 423 runners, one of whom was Minnesota's Matt Alexander. If you're not familiar with Alexander, he's a former Heartland Poker Tour (HPT) champ and well known throughout the Midwest region.
On Day 1b of the tournament, I witnessed a curious hand play out involving Alexander. It took place in Level 6 (200/400/50) and began with Alexander opening for 1,000 from early position with what I'd later learn was
. The player in the hijack made it 1,600 to go by mistake after not seeing the raise in front of him. Umut Ozturk then called from the big blind before Matt four-bet to 6,000.
"I wanted to raise almost a pot-sized bet because I know the raiser had only been opening premium hands and I know Umut has been flatting with shitty hands, so I don't know where he's at," Alexander told me on a break. "I had to make it big enough that he'd fold. I figured the other guy is either going to reshove or call at a bare minimum."
Indeed, the hijack did call, Ozturk folded, and it was heads-up action to the
flop, which both players checked.
"The flop texture was bad, so at that point I want to get to the river," Alexander explained. "I basically want to get to the showdown."
After the dealer burned and turned the
, Alexander bet 5,000 and his opponent called.
"I can check to the river I guess, but I want to get some value off the hand."
"When he checked behind on the flop, I have to lead the turn because I'm fairly certain I'm winning unless he's slow playing jacks or tens," said Alexander. "I'm going to find out by betting. I need some more information and can't really get it by checking. I can check to the river I guess, but I want to get some value off the hand."
When the
completed the board on the river, Alexander bet again for 8,000, which sent his opponent in the tank for several minutes. I couldn't help but wonder why Alexander went from trying to get to the showdown cheaply to betting a scary river card which not only paired the board but also completed a flush draw.
"I decided to bet the river because there's three hearts on the board and I have the
," he told me. "I'm fairly certain he's not calling me down with king-queen the way he snap-called pre. I'm putting him on queens at that point, and was going to find out real fast if he has a full house. He took five minutes [to decide what to do], so at that point I'm probably going to call if he shoves."
"I never call the clock," Alexander continued. "I know he doesn't have anything. I have the ace of hearts in my hand, he never has two kings or he would've called. There was no need for him to take that long. I thought he might be folding queens, but in this tournament most players aren't folding queens."
Matt's opponent eventually did fold what he would claim was just ace-king, meaning he was thinking of calling with just ace-high.
The hand wasn't huge, but it was interesting. I was impressed by Matt's thought process and ability to see an opening to bet on a river many players would check. Matt chipped up to 50,000 (125 big blinds) after the hand, and went on to end the Day 1b flight with a big stack. He made a deep run on Day 2, ultimately finishing in 13th place for $5,315.
For more on Matt Alexander, follow him on Twitter at @Mattwhoibe.
Image courtesy of MSPT.
Executive Editor US, PokerNews Podcast co-host & 2013 WSOP Bracelet Winner.