Hold'em with Holloway, Vol. 68: Why Do I Even Bother Drinking at the Poker Table?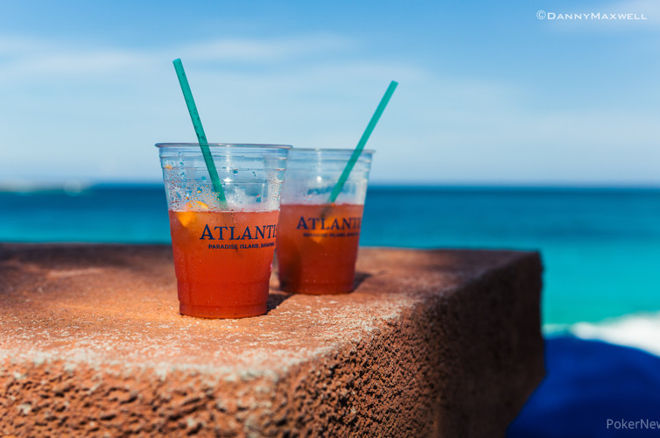 My last day with PokerNews (at least as a full-time employee) was Friday, February 12. I was home in Las Vegas, finished my last article around noon, and decided to head down to the Strip to jump into a $400 buy-in poker tournament. I was excited to play some poker, but more than that I needed something to do to keep my mind busy. After all, ending a six-year stint with one company and starting a new gig with another is a big life change.
My start to the tournament was disastrous. I lost 75% of my stack within two hours, and I really wasn't having fun. I decided to turn that around — heck, it was the start of the weekend and I had to celebrate my career change — by ordering a drink, a rum and diet to be exact.
Drinking while playing poker is a tricky thing. The late Bill Smith, who won the 1985 World Series of Poker Main Event, was known to drink while he played, something that Sean Chaffin recently wrote about in the PokerNews feature Turning Point Showdown: Bill Smith and the 1985 WSOP Main Event.
"I never saw him playing without his beer — Budweiser," World Poker Tour commentator Mike Sexton said of Smith. "And when he had a few beers, he was as tough as anyone! When sober or when he had too many beers, he was considered a bit of a live one. He was very good — a bit more aggressive than most in those days. The guy wasn't afraid to make a big bluff. He had a lot of heart."
I, like Smith, tend to play better when I have a drink or two. It relaxes me, gives me more patience, and in some cases fills me with enough "liquid courage" to run a big bluff. The problem is finding a healthy balance. Drink too much and things can go south real quick, something I soon found out in my tournament.
With drink in hand I quickly worked my 6,000 stack up to 60,000 within an hour. I kept winning, so I kept ordering drinks. It worked wonders all afternoon and evening as I built up one of the bigger stacks in the room. Unfortunately, with two levels to go in the night, the blinds and drinks both caught up and I decided to flip for stacks with a player who had me covered. I did not win, and in hindsight realized I never would have gambled in that spot had it not been for the alcohol.
I had fun, due in no small part to the drinks, but I didn't slow down when I needed to. I crashed and burned, which is what inevitably happens if you drink too much at the table.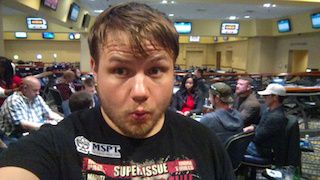 Fast-forward to this past weekend when I again experienced what alcohol can do to a poker player. Actually, in this case it was four players, and believe it or not I was not one of them. While at bestbet Jacksonville for the Mid-States Poker Tour (MSPT), I decided to sit down in a $5/$5 pot-limit Omaha game.
I was feeling a bit under the weather, so I wasn't in the mood to drink. The same can't be said to four of the nine players at the table. I swear within 90 minutes I watched the four of them down nine shots each of Fireball Whisky, which they chased with their respective drinks. These guys were hitting it hard, and I knew it was only a matter of time before it was reflected in the game.
Sure enough, a couple hours later two of the players were hammered and playing huge pots. In one hand, a
flop saw action explode between two players, who got in their stacks to create a $14,000 pot! One held
for a set and open-ender, while the other had a wrap with
. A
on the turn completed the wrap and the latter player won a massive pot after the river blanked.
While both players held quality hands, I don't things would've gotten quite so big had it not been for the booze. The game continued to get wild with one player being loud, disruptive, and constantly raising to $100+ preflop. It was a juicy game, but at that point I decided to pick up and leave. I was up $2,500 and recognized the game was getting a bit too big for me.
What started off a friendly game played for modest stakes turned into a shove fest, and it was all thanks to the booze loosening up the table. For some, it's a dream scenario, while others would surely prefer to avoid such a game.
The point is when it comes to drinking booze at the table, whether it's you or other players — and I'm talking about multiple drinks, round after round — things are bound to get wild. If you're the one doing the drinking, do your best to monitor it and slow down when appropriate (sometimes much easier said than done). If it's the other players, be prepared to either take advantage or get out of the way.
Cheers!
Want to stay atop all the latest in the poker world? If so, make sure to get PokerNews updates on your social media outlets. Follow us on Twitter and find us on both Facebook and Google+!