Hold'em with Holloway, Vol. 25: Heinz' Ace-High Call Shows Why He's a World Champ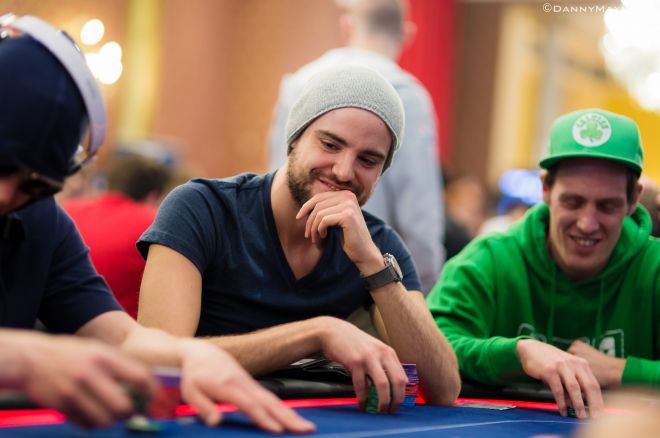 Next week the final stop of Season 11 of the European Poker Tour begins in Monaco, with the Main Event kicking off Saturday, May 2. Right around this time last year the tour was also headed toward the the Casino de Monte-Carlo for the conclusion of last season, with everyone at the time still talking about the victory of Vicky Coren Mitchell at EPT Sanremo who made poker history by becoming the first player to ever win two EPT Main Event titles. (Her first win had come at the London stop way back in Season 3.)
As impressive as Coren's run in Sanremo was — including her going from the short stack at the start of the final table to the last player standing — I recall a hand on Day 2 of the tournament that I'll likely remember forever. That's because it involved a former world champion, 2011 World Series of Poker Main Event winner Pius Heinz, and showed me what it is that sets the world-class players apart from the rest of us. I also had a chance to talk with Heinz about the hand afterwards, and he shed light on his thought process when making what was a very impressive play.
The hand happened in Level 9 (400/800/100). Both Heinz and his opponent in the hand, Sergey Rybachenko, had started Day 2 with healthy stacks. They could have tightened up and grinded away the day, but instead the two decided to mix it up.
It began when Heinz raised 2.5x to 2,000 from the hijack with
, then Rybachenko three-bet to 5,600 from the button. The blinds both folded, and Heinz opted just to call.
"It was pretty standard — a standard open and a standard call," Heinz explained of the preflop play. "I don't think four-betting makes too much sense that deep, and I'm not folding obviously so my only real option is to call."
"The flop comes
, and I have the
," he continued. "I decide to check-raise just because I can't fold my hand, and if I just call I'm going to get blown off on too many turns. That's why I decided to check-raise."
Indeed, Heinz did check and Rybachenko took the opportunity to bet 4,500. Heinz then made it 11,000.
"If he three-bets the flop I can fold, but he calls," Heinz said. "I know him from online a little bit and I played with him live like two years ago at the WSOP, so I know that he likes to blast off. He's extremely aggressive. He just puts it out there."
After Rybachenko's flop call, the dealer burned and turned the
, pairing the board while also putting a third club among the community cards. Heinz checked, Rybachenko fired out 12,500, and this time the German decided to call.
"The turn was really interesting, I think," said Heinz. "I check basically as a range play. I think I'm supposed to check that card, even though with the hand that I had I probably would have preferred a bet. Anyway, I check and he bets small. Now I have the nut-flush draw, a gutshot, my ace might be good, and he might be like totally bluffing — so I call."
When the
completed the board on the river, Heinz checked and Rybachenko stacked his last 30,000 or so before sliding it into the pot. Heinz had him covered, albeit not by much. A call would essentially be for his tournament life.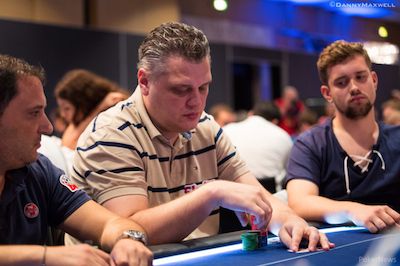 "The river is a blank. I check, and he looked really not excited," said Heinz. "He stacks his chips, thinks a little bit, and then pushes them out. Just from the way he did that, he didn't seem particularly strong to me."
"Just thinking what his range might be, he wouldn't play a king like that. I don't think he has many boats. He doesn't have trips because I think he'd usually check the ten back on the flop, so I can kind of take that out. I was really only worried about small flushes and stuff, which he can definitely have, but I just didn't think he'd have it often enough. I think I got like 3-to-1 or 3.5-to-1 or something, so I don't have to call and be right all that often."
Heinz thought for about 90 seconds before making the call, and then he heard two of the sweetest words you can hear in such a spot.
"Nice call," Rybachenko admitted and showed he had been bluffing with
.
"It just came down to a little bit of feel, and I called," Heinz said. "He had a total air ball, no equity at all. That was pretty nice."
As Rybachenko exited the tournament floor, Heinz allowed a big smile to cross his face. He had been willing to put it all on the line with just ace-high, and he was right to do so.
"That's why he's a world champ," said Mickey Petersen of PokerStars' Team Online from the other end of the table. I couldn't have said it any better myself.
Want to stay atop all the latest in the poker world? If so, make sure to get PokerNews updates on your social media outlets. Follow us on Twitter and find us on both Facebook and Google+!