Hold'em with Holloway, Vol. 33: Using Poker Skills in Reality TV Competitions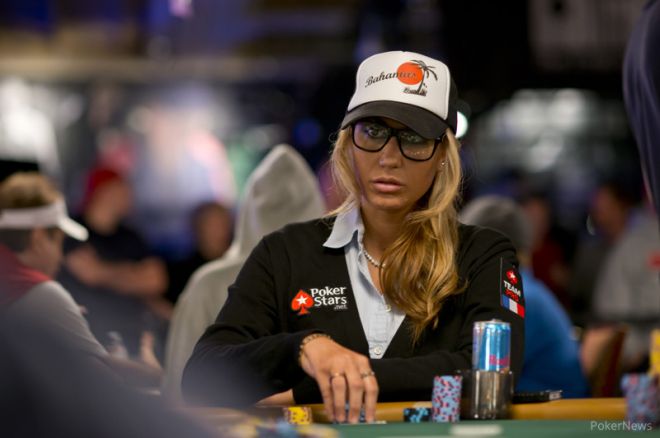 I'm going to be honest with you, despite the name of my column, this week's edition isn't going to talk about hold'em strategy. Instead, I want to talk about a different game, one where poker skills could very well win you $500,000. The game is Big Brother.
I'll admit, reality TV is a guilty pleasure of mine, and every year as the World Series of Poker winds down I look forward to the start of the hit CBS show, which is entering its 17th season. Yesterday, the new Big Brother cast was announced, and much to my surprise a familiar face was among the 14 houseguests — poker pro Vanessa Rousso.
Rousso is by far the most successful poker player to venture into the reality TV realm. According to HendonMob, she has $3,530,832 in live tournament winnings, which puts her fifth on the Women's All-Time Money List. Her biggest score came back in 2009 when she took down the European Poker Tour Grand Final €25,000 High Roller for $700,160.
Clearly she's got some game, but how will that game stack up in Big Brother, which pits houseguests against one another for a $500K prize while being cutoff from the outside world? Hidden cameras capture all the drama from the human experiment, which will see a houseguest get evicted every week until just two players remain, at which point a jury comprised of evicted houseguests vote for a winner.
Much like poker, the game takes a mix of patience, aggression, and well-timed moves. It also requires savvy players capable of reading their opponents, at least if they want to win.
Being familiar with both poker and Big Brother, I believe Rousso has a legitimate shot at the top prize, and think her experience in the game will serve her well. Pay close attention and you just might see how some poker skills can benefit you in other games.
Assessing Risk and Developing a Strategy
Rousso's poker success could prove detrimental. There's a good chance if her fellow housemates find out she's won millions, they'll be deterred from awarding her $500,000. After all, she's got enough money, right? Rousso is no doubt aware of this possibility, and there are really only two ways she can handle it — bluff or play it straightforwardly.
Most celebrities who've played reality TV games opt for the former, and sometimes they get away with it. However, in those instances when their opponents somehow find out their backgrounds, it tends to blow up their game. You lie about who you are and people tend to hate you.
On the flip side, she could come out and own her poker successes. There's a big risk that some of the players will want her out, but others might be willing to work with her under the assumption that if she does make it to the end, she won't stand a chance. That's a fallacy.
As in a poker tournament, it's all about survival and getting to the final two. An experienced poker player knows that anything can happen when it's down to heads-up. I'd like to see Rousso go this route, a strategy Daniel Negreanu previously said he'd employ if were ever cast on Survivor (which he really wants to do).
Of course this is assuming there is a chance someone will recognize Rousso as a top poker pro. Looking at the others cast for the upcoming season, one of Rousso's opponents appears a possible candidate for doing just that.
Know Your Opponents and Analyze Their Capabilities
Producers have coyly cast a possible antagonist for Rousso. Joining her on the show is 27-year-old Da'Vonne Rogers, whose occupation is listed as "poker dealer." You can't tell me this is coincidence. No, this is in fact reality TV 101 — foster conditions that'll create drama!
There's a huge chance Rousso will be recognized by someone from the industry, like a dealer, so obviously they should cast someone from the other side of the table if they hope to spark some fireworks. Chances are Rogers, if she's familiar with Rousso, will view her as the big stack at the table and want her gone (who wants to contend with a big stack? Wouldn't you rather see them cutdown to size?).
I imagine the two will become enemies (that's what the producers will push for), but I hope they're both smarter than that. Like two big stacks at the same table, there's no need to go after one another, not until the ante is upped.
If Rogers and Rousso are somehow able to work together they could become a formidable force. I don't know about you, but I'd love to watch that heads-up match.
Go Big or Go Home
That seems to be the mentality contestants have when entering the house, but like a multi-day tournament in poker, you can't win the game on the first day. In fact, you can't win Big Brother in the first week, nor the second, third, fourth, and so on. It's a long three-month affair, so patience is key.
Rousso needs to view the game as if she's playing the WSOP Main Event. Start slow, don't get in big confrontations (in other words don't make enemies), and focus on survival. All the while keep an eye out for lucrative spots and then, when the timing is right, shift gears accordingly.
The average person rarely plays a game where there's six figures on the line and there will only be one winner. Rousso's been there and done that many times at the poker table. Now, she just needs to take the skills she's learned and adapt them to the real world… or at least to the Big Brother house!
Big Brother airs three times a week, so be sure to tune in all summer long to see how long Rousso can last. Also, follow me on Twitter @ChadAHolloway to discuss her gameplay.
Photo (Rogers): Big Brother Network
Want to stay atop all the latest in the poker world? If so, make sure to get PokerNews updates on your social media outlets. Follow us on Twitter and find us on both Facebook and Google+!