Hold'em with Holloway, Vol. 59: Death, Zombies & Spending Time w/Phil Hellmuth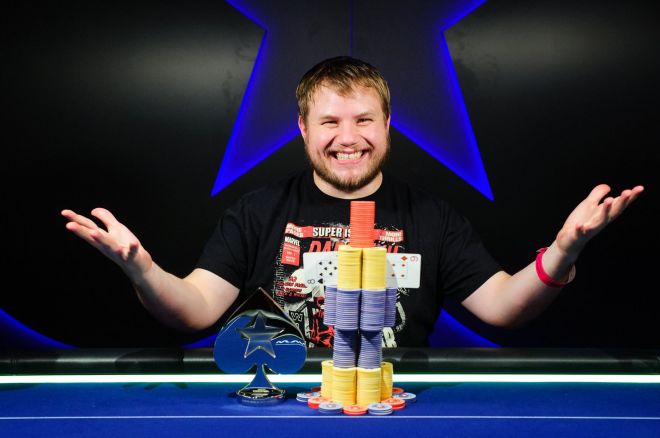 Welcome to the last Hold'em with Holloway of 2015! Instead of focusing on a particular poker hand — and let's face it, it'd be hard to top last week's wild four-way all-in hand from the EPT12 Prague Main Event — I've decided it'd be fun to scroll through the hundreds of articles I've written this year and offer you what I feel are my top 10.
I felt this is fitting given PokerNews will be offering readers the Top 10 Stories of 2015 in the week to come. Now, keep in mind the pieces below aren't "Top 10" based on hits, but rather those pieces that impacted me personally.
10. Finishing Up The 50-State iGaming Initiative
Long ago I set about an ambitious project — to take a look at the current iGaming landscape in all 50 states. The series was titled The 50-State iGaming Initiative, and each edition took a look at five states at a time.
Way back in January, I finally finished the project by examining the last five states. What's more, the series inspired PokerNews to create an interactive U.S. Poker Map, which allows readers to assess the iGaming chances for all 50 states.
9. Ben Wiora Wins Wisconsin State Poker Championship
Being from Wisconsin, I take a keen interest in that poker scene. The Mid-States Poker Tour is the state's biggest poker series, so whenever it rolls into Ho-Chunk Gaming Wisconsin Dells (my home casino) it tends to generate a ton of excitement.
That was the case back in February when the first-ever MSPT Wisconsin State Poker Championship was held. I played, but didn't do much. On the other hand, Ben Wiora did by winning the whole thing for $114,512.
Ben is a good friend of mine, and I was very excited to see him win (though I didn't have a piece). I was honored to have commentated on his final table, and even more so to write a feature about him on PokerNews.
On an interesting note, Wiora is now one of my two roommates in Las Vegas.
8. Blaycation Bucket List
At the start of the 2015 World Series of Poker, I had the opportunity to spend a couple days with a number of poker enthusiasts who were a part of a group called Blaycation, a company started to pair people's bucket lists with experiential travel. It was truly a pleasure to write about people like Kempton MacLeod, a Vegas virgin; Gerry McWeeny, who learned to play by watching poker on the Travel Channel; and an unforgettable duo, "Grumpa & Kenny."
Spending time with the entire group reminded me of why I fell in love with the game in the first place. It was a refreshing experience and one I'll remember for many years to come.
You can check out that piece by clicking here.
7. Appearing on Poker Night in America
Back in April I had the opportunity to appear on Poker Night in America (PNIA) at Sugar House Casino in Philadelphia. It was there I got the chance to play $25/$50 no-limit hold'em against the likes of Phil Hellmuth, Shaun Deeb, and Alec Torelli, just to name a few.
I played some memorable hands, including one involving a huge laydown by Torelli, and another in which I called Hellmuth with jack-deuce offsuit. It was a great experience, and I managed to win a decent amount of money.
6. Phil Ivey Wins the Aussie Millions $250K Challenge… AGAIN!
Back at the 2012 Aussie Millions, Phil Ivey topped a field of 16 entries to win the LK Boutique $250,000 Challenge for A$2 million, and two years after that he'd win it again by outlasting a field of 46 entries to capture the A$4 million first-place prize.
Earlier this year, Ivey did the unthinkable and defended his title to win the prestigious event for the third time in four years, not to mention the A$2.205 million top prize. That meant the three largest cashes of Ivey's career have all come from the Aussie Millions $250,000 Challenge.
I've had the honor of being there for all of them, so that's something special. I'm looking forward to returning to the Aussie Millions in early 2016 to see if Ivey can do it yet again.
5. Contributing to Jonathan Little's New Book
Writing my own poker book has always been a dream of mine (I'd rather write something history-related as opposed to strategy), and while I still hope to do that one day, contributing a chapter to D&B Publishing's Excelling at No-Limit Hold'em — especially alongside a roster of high caliber players — was a very exciting opportunity.
What's more, my chapter kicked off the book. That was a surprise to me, and I was truly honored. For 2016, I look forward to working again with Jonathan Little to host a couple of webinars related to the book. Keep an eye out for details on those, which will take place in March.
4. Life in the Rast Lane
Without a doubt my favorite pieces to write are in-depth features, and this year one of my favorites was one that delved into Brian Rast's incredible poker journey. It was great spending time with him during the Aussie Millions, and both he and I were pleased with the final product, which was titled Life in the Rast Lane.
Making it even better was the fact that Rast went on to win the inaugural $500,000 Super High Roller Bowl.
Here are a couple other features I wrote in 2015 that I highly recommend:
3. Called By Jack-High: The Life and Times of Ellix Powers (1952-2015)
Those who've worked with me know I have a deep appreciation for the history of the game, so it should come as no surprise that I enjoy writing about characters of yesteryear. This year, it took the unfortunate passing of Ellix Powers for me to put "pen to paper" and write about one of the poker boom's most memorable characters, albeit a forgotten one in the modern era of poker.
Sadly, I didn't learn of Powers' passing until a month after it'd happened. (it seemed the poker world as a whole was largely unaware.) Given the time delay, I didn't feel a news piece would be the best choice, so instead I opted for a full-length feature looking back at his life and contribution to poker.
Over the next few weeks I spent time talking to friends of Powers and listening to their stories. I did my best to compile it into a piece that properly honors the man memorably "called by jack-high."
2. Attending Phil Hellmuth's 14th Bracelet Celebration
What did Phil Hellmuth do last night after winning his record 14th World Series of Poker bracelet? I had the chance to find out as the "Poker Brat" saw fit to invite me to the private celebration at ARIA's High Limit Lounge. It was a once-in-a-lifetime opportunity to what proved to be a very intimate affair. If you haven't already, you can read about that special night by clicking here.
1. World Series of Zombies (WSOZ)
This wasn't an article per se, but it is without a doubt the most meaningful thing I did this year. For those who don't know, I created a comic book with the premise of a zombie outbreak during the World Series of Poker, and then sold it this past summer during the WSOP.
It was a blast. Dozens of poker pros, many of whom appear in the comic, got a kick out of it, and poker fans seemed to enjoy it, too. On the comic side of things, I got former Survivor contestant Erik Reichenbach to do the limited edition Daniel Negreanu variant cover, managed to get numerous comic shops in Vegas to stock it (including Maximum Comics), and was even invited to attend the Great American Comic Con in Vegas.
WSOZ was a fulfilling personal project, and I thank everyone who supported me in bringing it to life. For those interested in a copy of WSOZ, you can either hit me up on Twitter @ChadAHolloway or read an electronic copy at Comixology.
Honorable Mention: I had the opportunity to interview the legendary Doyle Brunson very briefly during the 2015 WSOP. Brunson literally shooed away other reporters, and I believe I was the only one who got a chance to talk with him. It was definitely a highlight of the summer, which you can read here.
Bonus Fact: Interestingly, none of the articles listed above proved to be my most popular based on hits. Not surprisingly, the piece that garnered the most views for me in 2015 was Dwyte Pilgrim Shocks Poker World Amid Accusations of Hustling Players.
Want to stay atop all the latest in the poker world? If so, make sure to get PokerNews updates on your social media outlets. Follow us on Twitter and find us on both Facebook and Google+!