Hold'em with Holloway, Vol. 31: Staying on Your Grind at the World Series of Poker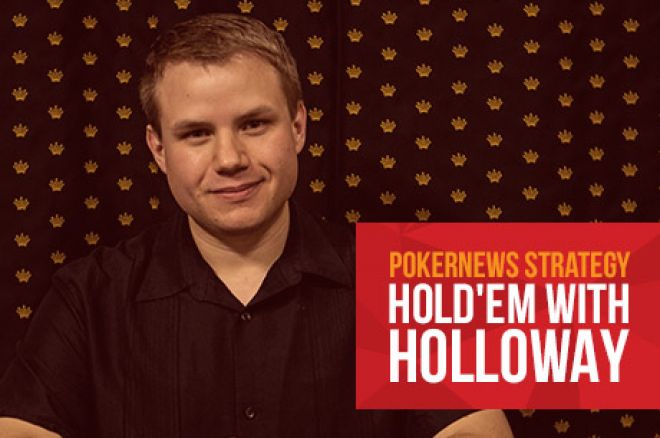 The first week of the 2015 World Series of Poker is already in the books and there has been plenty to talk about already. This marks the sixth series I am working at the WSOP for PokerNews, and I must say that I am as excited as I was the first time around — even with the greater part of nearly two months' worth of work still ahead of me.
The WSOP is a long and grueling affair — for players and media members alike — and if you're not prepared it's easy to get burned out. Last week I offered five tips on what to do when playing your first WSOP event. Now I've decided to offer five more tips discussing things you should do outside of the Rio All-Suite Hotel and Casino that will no doubt help prepare you to withstand the long WSOP grind.
Tip #1: Take Time to Get Settled In
If you're coming to Vegas for an extended period of time, I recommend you take the first day to get settled in. It's tempting to arrive at your accommodation, throw down your bags, and make a beeline for the nearest poker room, but do that and chances are you'll get burned out quickly.
The first thing I did once I got to my room this year was to unpack, take stock of what the place had to offer, then kick back and relax. The next day I paid a visit to the supermarket to stock up on plenty of essentials so I wouldn't have to make frequent trips throughout the summer.
Now if you're only coming the WSOP for a weekend and are staying at a hotel, your circumstances are obviously different. Still, the same advice applies — don't be in such a hurry to get in action. That's doubly true if you're already planning to play a WSOP event. Nothing will throw you off your game faster than either pulling an all-nighter, losing more than you can afford to in a cash game, or both.
Tip #2: Make a Meal Plan
The Rio has options, but they're not the best. If you're someone who doesn't give much thought about what you consume, then you shouldn't have a problem (heck, I recommend Hash House A-Go-Go). However, if you set certain health goals for yourself — as I have been doing — then you must take time to map out a plan.
You're not going to find very many healthy options at the Rio, and the ones you do will cost you a pretty penny. If you're staying at a hotel, your options will also likely be limited, but do some research and see what you can turn up. If you're staying for a longer period of time, do what I did and hit the grocery store, purchase a lunchbox, and bring your own meals to the Rio. Eat well, play well.
Tip #3: Kick Things Off with a Bang
The first couple times I came to Vegas the first thing I wanted to do was play poker. I had an itch that needed to be scratched. Nowadays things are different. I'm in no hurry to play. Instead, I want to make sure that when I do play I am excited, motivated, and focused. For me, that means getting settled in, establishing a routine, and starting my trip out on a good foot. Sure, booking a big cash game win would do that, but having a losing session would have the opposite effect.
So whenever I come to Vegas the first leisurely thing I do is non-poker related. Well, that's not entirely true because it's usually a party among poker friends. Every year before the WSOP begins, the PokerNews team gets together for a meet-and-greet party that is always a lot of fun. It's pretty much the only time everyone will be in one place at the same time and still excited and full of energy.
Everyone has a different idea of what fun is off the poker felt. Whatever yours may be, I suggest you partake straight away. If you wait, a bad run of cards may very well sap you of your ability to enjoy it.
Tip #4: Have Some Fun Off the Felt
This is similar to kicking things off with a bang, and also plays into my next recommendation. Simply put, once you begin your poker grind, keep trying to mix in some non-poker fun. Whether it's enjoying a drink, playing video games with friends, or lounging by the pool, these breaks will go a long way toward keeping you centered.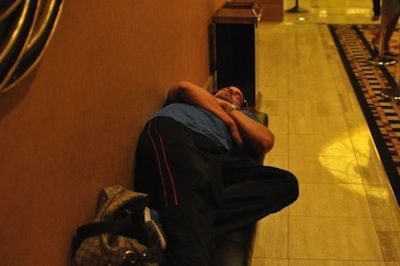 For me, I enjoying going to the movies, visiting comic stores, and checking out other local attractions. Last year I took time to visit a place called the Whisky Attic, which housed an extensive collection of whiskies open for viewing by appointment only. Of course there are plenty of other options for things to do for fun in Las Vegas, so take advantage.
Tip #5: Take Days Off to Recharge
Finally, if you're going to be in Vegas for more than a week it's absolutely essential to your mental health and well being that you find a way to take days off entirely from poker. I've touched upon some things you can do on those days off, but don't underestimate the benefits of doing absolutely nothing.
The WSOP will exhaust you, so if you get a chance to sleep in, lounge about, and watch some TV, don't be afraid to do just that. I speak from experience when I say that goes a long way. Sure, I don't feel overly accomplished (aside from maybe getting some laundry done), but if you go full blast 100% all the time, you're going to drain the battery before the job is finished.
Good luck to those of you who are already here and to those who will be coming soon to the 2015 WSOP!
Want to stay atop all the latest in the poker world? If so, make sure to get PokerNews updates on your social media outlets. Follow us on Twitter and find us on both Facebook and Google+!