Hold'em with Holloway, Vol. 49: WCOOP Champ "Coenaldinho7" Offers Up His Biggest Hands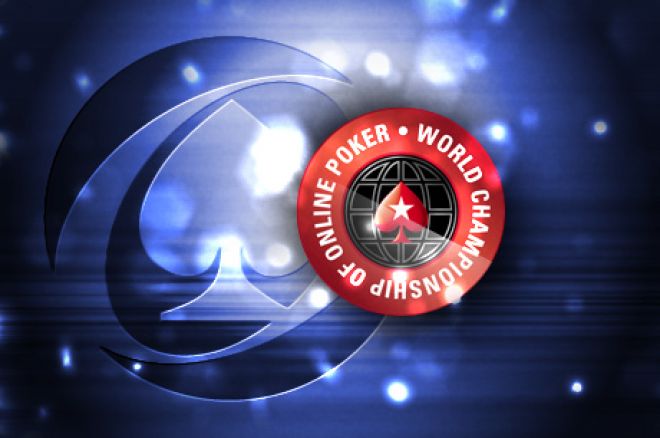 At the end of September, Belgium's "Coenaldinho7" topped a field of 1,995 entrants to win PokerStars' 2015 World Championship of Online Poker (WCOOP) for $1.3 million, a prize which he secured after a four-way chop.
The $5,200 buy-in WCOOP Main Event is one of the poker world's most prestigious titles, so obviously I wanted to learn more about Coenaldinho7. However, the PokerStars Blog beat me to it by offering a great profile on Coenaldinho7, who wished to remain anonymous.
Even so, I wanted to talk with the man, so I decided to reach out and see if he'd be willing to discuss some hands from his big win for my latest Hold'em with Holloway column. Fortunately, he agreed to do so on the condition that I respected his anonymity.
"At the final table three hands come to mind. The first, I give it the highest score, but the other two hands are good, too, though," said Coenaldinho7. Here's a look at the hands he singled out:
Hand #1: A Big Heads-Up Bluff
In one of the final hands of heads-up play, Coenaldinho7 was in the big blind with 32 million while his opponent, Poland's "AlwaysiNduCe," held 65 million. Coenaldinho7 then picked up
, and AlwaysiNduCe
.
"He bets, I three-bet, and he calls," said Coenaldinho7. "He gets a second three on the flop. With eight million in pot, I bet four million, he raises to 10 million, and I call."
The turn then delivered a second
.
"Board now shows two 10s, and of course his second three. I got absolutely nothing. I bet 14 million leaving myself with a less than 10 million stack. He folds!"
The hand resulted in the two players evening the stacks at roughly 50 million apiece.
"It was a major bluff and got me back into a great position to eventually win the tournament," Coenaldinho7 explained.
Hand #2: Picking Off AlwaysiNduCe
Earlier on Hand #103 of the final table with five players remaining, Coenaldinho7 was sitting with 15 million when he picked up
in the big blind. AlwaysiNduCe, who had 45 million, held
in the small blind and the two ended up seeing a flop.
"The flop gives me a second
, but of course I have a very low kicker," said Coenaldinho7. "AlwaysiNduCe bets, I raise, he calls, and nothing [comes] on the turn for either of us, except a gutshot straight draw for him. He checks, I bet a third of the pot, and he reraises for entire pot. I call, and a third
appears on the river."
With 12 million in the pot, AlwaysiNduCe decided to bluff, and with his trip aces Coenaldinho7 quickly called to score the big double.
Hand #3: Folding an Overpair
A short time later on Hand #144, there were still five players remaining. Coenaldinho7 held 28 million when he picked up pocket jacks, Russia's "Ravic85" with nine million had
, and Canada's Guillaume "Nolet20" Nolet with 12 million was dealt a pair of aces.
"The flop shows a
and Ravic85 bet," Coenaldinho7 explained. "We all call, and nothing [changes] after the turn. The pot is nine million, Ravic85 goes all in for seven million more, and Nolet does the same for nine million."
It was an interesting spot for Coenaldinho7 with his overpair of jacks, but to him the decision was easy.
"I fold... not that hard to fold, but a good decision obviously," said Coenaldinho7. "I felt a higher pocket pair was present. I'd probably do the same with
, but with
, I don't know."
Nolet's aces held on the river, Ravic85 was eliminated in fifth, and after that the remaining four players were able to negotiate a chop. The deal assured Coenaldinho7 a cash of $1.1 million, to which he added another $200K — and the WCOOP bracelet — after going on to win.
There you have it. Those are the three most important hands Coenaldinho7, a 36-year-old with a newborn son, felt he played on his way to becoming the 2015 WCOOP champion.
When asked about what he planned to do with the money, Coenaldinho7 sounded like he was going to take things as they come — much like he played the final table.
"Nothing spectacular except thinking about career move, finalizing my house without much help of my own two hands now, and spoiling the missus, my son, and my family and friends," Coenaldinho7 told the PokerStars Blog. "No new car, no luxury, trying to help a good cause now and then... other than my own."
For more on Coenaldinho7, be sure to check out the profile on the PokerStars Blog.
Want to stay atop all the latest in the poker world? If so, make sure to get PokerNews updates on your social media outlets. Follow us on Twitter and find us on both Facebook and Google+!