Hold'em with Holloway, Vol. 84: Harman Hits Back-to-Back Miracle Turns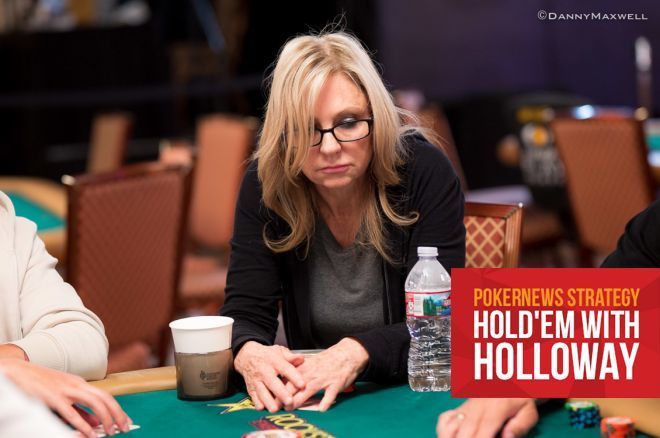 Friday Night Poker has become my favorite poker cash game show. I'm not getting paid to say that. It's unsolicited and something I felt compelled to share. The lower stakes — it's played $5/$10 no-limit hold'em — make the show a bit more lighthearted and give lesser-known players an opportunity to make a name for themselves.
The show was designed to allow fans the opportunity to interact and engage with poker personalities in real time while they're playing a no-limit hold'em cash game. It airs on Facebook Watch, a video platform where episodic content, community, and conversation come together. Facebook Watch is available for free on mobile apps across Apple and Android and on desktops/laptops.
Last Friday, a wild game went down featuring a mix of big names and mid-stakes grinders. There were several hands that I found highly entertaining, and I thought I'd take a look at two in this week's Hold'em with Holloway.
One Good Turn Deserves Another
The first was an insane hand featuring Jennifer Harman, who returned to televised poker after a long hiatus. It happened when she got her chips in on an
flop holding
. Unfortunately for her, she had a kicker problem as her opponent Christian Soto held
. There was $14,290 in the pot and the pair agreed to run it twice.
Harman had a 12 percent chance of winning one of the runouts, and she didn't have to wait long as the dealer burned and turned the
! The
river gave Harman half the pot, and she wasn't done there.
On the second run out, the dealer burned and turned the case
to give Harman another lead. The table erupted in disbelief with Daniel Negreanu, a good friend of Harman's, circling the table arms shot up in the air. Former PokerNews hostess Kristy Arnett sat with her hands over her mouth, while Brandon Meyers buried his head in his hands.
"No, I feel bad for Christian," Amanda Leatherman said on the broadcast. Indeed, fun and disbelief turned to empathy as Soto suffered back-to-back bad beats in the same hand.
The
river was of no consequence and just like that the $14,290 pot slipped through Soto's hands and was pushed to Harman. To his credit, Soto handled it with as much grace as could be expected.
"Soto took that like a champ," Peter Mercil commented on Twitter.
Here's a video of the hand tweeted by @WatchStadium:
Frank Kassela Denied in 2-7 Game
Another fun aspect I like about Friday Night Poker is that they usually play the "2-7 game," meaning if you win a hand with deuce-seven the rest of the table pay you $100 each. This results in some wild hands and entertaining spots.
This past Friday, one such hand went down when Arnett straddled for $20 and Harman raised to $120 with
in the small blind. Frank Kassela was in the big with
and three-bet to $400.
Arnett got out of the way, Harman called, and the flop came down
. Harman checked and Kassela bet another $400. Harman called with a pair and straight draw and hit the latter when the
came on the turn. Both players checked, then the
on the river made a Broadway straight out of the community cards.
Kassela appeared to move all in out of turn in an attempt to get Harman to fold despite the nuts being on the board. Harman double-checked the board and called to chop the pot.
"All y'all owe me $100 each," Kassela said with glee thinking his chop with deuce-seven counted as a win. The other players didn't agree, nor did Brent Hanks and [Removed:139] on commentary, and Kassela was denied any payday outside the pot.
Friday Night Poker airs on Facebook Watch every Friday night through the end of the year from 7:00-11:00 p.m. ET (on a 30-minute delay). Leading up to each Friday Night Poker game, the hosts will offer their thoughts, discuss strategy, and review upcoming lineups in a short-form preview show every Thursday at 7:00 p.m. ET.
If you haven't check it out yet, it's definitely worthwhile. Read more about Friday Night Poker here.