Hold'em with Holloway, Vol. 52: Does Asking "Check" Actually Constitute a Check?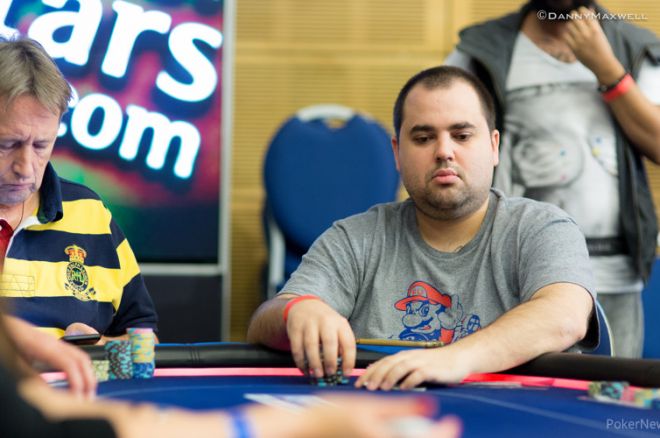 While at the European Poker Tour Season 12 Malta, an interesting situation developed on Day 2 of the Main Event, a tournament that attracted 651 players and created a prize pool of €3,157,350.
The circumstance centered around the word "check," and whether or not saying it in the form of a question in fact constituted a check. While this article will focus solely on that particular word, it's important to note the arguments laid out are applicable to other action words like "bet," "raise," or even saying a number.
The hand in question happened in Level 13 (1,000/2,000/300) when Germany's Khorshid Sakhra opened for 4,600 from late position and Chris "Big Huni" Hunichen defended from the big blind. Both players checked the
flop, and then Hunichen bet 4,200 on the
turn. Sakhra made the call, and when the
fell on the river, Hunichen again announced a check.
"Check?" Sakhra asked in a tone that indicated a question. The dealer, who took it as such, replied in the affirmative. "Did he check?" Sakhra asked again just to be clear. The dealer reiterated that Hunichen had in fact checked.
However, with "check" being the first word out of Sakhra's mouth, Hunichen assumed that he had checked and nearly tabled his hand.
"Did you check?" Hunichen asked Sakhra, who stated that he did not. He then placed put a minimum bet of 2,000. "We may need to get a floor over here," Hunichen stated.
It was Hunichen's belief, based upon prior experiences, that regardless of tone, Sakhra said the word "check," so it needed to stand as such. The dealer explained that it was a question, but Hunichen, who understood that fact, was adamant it didn't matter.
A floor person was called, who listened to the situation and agreed with the dealer, stating the 2,000 bet would stand. Hunichen was not satisfied.
Tournament Director Toby Stone was then called over. He first listened to Hunichen's version of events, and then turned his attention to the dealer. After taking everything into consideration, Stone ruled that "in fairness of the game" the bet would stand.
"It's a terrible ruling," Hunichen judged. Nonetheless, it was the ruling and action was on him.
By this point several players at the table were visibly frustrated, and before long one of them called the clock. The original floor person, who hadn't left the table, began the one-minute countdown, and Hunichen let every single second tick off before his hand was declared dead.
The hand proved polarizing among players at the table, with most disagreeing with Hunichen's stance, but a few taking his side. When the situation was put out on social media, Hunichen's support grew. It seemed that in many tournaments, Sakhra would have been forced to check, regardless of his intent.
"First of all let me say not being there makes it tougher to answer," famed tournament director Matt Savage told PokerNews when asked about the situation. "I do not hate Toby's ruling, but I would have done it differently. I can see how he arrived at a bet and the decision isn't really that 'terrible' as stated."
"I feel that a player saying 'check' when the action is on him is setting himself up for a decision to be made, and because of that it shouldn't be done. Therefore I would rule it a check and he would still win the pot obviously. TDA Rule #3 is about official terminology being used, but of course Rule #1 can supersede that. Saying 'check' when action is on you can influence action and therefore it shouldn't be allowed."
The TDA Rule #1 to which Savage refers states "The best interest of the game and fairness are top priorities in decision-making. Unusual circumstances occasionally dictate that decisions in the interest of fairness take priority over technical rules. Floor decisions are final."
In this instance, the problem was Sakhra simply said "check" and not something like, "did he check?" Had he led with something else, there would be no controversy. The problem with simply saying an action word — regardless of whether or not it's meant as a question — is that it can be misinterpreted. Had Hunichen actually tabled his hand, there's little doubt it would have been ruled as a check.
I thought I'd share this hand as a reminder to be careful what you say, and how you say it, when you're involved in a hand of poker. Imagine if the question was "all in?" That could have resulted in disaster. Just be sure to precede your questions with qualifying word and you should be fine.
For more on the situation, Sarah Herring caught up with Hunichen to get his perspective:
For what it's worth, Sakhra, who flashed the
in the hand, failed to cash in the Main Event while Hunichen went on to finish 72nd for $10,266.
For more on how you need to be extra cautious at the table when it comes to action words, see Robert Woolley's article on the subject, "Casino Poker for Beginners: You Can Say These Words at the Table, But Be Careful When You Do."
Want to stay atop all the latest in the poker world? If so, make sure to get PokerNews updates on your social media outlets. Follow us on Twitter and find us on both Facebook and Google+!