Hold'em with Holloway, Vol. 57: Playing "Deuces Wild" on the European Poker Tour
Hello from the Czech Republic where this week I am with the rest of the PokerNews' team reporting from the European Poker Tour Prague festival, the latest stop of Season 12 of the EPT.
Today I am reporting on the €50,000 Super High Roller, currently working its way down to tomorrow's final table. PokerNews will also be providing live updates from the €5,300 Main Event (Dec. 10-16), the €25,500 Single-Day High Roller (Dec. 11), and the €10,300 High Roller (Dec. 14-16).
Those are just the highlights of a huge 97-event festival (including satellites) taking place through the middle of next week. As usual for the EPT, there are a lot of out-of-the-ordinary events on the schedule, including mixed game events, a "quintuple draw" tournament combining five different draw games (including three Badugi variations), "Flipout" tournaments, and even one combining no-limit hold'em and chess!
Also on the schedule this weekend is a €120 buy-in "Deuces Wild" turbo tournament (with rebuys) — that is, a no-limit hold'em tournament in which all deuces are wild cards — featuring an added €50 "Quack Quack Half a Rack" bonus for players who are dealt pocket deuces.
That event reminds me of the time I played in one of the "Deuces Wild" tournaments at the EPT over in Vienna, Austria during Season 10. I had arrived a couple of days early, and when I saw the event was taking place that night I decided to give it a shot.
While I had played games with wild cards in my $20 home game before, I had never played one on a professional tour. I believe that marked the first time the EPT had held such an event. I had once played in a "Win the Button" tournament at EPT/UKIPT London and even cashed in it, but this was something new.
The Eureka Poker Tour Main Event had been happening over the weekend and it drew massive crowds, so I made my way to the Hofburg Palace a few hours in advance to register (always a good idea if you're 100% committed to playing). It proved a wise decision as the tournament began with eight tables, meaning it could only seat 80 players. There was a long list of alternates, and over the course of the next two hours the field swelled to approximately 200. The tournament organizers seemed a bit overwhelmed, but they were no doubt pleased with the turnout.
There were two important rules to understand in the "Deuces Wild" event. The first was that five of a kind was a legitimate hand, and according to their rankings it beat a straight flush, but not a Royal Flush.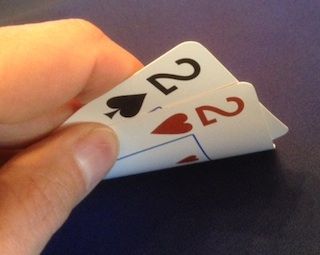 The second rule was that a player couldn't play with pocket deuces. If a player happened to wake up with "ducks" (which happened just once at our table during the first ten levels), he or she simply tabled the hand and won the blinds and antes. That rule is also in place for the "Deuces Wild" event at EPT12 Prague, only in addition to the blinds and antes the player will also get that €50 bonus.
The reason for this rule, as I remember a floor person explaining, is that having pocket deuces ensures you the nuts no matter what, thus all skill is removed from the game. I don't necessarily agree that's the case — there's still strategy involved when figuring out how to best trap your opponents into paying you off — but then again it would suck to bust to a guy who just happened to get dealt a lucky hand and raked in chips.
I grasped the rules immediately, and while it seemed straightforward in my opinion, most of the table was extremely confused. I remember early on we all sat there for a solid five minutes while the dealer tried to explain the relatively simple concepts. But while the rules seemed artless, the strategy of the game was not.
I entered the tournament thinking that having a deuce and thus a wild card wouldn't change the strategy much, but I soon discovered that wasn't the case at all. Indeed, whenever you play a new variant, it's important to pay attention, apply what you learn about the specific strategies involved, and adapt.
Here are some observations I made during my first experience playing a "Deuces Wild" tournament:
Pocket pairs aren't as good as you think. In regular hold'em pocket pairs look good, especially aces and kings, but in "Deuces Wild" they're not nearly as powerful. Sure, you're technically ahead when you get it in with against , but the latter hand has so many possibilities. In fact, seven-deuce is going to improve more times than not, while the opposite is true of the aces. A lot of players at my table misplayed their pocket pairs, and I admit I did, too.
Your best bet is to wait for a deuce. Most players eventually learned not to get involved without a deuce in their hand. It was when two or more players held a deuce that the fireworks began.
Be aware of your opponents. A lot of players looked down at a deuce and went wild (pardon the pun). The power of the wild card blinded them to what their opponents might hold. Such overplaying became especially apparent when two players held a deuce. One would raise, and the other would three-bet. Now if the original raiser held , he was probably in a bad spot as the other player no doubt likely had a card higher than a six to complement his or her deuce. Even so, it's hard to fold a deuce when they're wild, and very few players did. Once when I had invested only a small amount in a hand, I folded to an all-in shove and call and then showed a deuce. The table simply couldn't believe it. (For what it's worth, I would have lost.)
"Deuces Wild" NLHE is similar to PLO. There's a lot of variance in pot-limit Omaha as players often get their chips in situations where they are only 50-60% to win. That's a dangerous zone, and one with which a lot of players are uncomfortable. As such, I felt anyone with PLO experience, or just that natural gambling bone, had an advantage in the tournament. The game was also similar to PLO in that the wild card creates possibilities for more draws and wraps.
So how did my tournament go? I stuck to a "tight-is-right" strategy, which saw my starting stack of 15,000 dip below 5,000. I then managed to run it up to 20,000 thanks to a nice run of deuces, but eventually the cards went south.
It was a turbo tournament, and so quickly I got stuck in a downward spiral. I eventually got my last 6,000 in at the 600/1,200/200 level with
only to run into an opponent who held
(illustrating that unfavorable situation described above). I ended up making a full house, but it was no good as my opponent made quads.
Despite not doing too well, the tournament was a lot of fun. The players were mixing it up, socializing, and learning as they went. That made for an enjoyable and engaging experience.
I'd definitely play a "Deuces Wild" event in the future, although I doubt I will have the chance here as I'll be working. When I do, I won't make the same mistake I did in Vienna. It wasn't just "no-limit hold'em with a twist" like I thought. Oh no... "Deuces Wild" is its own game with its own set of strategies.
Want to stay atop all the latest in the poker world? If so, make sure to get PokerNews updates on your social media outlets. Follow us on Twitter and find us on both Facebook and Google+!