Hold'em with Holloway, Vol. 96: Dan O'Brien on Developing Healthy Routines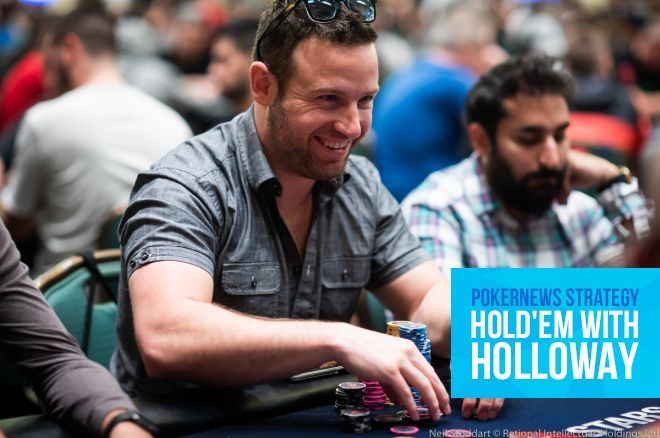 Outside of last year's World Series of Poker, I didn't see much of Dan O'Brien, who used to be a familiar face on the poker circuit. A quick look at his Hendon Mob revealed he won just $14,828 playing tournament poker in 2018, a low dating all the way back to 2006.
So, what happened to him? That's what I had to ask when I spotted him down at the PokerStars Caribbean Adventure where he was one of 1,039 players to jump into the $25,000 PokerStars Players Championship. O'Brien ended up making a deep run finishing in 31st place for about $105K.
"Life is good overall. I really have no complaints," O'Brien told me. "I haven't really been playing much poker. I've been spending a lot of time in Lake Tahoe. Making my way up there, figuring out some things."
"I'm living a quiet life for the most part but I'll pop my head out from time to time."
"I really hadn't played much poker at all in some time, just starting to get back into it," he continued. "A friend talked me into coming down here and playing the $25K. I'm really glad he did. I had a good time and it really got the juices flowing a little bit. I'll probably be playing again sometime soon."
Talking with O'Brien it seemed to me he was in the midst of something most players rarely think about but almost always go through — grind withdrawal. That means either scaling back on poker or giving it up altogether. Some players do it as a temporary measure in the hope it'll recharge their batteries or reignite their passion for poker. Others do it and only return to play sporadically, while some never come back at all.
Clearly, O'Brien wasn't done with poker, and it seemed he was content to be in the "sporadic return" category.
"I won't be playing too many tournaments but I'll play cash games," he explained. "I just don't have the desire to play live tournaments. I like being in Lake Tahoe and traveling a large chunk of the time mainly to just lose money is kind of a pain in the ass, so I've kind of fallen out of that. I'm living a quiet life for the most part but I'll pop my head out from time to time."
What took O'Brien from the glitz and glamor of Las Vegas to the quiet tranquility of Lake Tahoe?
"It started with snowboarding," he explains. "I spent a few winters up there and really enjoyed the town. It's a great place. It incentivizes all of the good things I want to be doing with my life. There's not much that can get you out of line there. It's a beautiful place with hiking, biking, snowboarding, and the lake. It just puts me more into the life I want to lead."
Listening to O'Brien it became clear that he was changing. He seemed more introspective. Honestly, I got the impression the poker lifestyle had gotten the better of him — as it does to so many (myself included at times) — and he needed a change.
"I think routines are really healthy for me and the more I force myself to be disciplined the happier I am."
Then he said something that really resonated with me. It was something I imagine players in their 20s won't relate to that much (I know I didn't a decade ago). But I can almost guarantee you will when you get into your mid-30s like O'Brien and I are now.
"For a long time, I just wanted to believe that routines didn't matter to me," he said. "I wanted maximum freedom. Now it's kind of the opposite. I think routines are really healthy for me and the more I force myself to be disciplined the happier I am. Getting out of that 'I can do whatever I want mindset' has been pretty good for me."
The freedom poker provides is one of its biggest appeals, and while it can be fun for a long time, there's a good chance too much freedom will either burn you out or get you in trouble. Routines are a great way to combat this and hold yourself accountable. What's more, routines are likely to lead you to poker success.
Some of the game's most successful players are disciplined, be it in the form of studying, meditating, diet, or exercise. It's hard to stick to any of those things without a routine.
Anyway, I just wanted to share my little chat with O'Brien. I think a lot of "older" players can relate to his journey, and other "younger" players are going to go through it. There's more to life than poker, and it's important to find the things that are healthy for you.