Hold'em with Holloway, Vol. 3: Throttle Back Before You End Up Punting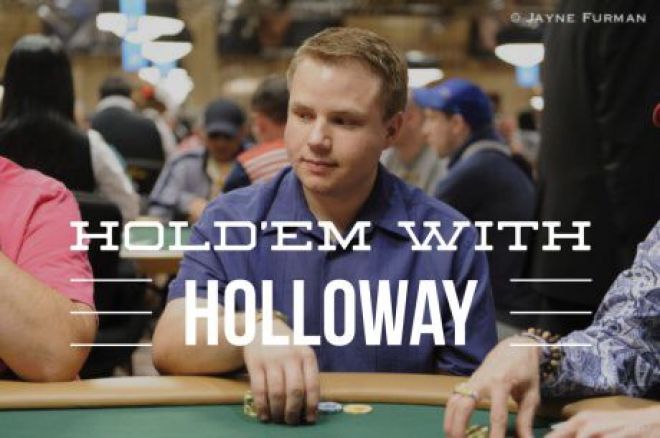 In last week's Hold'em with Holloway, my weekly strategy article here on PokerNews, I talked about strategies for playing charity events. That's because I was set to play the 4th Annual Pulse Pounding Charity Poker Tournament at Ho-Chunk Gaming Nekoosa in central Wisconsin, which I did this past weekend.
The $330 buy-in tournament, which is held in memory of former table games employee Kevin Abbott and raises money for the Foundation of Saint Joseph's Hospital, attracted 55 players, each of whom started with 20,000 in chips, and I managed to chip up faster than I've ever done in a tournament. To give you an idea of just how well I was doing, I had 10% of the chips in play with 43 players remaining.
So how did I manage to amass so many chips so quickly? First let me set the stage. I was a celebrity bounty alongside three other guests, including former Green Bay Packer and 1996 Super Bowl champ Derek Mayes (who was the first to exit after just 40 minutes), and that meant we all had a $200 bounty on our heads. In addition, it was a two-day event, and I had backup plans to go to the Jets vs. Packers game on Sunday if I busted. As such, my plan was either to enter Day 2 with a massive stack or go home.
Straight out of the gate I was playing any two cards and constantly raising and three-betting. Before long I became involved in a hand with a local player by the name of Gordie Jones, who happens to be a good friend of mine. In the hand, a player in early position had opened with a raise, Jones called from the small blind, and I did the same from the big with
. The flop came down
and gave me the low end of the straight. Jones checked, I did the same, and the original raiser continued for 2,500.
Jones then check-raised to 7,800, and action was back on me. The flop was fairly wet, so it was possible my straight was beat if either player had entered the pot with
. It crossed my mind to just flat, but that wouldn't have given me any information. Instead, I wanted to know where I stood. If I three-bet and either one of my opponents played back, I could decide then if either was sitting on a better straight. Accordingly, I popped it to 17,800.
The original raiser folded what he later claimed were aces, and Jones thought for a few moments before calling. The turn was a blank — a
, I think — and Jones checked to me. By this time there was a flush draw on board, so I opted to move in. Jones had 18,000 or so behind, and he took his time before calling off with
for a flopped set. The board failed to pair on the river, and I eliminated Jones while pulling out to a big chip lead.
By taking an offensive approach to the hand as opposed to playing it conservatively, I was able extract maximum value. Another player who does this often is Michael "The Grinder" Mizrachi. I can't tell you how many tournaments I've covered where he builds a massive stack on Day 1, and while he occasionally uses it to make a deep run, more times than not he punts. That's because he doesn't throttle back the aggression. It's imperative that players like Mizrachi shift to a lower gear in order to allow the tournament structure to catch up, and even though I recognized this during the Pulse Pounding Tournament, I ignored it.
Instead of backing off and using my big stack to coast deep into the tournament, I continued to play any two cards. Before long my stack began to disappear. First I spewed off a third of my chips after shoving all in preflop holding
after five players had each put in 3,000. One of them had pocket kings, and that cost me 40,000 or so. Not long after, I had my own pair of kings cracked when an opponent flopped trip jacks with
.
Down to 36,000, I looked down at
in the big blind and shoved all in over the top of a raise to 7,000 by Joan Sandoval. She hit the tank hard, and I began to chat her up a bit. It was fun watching her in sit in the pressure cooker, but eventually she made the right call with
and was rewarded for it when she flopped two pair and collected my $200 bounty. I later found out she went on to finish fifth in the tournament.
Being a celebrity bounty meant I had my buy-in covered, which allowed me to try out a super-loose, aggressive game — quite different from my usual tight, aggressive approach. The high-risk, high-reward style took me out of my comfort zone, but I soon adjusted to the role of table bully. Of course playing fast and loose doesn't always result in riches; in fact, probably more times than not it leads to an early exit.
In those instances when it doesn't, it's important to take advantage of the situation to make a deep run. As I learned, to do this you must not only recognize when it's time to throttle back, you actually have to do it. Had I tightened up a bit, there is little doubt I would have coasted to Day 2 and more than likely have made the money. Instead, I continued to go big and ended up going home.
Don't make the same mistake I did. The next time you're running over the table, be sure to throttle back back when necessary.
Get all the latest PokerNews updates on your social media outlets. Follow us on Twitter and find us on both Facebook and Google+!