Hold'em with Holloway, Vol. 29: The Philosophy of "No-Chop" Chad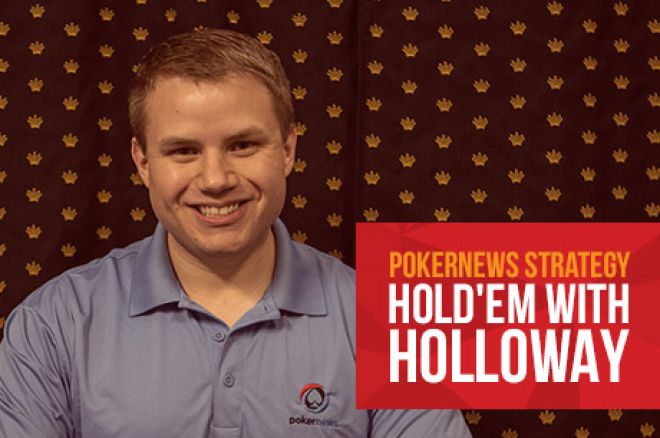 Despite popular belief, I do chop poker tournaments. Granted, I was dubbed "No-Chop" Chad by Jason Mercier during the 2013 World Series of Poker — the result of turning down an under-the-table chop with my heads-up opponent — but the fact of the matter is I chop quite often, but only when it's to my advantage.
There's been a lot of chop talk as of late, specifically regarding whether or not WSOP officials should facilitate them in both gold bracelet events and daily deepstacks. I'm not going to touch upon that in this article other than to say I think the European Poker Tour has done a great job facilitating chops and the WSOP should follow their example. But I do want to talk about a couple of occasions when I have opted to chop in the past.
When It Benefitted Me to the Detriment of Others
My first-ever tournament cash — at least the first one documented on Hendon Mob — came back in 2011 at the WSOP Circuit Harrah's St. Louis. I played a $235 buy-in limit Omaha tournament. (Yes, you read that correctly. Good luck finding one of those these days.) The tournament attracted just 40 players and created a prize pool of $6,940. Only four players would cash: 1st - $3,123; 2nd - $2,082; 3rd - $1,041; and 4th - $694.
When we made the final table of nine, some players began to talk chop. Now keep in mind I rarely initiate chop talk. In my eyes, the person to bring it up is giving up valuable information, namely that the money matters to them and they're scared to play for it. Of course that's not always the case, but in my experience it is more times than not. Once someone brings it up, I can control the negotiations.
At the time I was sitting with the third-biggest stack, and there were some short-stacked players, including one with one big blind. I quickly informed the table I was not willing to chop. Not long after the short stack busted and we were down to eight. Again chop talk began, and again I was quick to shut it down.
"Why won't you chop?" a player asked. "Is there any deal you would take?"
"Any deal I'd be willing to take, you wouldn't make," I responded.
Still, several of them insisted I at least make a proposal, so that's just what I did. After consulting with the two chip leaders I came back with a deal I fully expected them to shoot down. In fact, I thought any self-respecting poker player (let alone seven of them) would be crazy to accept it.
It basically boiled down to this — the two chip leaders and myself would take something like $1,500 each, and the player fourth in chips (who wasn't too far behind me) would get $900. Those sitting fifth and sixth would get around $600 and $400, respectively, and the other two players would get their buy-ins back.
In my opinion, it was an insane chop. If I wasn't the one benefitting, I'd never have accepted it. Why would anyone play all day just to take their buy-in back? Sure they were short, but anything could have happened, especially given how big the blinds were at the time. Anyway, you know where this is going — the players agreed to the chop!
I really couldn't believe it, and given it was a non-ring event (meaning there was no trophy to play for), I was happy to lock up the cash. On a side note, Missouri law prohibited chops, so we had to keep it a secret from the tournament staff and "play it out." In a no-limit hold'em tournament that's easy to do as you can move all in and bust with relative ease, but it's not so easy in a limit tournament. It took over an hour to finish it off, but eventually we got it done.
That was a good deal for me, but I've never managed to negotiate a chop for more than first-place money like Dan Smith did in a Sunday Million event back in 2012. That was simply amazing, and it goes to show you just how desperate some players are to chop. Be sure to use that to your advantage.
When It Was All About the Money
More recently, I played a $90 buy-in daily at my local casino last Sunday. The tournament attracted a modest 52 entries and created a prize pool of $3,900. The top six players were slated to get paid as follows: 1st - $1,521; 2nd - $897; 3rd - $624; 4th - $429; 5th - $273; and 6th - $156.
When we were down to the final three players, local Wisconsin player Troy Taylor and I were sitting nearly even in chips, while the other player, a middle-aged woman who had been getting quite lucky, had nearly double our stacks. There were approximately 75 big blinds total between us, so there wasn't too much play left to be had.
Now I know there are some mathematically-inclined players out there who can break down the numbers for this situation, but in the majority of small buy-in tournaments players aren't capable of such calculations. Instead, they make deals based on either how they feel or what they think is fair.
In this tournament, which didn't award a trophy or other such trinket, I thought I could negotiate a decent chop (one of the rare occasions I initiated chop talk). I wasn't concerned with the "prestige" that comes with winning a daily. There was nothing to play for other than the money, so my main concern was getting as much of it as I could.
Did I feel I was the best player at the table? Of course (who doesn't?). But I was technically the short stack, Taylor (a solid player in my opinion) had position on me, and I had things I wanted to get done that night. If a suitable chop was to be had, I was game.
However, like I said before, I don't chop unless it benefits me to the detriment of other(s). In this case it was the chip leader, who agreed to chop it even three ways for $1,014 apiece, which was more than second-place money. That was good enough for me!
Few topics are as dividing as chopping. Some players do it all the time, while others have a no-chop policy. I rarely chop, but every once in awhile an offer comes up that even I can't refuse. What are your thoughts on chopping tournaments? Let me know on Twitter @ChadAHolloway.
Want to stay atop all the latest in the poker world? If so, make sure to get PokerNews updates on your social media outlets. Follow us on Twitter and find us on both Facebook and Google+!