Hold'em with Holloway, Vol. 7: 15 Things About Poker I Wish I'd Known Sooner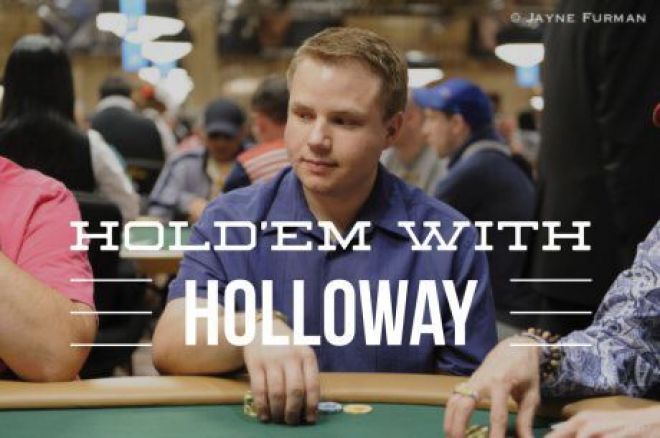 I recently came across a blog post by Nathan "BlackRain79" Williams titled "47 Things That I Wish Someone Had Told Me Before I Started Playing Poker." I've always admired Williams ever since I read and reviewed his book Crushing the Microstakes, and this particular blog post struck me as useful to every poker player.
Granted, the post was geared toward online players, but I still took a lot away from it. For my latest Hold'em with Holloway article, I wanted to take a page from Williams and offer some things I wish someone had told me before I started to play live poker.
Williams' post, which you can read by clicking here, offered 47 tips, but I decided to limit mine to just 15.
Here they are in no particular order:
Don't Let Poker Become Your Identity. Over time the ebbs and flows of poker can become intertwined with our personalities; in fact, it seems inevitable for most players. When we win we are happy, when we lose we are miserable. I've been there and done that, and believe me when I say it's not fun. The key is to keep poker a part of your life, but don't let it become your life.
Pay Attention to Rewards Programs. Most casinos offer rewards cards, and you can get a lot of value from them. My local casino offers a $1 comp for every hour you play, and those comps can be redeemed for food, hotel rooms, or other items. Plus they give regulars a lot in slot freeplay. Wherever you play, look into it and take advantage.
Utilize the Call-In List. Did you know most poker rooms will let you call in and put your name on their cash game list an hour or two in advance? That way when you show up you're near the top — or at least you have a two-hour head start on those who just show up. I went a good year before I knew about this.
Preregister for Tournaments. Major tournaments experience an influx of players right around start time. This is especially true at the World Series of Poker. To avoid long lines, register for the event the night before or sooner. That way you can just show up and play.
Watch the Overhead. Traveling for poker tournaments can be expensive. Transportation, food, and accommodations are just a few of the expenses you'll incur. There are a few tricks in helping cut down on expenses such as rooming with other players or carpooling. Learn the tricks and you'll save a fortune in the long run.
Recognize the Fish are Going to Win. There are few things that tilt me faster than a bad player who gets the best of me. When I first started playing I was under the impression the best player should always win, but that's not the case. The fish will win from time to time. Recognize it, accept it, and move on to the next hand to try to hook them again.
Don't Educate the Fish. Along those same lines, don't tell the fish why they play so bad. All you're doing is giving them an opportunity to learn from their mistakes. So what if they cracked your aces by calling off preflop with king-ten offsuit? You want them to do that every time, so don't explain to them why it was bad. Let them figure it out on their own.
Track Your Sessions. I won a lot of money playing cash games from 2007-2010, but I can't tell you exactly how much because I didn't track it. In order to be a successful player, you need to keep stats such as wins/losses, time played, tournament finishes, and the like. You can either do this with pen and paper or by investing a few bucks in one of the many apps out there designed to help you keep track.
Watch What You Eat. Before I started playing poker seriously I managed to lose 113 lbs. Over the next seven years I put a lot of it back on sitting at the poker tables. That's because I would eat unhealthy food while sitting still for hours on end. Fortunately there's been a health movement in the game in recent years, and I'm a firm believer that a healthy lifestyle only benefits your game.
The Tight Player is Never Bluffing. I've played with a few players over the years whom I've never seen bluff. Still, whenever they bet into or raise me I can't help but think this is the time they're finally bluffing. Believe me, I've made many calls only to discover that indeed they have the goods. Just fold and assume they had it like they always do. If they didn't, you'll never know and good for them.
Poker Isn't a Contest of Egos. There will inevitably be a player or two at the table who wants everyone to know that they're the best; in fact, I've been that player. What I've learned is it doesn't matter. Those who win in the long run are those who stay out of the limelight and crosshairs while focusing on their game.
Become Part of the Poker Community. No matter where you play I guarantee there is a poker-playing community of some kind. Getting in can be as simple as getting to know the regulars in your game. For me, there is a dedicated Facebook group for Wisconsin players that allow us to share strategies, arrange for poker trips, and promote games, among other things. It's proven tremendously useful.
Don't Be Afraid to Say No. Poker rooms can be full of peer pressure. From those who want a round of straddles to those who're looking for a chop, you're bound to feel compelled to do something you may not want to do. Don't be afraid to say no. They'll try to make you out as the bad guy, but don't take it to heart. Instead use the information you just gained (e.g., start targeting those who wanted to chop and are desperate to move up the payouts) to your advantage.
Continue to Study. There's no denying poker has gotten tougher. In 2006 there were seven or eight bad players for every capable one. The opposite is true today. The game has evolved, and those who have success are those who adapt and evolve with it. For years I relied on my same old tricks, and I was getting crushed. A couple years ago I made an effort to consume poker books, training sites, and strategy articles, and my game quickly improved; in fact, I managed to win a World Series of Poker gold bracelet in 2013.
Beware of the Vultures. If you're fortunate to notch a big tournament score, know that people will come out of the woodwork. I only won $84,915 for my bracelet win, but even so I had people — some I didn't know and others I hadn't talked to in years — message me on Facebook, text me, and approach me in person asking for money. Each of them had a sob story, and while it was neither easy nor pleasurable to say no, I had to shoo away the vultures. Be careful who you trust and take care of yourself.
I know there are a lot of "tips" I'm overlooking. What do you wish someone had told you before you started playing poker? Let me know on Twitter @ChadAHolloway.
Get all the latest PokerNews updates on your social media outlets. Follow us on Twitter and find us on both Facebook and Google+!