Hold'em with Holloway, Vol. 76: Matt Bretzfield Gets Tricky With Aces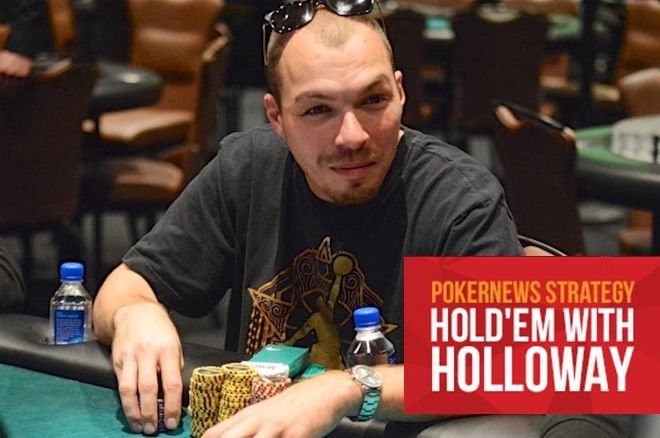 For the past four days, I've been doing some freelance live reporting at the 2018 Seminole Hard Rock Poker Open at Hollywood, Florida's Hard Rock Hotel & Casino. It was there I observed some interesting hands, some of which I'll be covering in this column over the coming weeks starting today with one from the 2018 SHRPO $5,250 Championship.
The tournament drew 914 entries. It was on Day 2 that New York's Matt Bretzfield played a big hand in Level 12 (1,200/2,500/2,500). The hand began when Bretzfield limped under the gun and the player in the hijack raised to 8,000. Carlos Rojas, who began the day with 355,500 in chips, then three-bet to 13,500 from the big blind.
Bretzfield, a pot-limit Omaha cash game grinder who relocated to South Florida in February, woke up with a limp-raise to 38,000. The player in the hijack released his hand, and Rojas called to see a
flop.
Bretzfield: "He's calling there to either flop a set or see if an ace or king comes."
Rojas checked, Bretzfield bet 75,000, and Rojas paused for a few beats before check-raising all in for 131,500. Bretzfield snap-called.
Bretzfield:

Rojas:
Rojas needed some luck for his two ladies, but was left wanting as the
bricked the turn followed by the
on the river.
I was curious why Bretzfield slow played the pocket rockets, so I decided to ask him on a break.
"The guy in Seat 8 and the guy in the big blind were consistently raising, very aggressive," he explained. "So I limped hoping the player in the big blind — who came in sixth in chips but had been losing — would raise. He'd been raising every hand. So I limped under the gun and one of the tighter players raised. When it got to Rojas he pretended he wanted to call but actually raised."
He continued: "When it got back to me, I was definitely going to raise. I thought I'd end the hand right there, take the 30K in the pot and increase my stack by 15 percent. I made a big raise, the original raiser folded, and Rojas just smooth-called. I wasn't sure if he was calling out of spite because I raised after he pretended he didn't want to raise."
"When it came king-high I wanted to end the hand. I bet 75K. I was never folding the hand, I was investing myself. When he jammed I thought he might have a set of kings, but he didn't. I don't understand why he played it that way. If he wanted to jam, he should've jammed preflop. He's calling there to either flop a set or see if an ace or king comes. The king is out there and I limp-raised preflop. I'm not doing that with jacks. The minimum I have is ace-king. I think he was more on tilt that anything."
What do you make of this hand? Let me know on Twitter @ChadAHolloway.
Image courtesy SHRPO.