Hold'em with Holloway, Vol. 85: Jamie Kerstetter on Dealing with Bounties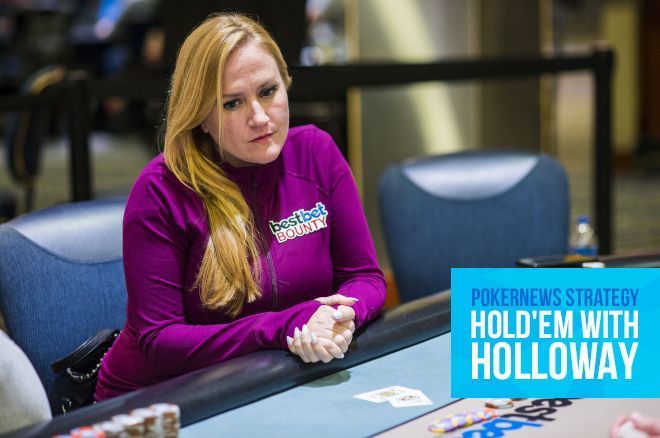 Over the weekend, the World Poker Tour was at bestbet Jacksonville for their annual "Bounty Scramble" Main Event. The $5,000 buy-in tournament featured 28 poker pro bounties, each worth $2,500. One of them was my co-host on the LFG Podcast, Jamie Kerstetter, meaning anyone able to eliminate her would earn a $2,500 bonus.
In Level 6 (300/500/500) on Day 1B of the tournament, Kerstetter played an interesting hand in which the bounty dynamic encouraged her just to flat with a big hand preflop rather than raise.
The hand began when an early position player raised to 1,200 and a middle position player called the raise. Kerstetter then looked down at
in the cutoff and opted just to call.
"I just flatted jacks in a spot where I'd usually three-bet because a player who was gunning for my bounty kept isolating me, so I was looking to back four-bet them all in."
The player to whom Kerstetter was referring was Alex Keating, and as fate would have it Keating indeed three-bet from the button. Action folded back around to Kerstetter who four-bet jammed for 23,000, and Keating snap-called with
.
Kerstetter: "Having a player aggressively going for my bounty on my left was the deciding factor to let him isolate me."
"He was the only one actively going for my bounty and attempting to isolate me in pots, which was the right strategy at the time for him given the $2,500 on my head," Kerstetter explained.
"There are spots where he'd be happy to flop a flush draw versus my overpair and get it in if I'm short enough. But I felt I was ahead of Alex's three-bet range so could comfortably get it in versus him when the others all folded."
After just flatting with her jacks following the raise and call, Kerstetter had other plans if things had gone in another direction.
"If the early position raiser four-bet jams, I could comfortably fold my jacks and know I'm dead versus him," explained Kerstetter. "This is a spot where I'd flat jacks some percentage of the time and raise some percentage. Having a player aggressively going for my bounty on my left was the deciding factor to let him isolate me, and then I could see what the early position raiser did."
Kerstetter got it in good and held on the
flop. The
turn was a safe card, and while the
river improved Keating to a set of nines, it also gave Kerstetter a club flush to win the hand.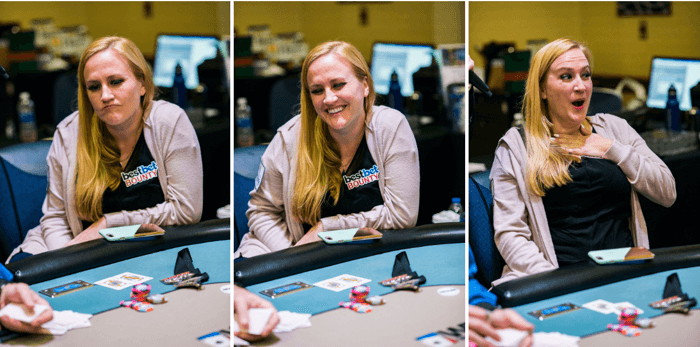 Kerstetter advanced to Day 2 but a brutal cooler put an end to her run. It happened when Ken "Teach" Aldridge raised to 6,500 from UTG+1 and Mark Zullo three-bet to 22,000 from the button. Kerstetter then moved all in from the big blind for 64,000 holding
and Aldridge got out of the way. But Zullo made a quick call and rolled over
.
Kerstetter was on the wrong end of the cooler and failed to get lucky as the board ran out
.
"It doesn't matter how I deal with it since I was out," Kerstetter said of her bustout hand. "I could cry myself to sleep for two weeks and it wouldn't matter."
Indeed, there's no way she doesn't go bust in that spot. Even if she somehow just calls and sees a flop, which isn't advisable given the action and her chip stack, she gets it in postflop. That's why it was a cooler — because it was unavoidable.
For more on Kerstetter, listen to her on the latest episode of the LFG Podcast featuring guest Kao Saechao (a.k.a. KC Chao) right here on PokerNews.
Images courtesy of WPT.