Hold'em with Holloway, Vol. 19: Stupid Calls & Lucky Draws in MSPT WI Championship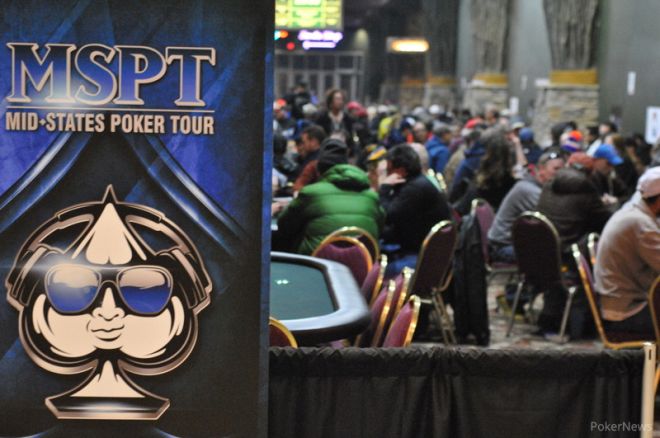 This past weekend, the Mid-States Poker Tour (MSPT) stopped at my home casino, Ho-Chunk Gaming Wisconsin Dells, for an $1,100 buy-in Main Event. It's the only major tour that comes to the Badger State, so obviously it's a big deal in the local poker community. What made it even more special this year was that it was officially rebranded as the Wisconsin State Poker Championship.
The tournament, which had been preceded by a series of qualifiers and super satellites, attracted 463 entries (blowing out the previous stop record of 383), and I accounted for two of them. That's because I played Day 1a, busted, and promptly reentered. My original entry, which came courtesy of a $250 qualifier, came to an end after an opponent flopped a set of fours against my pocket rockets, which was just one of seven times I looked down on aces on Day 1a (they won the other six times, fortunately).
While things didn't go according to plan on my first bullet, they went a little better on my second as I finished as one of the 34 survivors among the 197 Day 1a entrants, ultimately bagging 93,000 (18th of 34). Along with the 54 Day 1b survivors, 88 of us returned to Day 2 to play to the money (top 45) and onward to a winner.
I thought I'd examine three notable hands I played during the tournament, each to varying degrees of success (or failure). I hope you'll learn something from each.
Making a Terrible Call
My starting table was great. Players were raising liberally and overplaying hands. In fact, we had someone nearly go bust in the first 15 minutes despite the fact players started with 20,000 in chips and the blinds kicked off at 50/100.
In Level 2 (75/150), I raised to 400 from early position holding
, one of my favorite hands. Another player flatted, and then a player in late position three-bet to a hefty 1,800. This is where I made my first mistake by opting to call (I still don't know why I did it). That priced in the limper, and the three of us saw a flop of
.
I checked with top pair, the flatter followed suit, and the three-bettor bet all in for his last 7,000. I knew there was a good chance I was behind, but I thought to myself, "Why did you call with this hand if you weren't going to play it when you flopped a piece?" It was bad logic, but it's what I used to make the call. The third player folded and sure enough my opponent rolled over
.
Of course I was drawing live, but that doesn't change the fact I made a stupid call. I was appropriately punished as both the turn and river blanked, sending my stack from 22,000 down to 15,000.
Lesson Learned: More times than not, making bad calls preflop will cost you later in the hand.
Getting Lucky at Just the Right Time
By the time Level 9 (400/800/100) rolled around, I was on my second bullet and fairly short with 15,925. There were some massive stacks at my table, including that of Jeff Petronack, who had so many chips he opened frequently to put the pressure on us short stacks. Eventually I got tired of it and decided to make a stand.
It happened when Petronack opened to 2,000 from early position and action folded to me on the button. I looked down at the paltry
, but nonetheless decided this was my spot. Petronack had folded to numerous three-bets, so I knew he didn't have a big hand every time he opened. If he happened to have the goods, at least I would have live cards (save the unlikelihood of him having pocket sevens or fours).
I shoved, and that's when I ran into it. The player in the small blind, the same one I had doubled in the above hand, thought long and hard before moving all in over the top for roughly 20,000. The big blind folded, as did Petronack, and the small blind tabled
.
I stood up to take my leave, but then the dealer fanned the
flop. I spiked trips and took a commanding lead in the hand. Neither the
turn nor
river proved harmful, and I scored a much-needed double.
Lesson Learned: When your best-laid plans fail, you can always get lucky. To that end, don't ever be ashamed of sucking out in a poker tournament. Having reported on such hands hundreds of times, I can assure you that everyone who makes the final table got lucky at some point or another.
To Flip or Not to Flip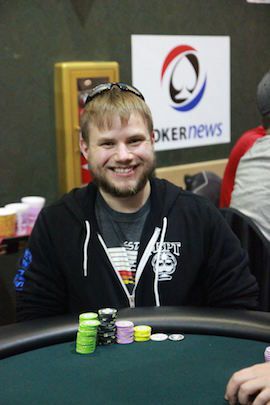 On Day 2, in Level 17 (2,500/5,000/500), I had worked my stack up to 158,000 when I opened for 11,500 from early position holding
. Ashor Ochana, who began the day as a big stack only to dwindle, then shoved all in from middle position for 137,000. It marked the second time in three hands he had shoved over my open.
Johnny Brzozowski was to his direct left and hit the tank. During this time, Ochana was facing Brzozowski, and I could clearly see his leg moving up and down. This can mean a lot of things, but my experience told me he wasn't confident. In fact, my read was that he was nervous about Brzozowski's tank. It seemed to me Ochana didn't want to see a flop, probably because he held either two paint cards, a weaker ace, or most likely a small pocket pair.
I told myself if Brzozowski called I would fold, but alas he did not (he later said he laid down pocket tens). Action folded back to me, and by that point I had decided I was willing to flip for a nearly 300K pot (I was extremely confident in my read). I put in the chips, and sure enough Ochana revealed
. It was the race I expected. If I could somehow win this hand, I'd have enough to chips to coast into the money and more than likely make a run at the final table.
Glory comes to those willing to take risks, but not always. This was one such instance when it did not. A
flop essentially left me drawing dead, which I was after the turn blanked. I sent all but 21,000 of my chips to Ochana, and then busted the very next hand when I shoved
under the gun only to run into
. The board ran out clean and I was out in 55th place, while Ochana went on to finish 25th for $2,779.
I've replayed this hand in my head many times over the last few days. Could I have gotten away? Of course, and with ease at that. I still would have had a decent stack had I folded, and I probably could have grinded my way to the money regardless. In hindsight I wish that's the line I'd taken, but in that moment I was more concerned with winning. To do that, I needed chips, something I never had a lot of the entire tournament. I had an opportunity to flip a coin for a lot of chips, and I took it.
Lesson Learned: When you decide to gamble, you must be willing to live with the consequences.
While I didn't cash, let alone make a run at the title, I was thrilled to see my friend and fellow Ho-Chunk Gaming regular Ben Wiora take it to the bank for $114,512. Ben is a great guy who has put a lot of work into his game, and it was exciting to see him finish as the last man standing. He played like a champion, going wire-to-wire at the final table. But remember what I said — everyone gets lucky at some point or another. That was true of Ben, who put nasty beats on both John "JohnnyGstaks" Hayes and Zach Shelton on his way to victory.
You're going to make mistakes playing poker tournaments, and from time to time you'll get lucky. Sometimes you'll gamble and be glad that you did, while other times you'll shake your head in disgust. Try as you might, surviving a poker tournament really is a lot like navigating a minefield. Focus, tread carefully, and pray for the best.
Get all the latest PokerNews updates on your social media outlets. Follow us on Twitter and find us on both Facebook and Google+!
Executive Editor US, PokerNews Podcast co-host & 2013 WSOP Bracelet Winner.