Hold'em with Holloway, Vol. 40: Practicing Patience in My Deep PPC Poker Tour Run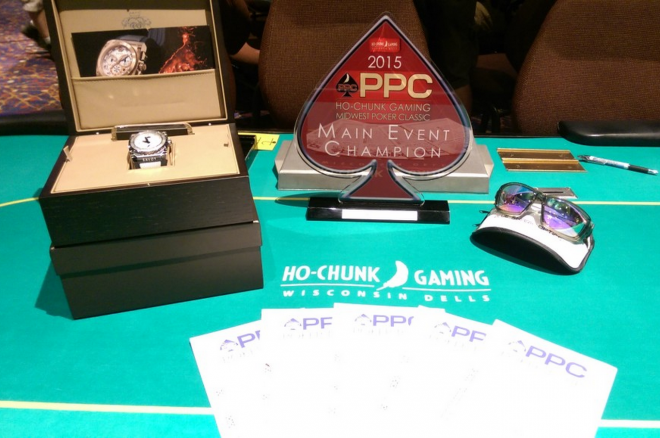 This past weekend I had the opportunity to play in my first-ever PPC Poker Tour Main Event. In all my years of playing poker, I've never experienced a more taxing tournament. Every hour seemed like three, and each hand brought with it an overwhelming sense of dread. That's because I was short-stacked and card dead the majority of Day 2. Even so, I managed to finish in 11th place.
They say patience is a virtue, but what they don't say is it can also be torturous. The 2015 Midwest Poker Classic Ho-Chunk Gaming $350 Main Event — which crushed its $50,000 guarantee by attracting 333 entrants to create a total prize pool of $85,248 plus $21,312 in PPC Aruba packages — proved that to me.
I grinded a 10-15 big blind stack for most of Day 2. I desperately yearned for a quality hand to play, and the pressure only compounded when time and again I looked down at trash. It was stressful, and it definitely made me miss and appreciate the comfort level that accompanies sitting on a big stack.
In this week's Hold'em with Holloway I want to focus on the importance of patience. To be fair, it is not one of my strongest qualities; in fact, I tend to mix it up early and often, pressing small edges and playing too many hands. However, after a miserable 2015 World Series of Poker, I decided it was time to try change up my game. It's still a work in progress, but here are two changes I made for the PPC Main Event that I feel helped me make a deep run.
I Actively Avoided Playing Weak Aces
No hands get me in trouble quite like weak aces, by which I mean anything from
through
. These hands are prone to causing two outcomes — you'll either flop an ace and end up losing chips due to your poor kicker, or you'll pair that low kicker and often lose to an overpair. Of course, there are other scenarios, but those two are quite common.
I don't know why it took so long for me to give up on weak aces — I guess aces just look so pretty — but I simply got tired of losing chips with such hands. As such, I resolved to cut them out of my range unless circumstances were just right (e.g., I get to see a cheap flop from the blinds, it folds to me on the button, etc.). In short, no more playing weak aces from early position or when faced with a raise, regardless of it being suited.
At times tossing away weak aces, especially
, was tough given how card dead I was, but I feel it worked to my advantage. It allowed me to preserve my stack, which in turn gave me more ammunition when I picked up quality hands.
I don't know why it took so long for me to give up on weak aces... I simply got tired of losing chips with such hands.
I know many experienced players out there are thinking, "Of course you shouldn't play them — this is elementary school stuff." True, but I see an awful lot of people losing an awful lot of chips playing weak aces. I hope they continue to do so, but I've finally wised up.
Always Be Aware of the Value of My Chips
During the 2015 WSOP, Rep Porter wrote a four-part series for ThePokerAcademy.com that centered on "Accumulating Chips vs. Survival." I actually took a lot from these articles, most notably what Porter has to say about recognizing the value of your chips at different points in the tournament.
For instance, on the PPC money bubble I was certainly one of the shorter stacks in play, but I wasn't in a tremendous amount of trouble (I had my standard 10-15 big blinds). That meant I wasn't about to three-bet a mediocre hand like
, nor shove with questionable hands such as those aforementioned weak aces, small pocket pairs, or the like.
Likewise, when we made the money I knew holding onto my chips was more important than accumulating chips, a philosophy that allowed me to ladder up considerably. I definitely wasn't calling shoves light.
It's hard for me to explain Porter's points properly as I'm still in the process of incorporating them into my tournament thought process. That said, I highly recommend you go back and read the four-part series for yourself.
Here are some quick links to each:
Congrats to My Cousin Dan Almerli
Speaking of the PPC Poker Tour, I also want to take a moment and congratulate my cousin Dan Almerli, who took down Event #3: $175 No-Limit Hold'em Bounty in the 2015 Midwest Poker Classic Ho-Chunk Gaming series, a tournament that attracted 86 entrants.
For the win, Almerli took home the $1,959 first-place prize, $750 in bounties, and a $1,660 PPC Aruba World Championship package consisting of a $300 buy-in to Event #1, a $100 buy-in to Event #9, a three-night stay at the host Hilton Aruba Resort, and $360 airfare credit. If all goes according to plan, I'll be joining him in Aruba come November!
Want to stay atop all the latest in the poker world? If so, make sure to get PokerNews updates on your social media outlets. Follow us on Twitter and find us on both Facebook and Google+!