Hold'em with Holloway, Vol. 71: How to Amass a Big Stack Early in a Poker Tournament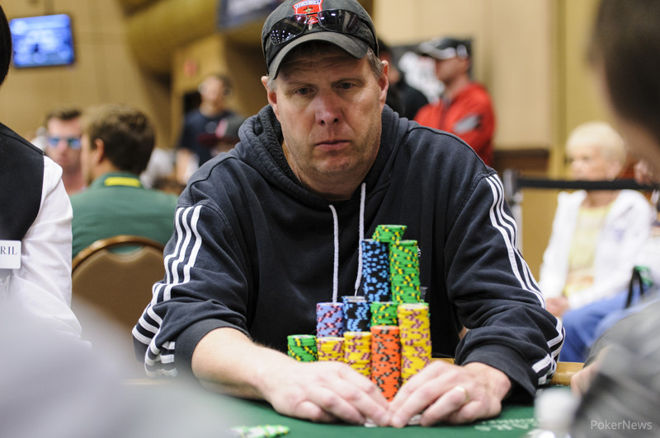 In all my years of tournament reporting, I have never seen anyone amass chips early in poker tournaments as consistently as Mid-States Poker Tour Team Pro Blake Bohn and online poker legend Mark "P0ker H0" Kroon. Both are "go-big-or-go-home players," meaning they're not afraid to bust if it gives them a shot at the chip lead. Oftentimes they do, but in those instances they don't they nearly always find themselves the big stack in the room.
For instance, when Bohn won the 2014 MSPT Grand Falls Casino Main Event — a tournament that was live reported right here on PokerNews — he ran his 20,000 starting stack up to 403,000 on the first day, nearly double the 215,000 stack of Justin Heilman who finished Day 1a second in chips. Rarely does a player bag so much in a MSPT starting flight, and even more rarely do they manage to ride it all the way to victory. Bohn reached the final table with 1.458 million — again more than double his closest competitor — then proceeded to knock out seven players at the final table to win.
Likewise, Kroon famously finished as the chip leader of the Day 1c field in the 2013 World Series of Poker Main Event with 2,306 players remaining, and then did it again by finishing as leader on Day 2c with 953 remaining. It was an impressive feat especially when you consider Kroon actually finished as the overall chip leader after all three Day 1 starting flights and kept the honor after all three Day 2s.
I consider myself to be a good tournament player, but I realize I succeed more in the latter stages of a tournament. Unfortunately, I don't get there as often as I like mainly due to my lack of success in the early stages. Simply put, I either play too loose, which often results in me falling early, or too tight, which gets me deep but leaves me short. Determined to improve my game early on, I resolved to learn from both Bohn and Kroon.
"When I'm playing a tournament where you can fire an extra bullet, I automatically go and play with the mindset of aggression," Kroon replied when I asked him to reveal his secrets to early success. "There's a big difference if you only have one bullet or no reentries. You have to keep that in mind when playing."
According to Kroon, in reentry tournaments a big key is finding out information, such as who has already reentered, who is willing to do so, and who wants to avoid firing a second time if they can.
"I love talking at the table, finding out who is going to reenter and who's not going to reenter," said Kroon. "If I'm sitting at your table, the first thing I'm going to ask is if you've rebought. You can pick up a lot of chips near the end of the rebuy period with that information."
Kroon continued: "I'm probably playing 50% of the hands in reentry situations because I'm always going to reenter. I'm never folding my button. In tournaments where you know a lot of the players I'll try to play against most players after the flop. In Las Vegas, in something like the Main Event, I know I can outplay a lot of people postflop. If I don't know the players, after an hour or two I'll get to know who I can play and who I can't play."
Another key for Kroon is table talk, specifically designed to soften up his opponents so they'll reveal valuable information.
"I love to talk at the table, find out what they do for a living," said Kroon. "Are they an accountant? What do they do? I think that's the most important thing — talking at the table to get the information, especially from the people two to my left and two to my right, the people I'm going to play the most against. Also, I feel when players think I'm their friend, they're not going to try to steal from me. If I feel like I'm their friend, I tell them I'm not going to steal from them, especially on the break. Of course that's just part of the game that we play.
"You can really get so much information from people while you're sitting there playing. In the WSOP, one of the things I like to do to players I've never seen before in my life, I love to sit there and say, 'Hey, you again. I can't believe we're playing together again.' They'll look at me and I'll say, 'Didn't I play with you last WSOP?' They'll say, 'No, I've never played before. This is my first World Series event.' You get so much information if they've never played before. You can automatically put them on a range right away. Get them talking about how much they've played."
"When you go play in smaller tournaments anywhere say to someone, 'Hey, didn't I play with you at WSOP?' If they say they've never played before, boom, you've got a lot of information. They've never played a WSOP before, so you can put them at a certain level as to how good they are or how much experience they have."
Kroon admits that that sometimes his table talk has the opposite effect, meaning instead of endearing players to him he ends up annoying them. He's prepared for that eventuality, though, and has a plan for when such instances occur.
"The one thing I really hate doing is making people unhappy," said Kroon. "I like making people comfortable, but when I know I have someone — especially the older people — that my talking is annoying, I'll use that to my advantage. Especially when I'm in a hand with somebody and the talking is making them uncomfortable, they'll give off a lot of body tells. You can tell when they are or aren't looking at you if it's working and when it's not."
Like Kroon, Bohn is a big table talker, and in my opinion both are cut from the same cloth. People either love them or hate them, but all seem to give them their chips. Those the former camp are content not to play back, and those in the latter often let their frustration cloud their judgment.
As best as I can tell, a formula used by both for amassing a big stack early is to socialize, gather information, and exploit it by being super aggressive against players who are either unwilling to reenter, are inexperienced, or tend to get annoyed. It's really quite genius — a part of the game people might not think about, and something I've seen work for both Kroon and Bohn time and time again.
The next time I play I'm going to give it a whirl. What do I have to lose, aside from a buy-in?
Want to stay atop all the latest in the poker world? If so, make sure to get PokerNews updates on your social media outlets. Follow us on Twitter and find us on both Facebook and Google+!