Hold'em with Holloway, Vol. 100: The Revived Re-Entries Debate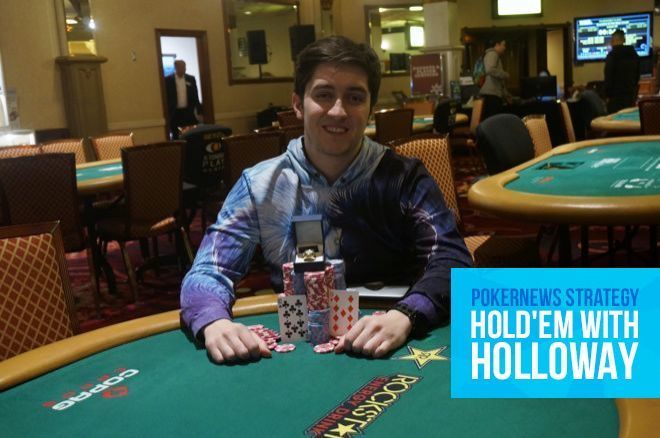 Recently the topic of re-entries in poker tournaments found its way back into the spotlight. It returned after high-rolling poker pro Ali Imsirovic fired seven bullets (out of 179 entries) on his way to winning the World Series of Poker Circuit Rio $2,200 High Roller.
For this 100th edition of Hold'em with Holloway, I thought I'd veer away from strict strategy talk and instead offer you not only my thoughts on re-entries, but also some of the best points from poker fans and players after discussing the situation on a public forum.
The Argument for Re-Entries
No one loves re-entries more than casinos and cardrooms. Each is treated as an independent entry, meaning they get to rake each one as if it were a new person. They make a lot of money of re-entries, so they're more incentivized to label their events as such.
Kessel: "I say any time someone wants to pay seven times as much as I do to win the same money, count me in."
Additionally, there are players who advocate for them as well. David Prociak is one of them.
"Unlimited re-entry makes it possible for people to travel to events and justify the cost and for that reason, I think tournaments attract more players than would usually play," Prociak says.
"How would you feel if you flew to a location, booked three nights stay at a hotel, get there and have aces and someone shoves all in and you have to call, and boom, you're out within 30 minutes? Every re-entry is exactly like a new tournament to the players rebuying."
World Poker Tour champ Jason Brin also emphasizes the benefit to prize pools.
"This one win don't even come close to the losses if one plays this way over their lifetime or any measured time frame," Brin says. "With seven buy-ins [and] that field size, you are only profitable if you come in fourth or better. You are a donator 85 percent of the time if you are a good player, worse if you're not a good player. Let 'em keep buying in — it's good for the prize pool."
Renee Kessel tossed in her two cents: "I say, any time someone wants to pay seven times as much as I do to win the same money count me in."
The Argument for Freezeouts
While there are fans and players advocating for re-entries, there are many more pushing for either freezeouts or restrictions on re-entries.
"How do I feel? If it's within the rules, he did nothing wrong," Todd Witteles says of Imsirovic's win. "However, these need to be eliminated, save for a few events."
"These re-entries are awful for recreational players, and they make the final stages of the event far tougher. Basically, they make it a little easier to min-cash, but much harder to run deep. This should be stopped for the most part," Witteles adds.
Destrade: "The multiple re-entry is bad for the game, bad for recreational players, only good for the casino and the deepest of pocketed pros."
Scott Cooper echoes what many believe — that re-entries allow pros to buy wins.
"I think unlimited reentries allow players to pretty much buy wins," Cooper says. "It's great for the prize pool, but it's killing the game. Amateurs are drawing very slim in unlimited re-entry buy-ins."
William Monie is of the same mind. "Bad for the game, bad for the future of poker," he says. "[It] shouldn't be who has the most money wins. World-class pros like this guy have a huge edge over most players in the field. Beating them once in a tournament is hard enough, but busting them seven times — yea, good luck."
Poker pro and former Survivor contestant Albert Destrade weighs in: "The multiple re-entry is bad for the game, bad for recreational players, only good for the casino and the deepest of pocketed pros."
Neil Scott also makes good points by comparing freezeouts to re-entry tournaments.
"Personally, I would love to see more freezeouts. With the exception of an occasional re-entry," says Scott.
The "re-entry mentality is much different than that of freezeout mentality," he continues. "Re-entries play more like a cash game. You're essentially eliminating the risk of busting out, as you can just buy in again. The risk factor in the game is minimized. [In] freezeouts, the risk factor is always dangling in front of you and decisions essentially become more life-threatening, as every decision could be your last. I think a good player, that recognizes the difference between the two, will exceed in both. But, they will play both the re-entry and the freezeout much differently.
My Thoughts on the Matter
While I think both sides make good points, I think the solution lay somewhere in the middle. It seems to me there's a compromise, one that's currently used by various venues and tours, that can appease all parties. That is to do away with unlimited re-entries and instead, offer a single re-entry option, be it per event or flight.
The Mid-States Poker Tour has long practiced this by allowing a single re-entry option per flight, and only until the end of late registration (which isn't open until the start of play on Day 2 like so many others). This has proven popular among pros who travel in as they know a single bad beat won't make their trip worthless, as well as recreational and satellite players who feel they have a legitimate chance of competing with pros who may be better bankrolled.
"A single re-entry option seems like a fair compromise to protect the interests of players on both ends of the spectrum."
I spent three years working for the MSPT, and I can tell you that approach is one of many reasons for their success. Their numbers continue to grow and you'd be hard-pressed to find a tour with more satellite qualifiers.
If I had my way, I would like to see more freezeouts when and where there's a series of events. For example, at each WSOP Circuit stop there are a dozen or more tournaments. If you travel in and bust, there's another event right around the corner. This is an environment that is suitable for freezeouts.
But if it's a stop comprised of just one big event, like the MSPT, then a single re-entry option seems like a fair compromise to protect the interests of players on both ends of the spectrum.
Finally, my experience has led me to believe that unlimited re-entries do more harm than good. At one time they were shot in the arm to prize pools, but it came at the cost of depleting poker economies and deterring recreational players. In my opinion, a move back towards freezeouts will be better for the poker industry long term.
Be sure to complete your PokerNews experience by checking out an overview of our mobile and tablet apps here. Stay on top of the poker world from your phone with our mobile iOS and Android app, or fire up our iPad app on your tablet. You can also update your own chip counts from poker tournaments around the world with MyStack on both Android and iOS.