Hold'em with Holloway, Vol. 54: Dealers Aren't Always Right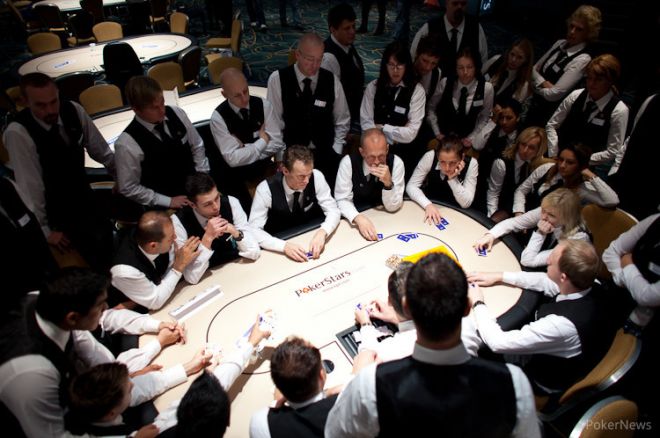 Poker dealers are the true captains of the table. Players and tournament staff alike trust them to facilitate a successful game, one characterized by speed and accuracy. Most of the time they do a great job, but over the course of tens of thousands of hands, mistakes are bound to happen. After all, they're only human.
Some people come down on dealers when they make a mistake (they're an easy target when someone is tilting or generally just an a**hole). Meanwhile others reward them for either a big hand or good run of cards (tipping isn't a city in China). I never advocate mistreating a dealer, but I do encourage you to reevaluate the reliance you place upon them.
Case in point, a hand from the recently completed $1,100 buy-in Mid-States Poker Tour Golden Gates Casino Main Event in Black Hawk, Colorado. It happened during one of the starting flights late in the night. They had reached Level 8 where the blinds were 300/600 with a 75 ante, and the hand began with Travis Northrope opening for 2,125 and Lou Mortellaro calling from middle position. A short-stacked David McLaughlin then moved all in for 3,850 from the cutoff, and action folded back to Northrope.
"Can I raise?" he asked the dealer, who indicated that he could not. Northrope made a comment that he didn't think that was correct, but he nonetheless made the call, as did Mortellaro.
Both players then proceeded to check it down as the board ran out
. McLaughlin showed
for a flopped two pair, but he seemed to know that after being counterfeited on the river his hand probably wasn't best. Sure enough, Mortellaro rolled over
for aces and tens. Northrope then showed
and again wondered aloud whether or not he should have been able to raise before the flop.
As it was, his raise was 1,525 over the initial 600 big blind, meaning if McLaughlin's reraise was equal to or more than that, he should have been allowed to four-bet. Indeed, McLaughlin's all-in three-bet was for 1,725 more, meaning it would have reopened the action.
Unfortunately for Northrope, he denied his initial instinct and it was too late to do anything about it. The dealer error stood.
"I'm not mad, I just know I could have raised," Northrope said with a hint of regret after the hand.
This was a great example of placing too much reliance on dealers. Yes, they are the table captains and it's their job, but mistakes are bound to happen. In this case, the dealer made a mistake, but Northrope made one as well by not halting the action either to do the math or to call a floor over. As such, Mortellaro was able to capitalize, albeit it unintentionally.
That said, poker is all about capitalizing off your opponents' mistakes. In this hand, it was the dealer who made one, but left uncorrected, it had a trickle-down effect.
Northrope went on to bust later in the night, while Mortellaro bagged a big stack and ultimately finished 44th in the tournament for $2,226. Meanwhile, Phanora Prom topped the 510-entry field to capture the $123,180 first-place prize, which you can read about by clicking here.
Share any dealer error stories you might have either in the comments section below or on Twitter @ChadAHolloway.
Want to stay atop all the latest in the poker world? If so, make sure to get PokerNews updates on your social media outlets. Follow us on Twitter and find us on both Facebook and Google+!