Hold'em with Holloway, Vol. 10: Five Must-Read Poker Books of 2014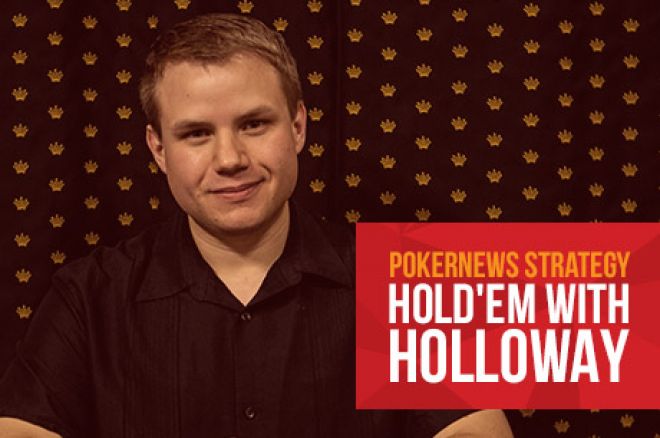 I read at the poker table. When I attended Tulane Law School, I spent too much time at Harrah's New Orleans and not enough in the classroom. As a compromise I forced myself to study at the table, and ever since then I've developed an ability not only to read at the table in between hands, but also to absorb the material.
Most of the time I try to focus on the game, but as any player can attest, sometimes you need to break up the monotony. Some players watch movies or listen to music, but me, I read either comic books or poker material. I'll skip addressing the former (other than to say comic fans should check out Saga, East of West, and Lazarus), but I want to devote some attention to the latter. That's because every time I read a poker book at the table I'm bombarded by a dozen different questions.
What book is that? Who is it by? Is it any good? There seems to be a great deal of interest in poker books nowadays, but since they don't get a lot of press, oftentimes players only learn of them through word of mouth. As such, I've decided to share a list of five poker books I've added to my collection in 2014.
Check out Nolan Dalla's lists of "The 10 Most Important Poker Strategy Books Ever Written and Why They're Special" and "The 10 Most Important Poker Books and Why They're Essential."
For transparency's sake, I did receive a free copy of each of these books for review purposes. That said, I am neither obligated nor compelled to provide a positive review. But in the case of these five books, I am more than happy to recommend them to poker fans.
This is actually the book I'm reading right now, and admittedly I'm not done with it yet. Still, I can confidently say it's the best poker book on pot-limit Omaha that I've ever read. If I'm not playing a tournament, I'm playing PLO cash, and earlier this year I made it a goal to improve my game. Simply put, Mastering Pot-Limit Omaha has allowed me to do that.
The book has helped me cultivate an aggressive style and understand some dense concepts such as game theory and frequencies. It also paints a great picture of the current PLO landscape. So far it's the best book on PLO I've read and I recommend it to anyone looking to take their PLO game to the next level.
I actually prefer poker narratives such as histories and biographies to strategy books. Books like Positively Fifth Street, Big Deal, and The Godfather of Poker are all classics and among my favorite ever poker-related reads. In 2014, Eric Raskin released an excellent new poker narrative that I immediately put in that company — The Moneymaker Effect.
Raskin's book was expanded from an earlier Grantland feature titled "When We Held Kings" and is written primarily in "oral history" format. It centers on Chris Moneymaker's remarkable run in the 2003 World Series of Poker and features interviews with more than 30 people involved including Phil Ivey, Phil Hellmuth, and Sammy Farha, just to name a few.
I thought I knew everything there was to know about Moneymaker's win, but The Moneymaker Effect shed light on a lot of new information. I really couldn't put it down and highly recommend it to anyone who was introduced to the game as a result of the Tennessee accountant.
Check out my review of The Moneymaker Effect and author interview with Raskin by clicking here.
Say what you will about Haseeb "DogIsHead" Qureshi — he knows how to write. Upon being embroiled in the "Girah Scandal" a few years back, Qureshi disappeared from the poker spotlight. After taking responsibility for his role in the scandal and apologizing, Qureshi returned in a limited capacity by releasing How to Be a Poker Player: The Philosophy of Poker. It turned out to be one of my favorite books of the year.
As I wrote in my review, "How to Be a Poker Player: The Philosophy of Poker isn't quite a strategy book, nor is it dedicated to mindset techniques. Instead, it is focused on informing the reader on what it means to be a poker player. In this regard, it is unique. Sure, that means strategy and mindset are covered, but it's more than that — it's philosophical. By that I mean it forces you really think about the game on a more personal and spiritual level."
I learned that poker is not life, but it is a way of life. How to Be a Poker Player got me thinking about poker in a different way, and that's always a good thing.
Thanks to a successful Kickstarter campaign, Dutch Boyd has released a book documenting his life while offering up various pieces of poker wisdom. It's not the most polished book out there, but the material is good. From dealing with bipolar disorder to the PokerSpot fiasco, Boyd opens up about it all.
It's rare for a player to pull back the curtain on his life in this way, especially when things haven't gone according to plan. Boyd's ride has been filled with ups and downs, and he makes himself vulnerable by confronting it all head on. It was an honest and raw read, which was made all the more sweet when Boyd won his third gold bracelet at the 2014 WSOP (something that happened after the book's release). Perhaps happy endings really do exist.
Check out my review and interview with Boyd here.
I have to be honest — I haven't had a chance to read this one quite yet. I received my copy in the mail a few days back, and right now it's sitting on my desk waiting for the holiday break. That said, I get the impression this one is going to be a game changer and feel it needs to be on any list of significant poker books released in 2014.
For the first time, Moorman shares strategy tips he has developed during a career as the most successful online tournament poker player in history. The book finds Moorman examining in detail 80 tournament hand histories from co-author Byron Jacobs. Paging through I can tell it's written in a coaching format, which will no doubt resonate with readers. Toss in a foreword by the great Doyle Brunson and I don't see how you can go wrong.
Find all of these books and more over at the PokerNews Book Section. What are your favorite poker books? Let me know your recommendations below in the comments or on Twitter @ChadAHolloway.
Get all the latest PokerNews updates on your social media outlets. Follow us on Twitter and find us on both Facebook and Google+!