Hold'em with Holloway, Vol. 38: Things to Say and Do When You Bust a Poker Tournament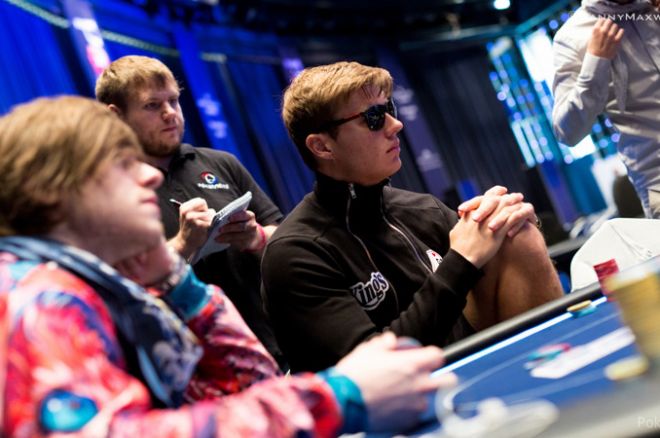 For most players, busting a poker tournament is an emotional experience. It's the point where players — no matter how well they played — must accept the fact that their tournament life is over.
Sometimes it doesn't hurt much (maybe you were short for a long time, or got it in preflop with aces and had them cracked — what else were you going to do?), but other times it stings like a son of a bitch (maybe you were second in chips and busted to the chip leader, or a complete donkey made a foolhardy move and got lucky).
Whatever the case, it's time to stick a fork in you because you're done. The question is: what do you say and do after being eliminated?
Those players who let their emotions control them rather than the other way around are usually the ones to go off the deep end. From verbally berating their vanquisher to actually tossing out threats that force security to get involved — I've seen it all. Some players simply can't stand that they're out of a tournament, especially when they feel others less deserving remains.
When I bust a poker tournament I feel the rage boil up in my belly.
The fact of the matter is, poker isn't fair. The best player doesn't always win. It's important to accept that fact. Whenever I bust a tournament I like to think of a quote by Al Swearengen in one of my favorite TV shows, HBO's Deadwood.
"Pain or damage don't end the world. Or despair, or f***ing beatings. The world ends when you're dead. Until then, you got more punishment in store. Stand it like a man, and give some back."
More times than not tournament poker ends up resulting in punishment, but I can attest, it's all worth it when you finally break through and find yourself as the last player standing. So what should you do when faced with the pain that comes from busting a poker tournament?
Here are my top three recommendations of things to say and do after busting a poker tournament:
3. Simply Say "Good Luck"
This has been my standard for many years. I'll admit, when I bust a poker tournament I feel the rage boil up in my belly. My ego has a hard time reconciling the fact that I'm out, and I have to be careful not to let it send me down a path of self-destruction.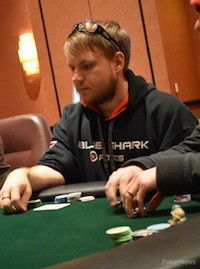 Whenever someone gets lucky on me, or the proverbial poker gods screw me over, I want to take my frustrations out on someone. Many of you are probably the same. The other players at the table certainly make easy targets, but you're not doing yourself any favors when you let your emotions get the best of you (believe me, if you go off on another player you only come across as an a**hole).
Instead, just say "good luck." Even if you don't mean it; in fact, saying it is a polite and acceptable way of saying "f*** you." You don't need to say anything else. Just utter a half-hearted "good luck," collect your things, and make a beeline to the exit.
I've always thought of it as the sportsmanlike thing to do in tournament poker, kind of like how football players meet in the middle of the field after a game to shake hands. It's no doubt torture to the losers, but it must be done.
2. "I Wish I Could Have Played Longer With You Guys"
I heard German pro Max Altergott utter those exact words after he busted the European Poker Tour Grand Final €25,000 High Roller in fifth place for €339,100. I was awestruck. For me, this was the perfect thing to say after busting a poker tournament.
Altergott, a seasoned poker professional, had just watched his shot at the €1.1 million first-place prize go up in flames. What's more, he did so after a bit of bad luck. He had been crippled after losing
all in preflop against
, then he saw a double-up slip away when his
ended up chopping with Andrey Andreev's
after the board ran out
. He busted on the following hand.
I would have been pissed if I were in his shoes, but Altergott smiled and said, "I wish I could have played longer with you guys."
He meant it, too. It was 100% sincere without a hint of sarcasm. I don't know why, but it resonated with me and I made a vow to say that exact line when I bust a tournament. In my opinion it is a very classy line.
1. Shake Hands with the Table and Be a Good Ambassador
If you have it in you, I encourage you to follow the example of Daniel Negreanu. Here is a player that, no matter the situation, stays composed and treats his competition with the utmost respect. For instance, after he busted the $1 million buy-in Big One for ONE DROP in second place last year he was grinning from ear to ear. And more recently when he busted in 11th in the 2015 World Series of Poker Main Event — just two spots shy of the coveted November Nine — Negreanu was again all smiles (after a brief fall to the floor).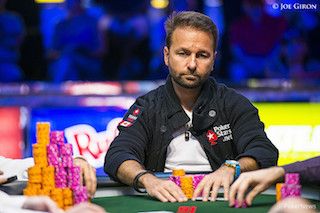 In the former event, he stuck around to do interviews (which was great considering the champion, Daniel Colman, shunned the media), and in the latter he shook hands with the table, congratulated them, and exited to a thundering round of applause.
"I'm fine with that, and I love the game and I owe it a lot; the beautiful life I have, the life I've always dreamed of when I was a teenager," Negreanu said after busting the Main Event. "I live my dream life day-to-day, and without poker that wouldn't have been the case. Once the hand was over, I was able to center myself. Obviously I would've liked to win, but one of the things I've learned in [Choice Center], is that I don't attach my results to my self-worth. Whether I win in poker or lose in poker, I know who I am deep down."
Granted, Negreanu is a poker superstar and an ambassador of the game. You can argue such things are expected of him, and you're right. Still, there's no reason you can't take a page from his book.
If you can be pleasant, cordial, and a delight to be around in the face of elimination, it can pay dividends. People will tend to like you more, which is always a good thing. Maybe they'll invite you to a future game, or be less inclined to gamble with you the next time you play (who wants to bust the nice guy?). Whatever the case, it can't hurt to be amiable.
Of course most times that's easier said than done, at least for me. Unfortunately, my results are still tied to my self-worth (I'm working on separating the two). My emotions overcome me so much that it's difficult for me to follow in Negreanu's footsteps (most of the time I just want to get the hell out of Dodge), but I do think it's the most graceful way to exit a poker tournament.
What's your go-to elimination reaction? What's the craziest/best reaction you've ever seen from a recently eliminated player? Let me know on Twitter @ChadAHolloway.
Want to stay atop all the latest in the poker world? If so, make sure to get PokerNews updates on your social media outlets. Follow us on Twitter and find us on both Facebook and Google+!