Hold'em with Holloway, Vol. 55: Don't Get Married to Pocket Aces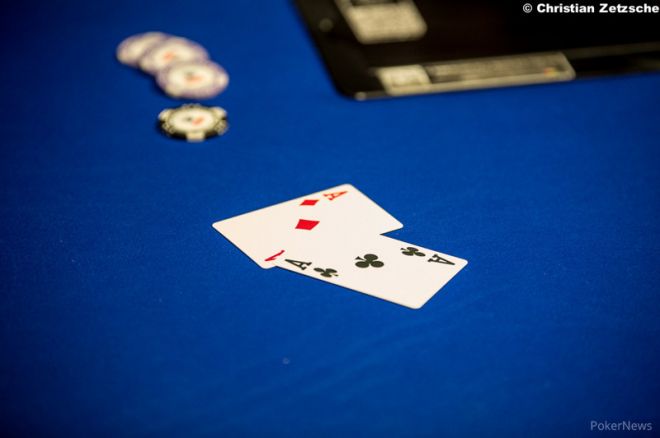 I never want to play poker tournaments to earn a living.
I used to think it'd be a dream, but last week I had a reality check when I took a week of vacation to play a full schedule of tournaments at the World Series of Poker Circuit Planet Hollywood stop. In the beginning I was full of excitement and hope, but in the end I was beaten, exhausted, and utterly demoralized.
It's easy to sweat poker tournaments from afar and watch as players catch hands and build big stacks, but what you don't see, or at least don't pay much attention to, are the countless masses that are left spinning their tires until they crash into the rail. I was one such player in pretty much every tournament I played.
I actually got off to a great start in my first event, a $365 buy-in no-limit hold'em ring event. I received pocket aces four times before the first break, a couple of times in back-to-back hands. They won every time. It felt great, and I was confident it was a prelude to what would be a great series. How wrong I was as the poker gods soon changed their tune from blessing me with great cards to giving me one of the driest runs I've ever experienced.
Over the next four tournaments I was never above the starting stack. I spent hour after hour folding, and on those rare occasions I saw a flop I missed it completely. There's no other way to describe it than pure frustration.
By the time the $1,675 Main Event rolled around, I convinced myself that things were bound to turn around. They didn't as I busted Day 1a without much to write about. However, on Day 1b, things started to go my way.
Once again the cards came to me, and thanks to several big pocket pairs I was able to double my 20,000 starting stack early on. As players busted and new players filled in, I eventually found myself at a stacked table that included Matt Berkey to my left, Gavin Smith to my right, and both Erick Lindgren and Dennis Phillips seated about the table.
Much to my surprise, I continued to build even against the stiff competition, and by the time our table broke I was sitting with around 70,000 late in the evening. That's when a big hand bit me in the ass, not through a bad beat, but because I made a very amateur mistake — I got married to aces.
In the hand, which began with the blinds at 600/1,200 with a 200 ante, I looked down at
under the gun and raised to 3,000. Action folded around to the player in the big blind, and he decided to defend. The
flop seemed harmless enough, and I was a little surprised to see my opponent lead out for 2,500.
I interpreted the action as a feeler bet, meaning he hit a small part of the flop — maybe a pair or straight draw — and wanted to see where he stood. I decided to let him know by raising to 8,000. He thought for a bit, and it looked like he might three-bet, but ultimately he just called, which led to the
turn.
My opponent checked, and in an attempt to control the size of the pot, I checked behind (I thought there was a chance he held
and could have turned a straight). When the
blanked on the river, my opponent paused for a few beats and then fired out 30,000, which was most of what he had left.
I had about 47,000 back, so a call would cost me the better part of my stack. I hit the tank considering the action, and while my gut screamed something wasn't right, I was trying to find a reason to call. After all, I had aces! In hindsight, I know how incredibly stupid it was to think this way.
Long story short, I made up my mind that he was either bluffing or overbetting with a bare pair, and I made the call. He rolled over pocket eights for a flopped set and I sent over the chips.
I was disgusted. Not because I lost, but because I was my own worst enemy in the hand. Had he three-bet me on the flop, we would have no doubt gotten it in and I wouldn't have felt too bad. Instead, he gave me the opportunity to get off the hook, but I still paid him off all because I couldn't get away from my aces.
The rest of my chips disappeared a short time later, and just like that my WSOP Circuit Planet Hollywood came to an end without my even coming close to a cash. As I write this, I hate poker. I don't want to play.
I'm sure most of us feel that way after busting a big tournament, let alone one every day for a week. I know the feeling will pass and I'll be back at the tables before too long, but like I said, I'm glad I don't have to play tournaments to make a living. Don't get me wrong. I have mad respect for those tournament grinders who do it day in and day out. It's not an easy living. I'm just saying that having a full-time job alleviates a lot of the pressure associated with playing poker.
Now, all that said, I do aspire to be like John Morgan, Paul Phua, and Bill Klein, all of whom have made their fortunes off the felt and use it to play tournaments. To play poker without having to worry about the money, that is the real dream, though I doubt it'll ever happen!
Anyway, the point of this week's article is twofold. First, making a living playing poker tournaments isn't as easy as it seems (you'd better be okay with being a loser 90% of the time). And second, don't get married to aces. Oftentimes it ends in an ugly divorce, especially in Vegas!
Want to stay atop all the latest in the poker world? If so, make sure to get PokerNews updates on your social media outlets. Follow us on Twitter and find us on both Facebook and Google+!