Hold'em with Holloway, Vol. 92: My Upstuck Diagnosis by the CLC Squad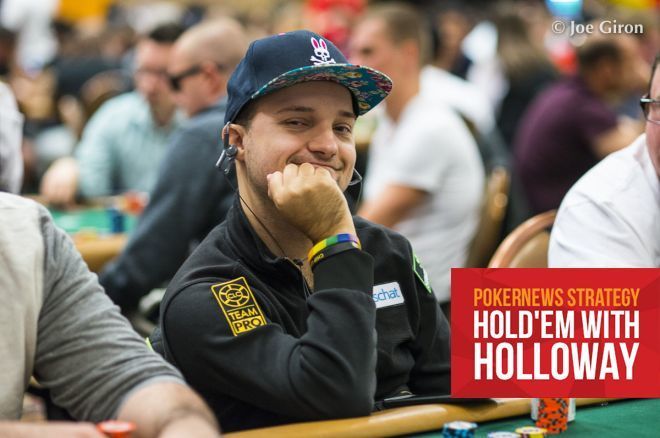 I was fortunate enough to win $1,040 in a recent $5/$10 pot-limit Omaha cash game. Not a bad win, but I was angry/tilted/frustrated because an hour earlier I was up $2,250. I'm sure many of you can relate to the feeling of being up a good chunk and then either losing some or all of it back.
Sometimes when a player is stuck big, say $500, and then claws back to even, it can feel better than actually booking a win. It never ceases to amaze me what seemingly contradictory emotions — e.g., feeling like a loser when you're winning, or feeling like a winner by breaking even — poker can evoke.
"Being upstuck isn't a great feeling, but it becomes a non-factor for those confident in their skills."
Fortunately, there's a name for what I experienced and I was diagnosed by two experts from Chip Leader Coaching.
"That's called being 'Upstuck' and pretty much everyone experiences it," WSOP bracelet winner Ryan Laplante said when I told him how I was feeling.
"It is your ego lying to you about deserving to win," Laplante explained. "The way you deal with it is focus on decisions and not results. Play well equals winning. Play poorly equals losing. Money is just a way to keep score in the game."
I also had the chance to chat with CLC co-founder John "KasinoKrime" Beauprez about it.
"I feel it constantly. Poker, and life for that matter, is all about expectations," said Beauprez, who like Laplante is a WSOP bracelet winner. "If you're the chip leader of a tourney and then you lose half your stack but still have an above average stack, you feel short."
"If you are on life support and double up, it feels like a mountain since mentally you were already preparing to bust out (probably thinking about who is going to give you a ride home, what's for dinner, etc.)," he continued. "For me personally, I really do my best to focus on grading myself on how well I play - not on any type of results."
To do that, Beauprez keeps what he calls his "performance journal" in which he writes after every session.
"I use metrics which aren't tied to results to grade my play," he explained. "So actually, a lot of losing sessions I've had have the highest rating because of my focus level, mental state of tilt, etc."
One hand I recently watched play out and felt was indicative of what Beauprez was preaching took place on the bubble of the MSPT Season 9 finale at Canterbury Park — which coincidentally was won by CLC student Andy Rubinberg for his second MSPT title.
It happened when Wisconsin's Larry Ormson opened for 15,000 from the hijack and the button flatted. Brad Sailor, another CLC student, came along from the big blind and the trio saw a flop of
.
Sailor checked, Ormson bet 20,000, and the button folded. Sailor woke up by check-raising all in and Ormson called off for 66,000 total.
Ormson:

Sailor:
Ormson got it in good with an overpair and open-ended straight draw, but Sailor had the flush draw with a gutshot. The
turn gave Sailor the flush and left Ormson drawing dead headed to the river, which was the meaningless
.
Ormson fell one spot shy of making a minimum payday of $2,271 and was understandably disappointed. However, in my opinion, this was one of those spots Beauprez was talking about. Ormson played it right at the time in my opinion. Even though the outcome wasn't what he wanted, Ormson could take solace in the fact he got it good.
In terms of being upstuck in my PLO game, my angst was relieved after talking it over with the pros. I was happy with my play in what was a great game with lots of players giving away money, which meant leaving earlier probably would've been the mistake. And even though I didn't win as much as I hoped, it was still a solid bankroll boost.
Being upstuck isn't a great feeling, but it becomes a non-factor for those confident in their skills. Do the right thing, do it all the time, and you have nothing to be ashamed of.