Hold'em with Holloway, Vol. 12: Dealing with a Target on Your Back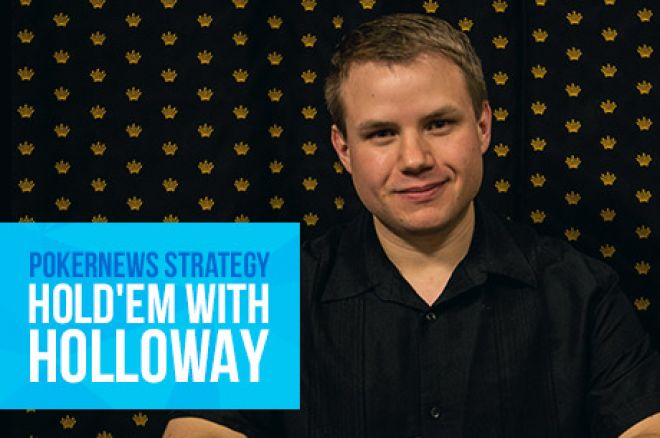 This past weekend I had the opportunity to serve as one of three "celebrity" bounties in a $300 buy-in tournament at my local casino, Ho-Chunk Gaming Wisconsin Dells. I hadn't had the opportunity to play a tournament in months, so I was really looking forward to getting back in the game — especially since my buy-in was covered and I was freerolling.
While winning was on my mind, it wasn't my first priority. This was a charity event designed to help raise money for the Lake Delton Fire Department while simultaneously providing a competitive event for players. As an invited guest, my primary goals were to have fun and be a good ambassador — something I wrote about in a previous edition of Hold'em with Holloway. I certainly feel I accomplished those goals.
In the past I have mentioned that I like to read at the table, but for this event I didn't bring anything with me other than a pair of Blue Shark Optics and my coveted World Series of Poker gold bracelet, which I only break out for charity events. I was determined to stay focused while observing and interacting with the other players, and not bury my head in a book. It was important to me that everyone had a good time.
The Holiday Celebrity Knockout Event attracted 134 total entries plus three celebrity bounties in Lake Delton Fire Chief Darren Jorgenson, PPC Pro Mark "P0ker H0" Kroon, and myself, with each of us having a sizable bounty on our heads. Half of the optional add-on went to the fire department, and I'm proud to say the event raised $1,370 for a great cause.
After a few levels I played an interesting hand, but before I get into that, let me reiterate that I had a $400 bounty on my head, which had a huge bearing on my strategy. Knowing that I would often have little-to-no fold equity meant I needed to wait for quality hands. Unfortunately they were few and far between.
In the aforementioned hand, the blinds were 100/200 when a player in middle position opened for 425. The player in the small blind called, and I looked down at
in the big blind. I was sitting with around 10,000 in chips and popped it to 975. The original raiser folded, and the small blind — clearly an inexperienced player there to have fun — looked as if he were going to fold as well. However, before releasing his cards he reconsidered, said something about this being his only chance to get my bounty, and put in calling chips.
When the flop came down
rainbow, the small blind nervously tossed out three red T1,000 chips for a big bet of 3,000. I certainly wasn't expecting that to happen, and I had to take a moment to consider what was going on.
If he had a
, why would he lead out so big? Wouldn't he want to trap? It didn't make sense, so I immediately ruled out a trey. Now a
, that would make sense. If he flopped two pair with something like
,
,
, or
— all hands I felt were in his range — then I could understand him leading out (though the size of his bet still threw me).
In hindsight I wish I'd have just called and given him rope to hang himself on the turn, but I didn't. Instead I opted to move all in figuring that if he did have a nine he'd make the call. The call never came, though, as instead he gave a sly smile and slid his cards to the muck.
"I had to take a shot at it," he explained. I have no idea what he had, but obviously it wasn't a trey. My guess is he bet with complete air, but if he did have a nine and found a fold, good on him. It was a nice boost to my stack, but I can't help but feel I could have gotten more.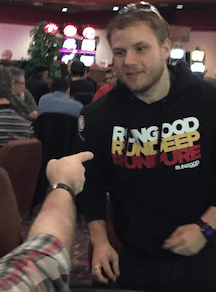 I hate to say it, but that was pretty much the only notable hand of the tournament for me. Chief Jorgenson was the first of the celebrities to go, and I followed him out the door about an hour later. I never got anything going and my stack dwindled as the blinds took big jumps every 30 minutes. Before long I was sitting with under 10 big blinds and card dead. Given the bounty it was too dangerous to shove light, so I had few options other than to sit and wait for a hand. Talk about feeling helpless.
Then, in Level 7 (500/1,000/100), Joseph Donny opened for 2,500 and I moved all in over the top for 7,300 total. Donny called with
, which dominated my
, and he held after the board ran out clean. I congratulated Donny, handed him my $400 bounty chip, and wished the table luck.
I was disappointed in what turned out to be a rather "blah" tournament as far as my cards and chips were concerned, but upon reflection there wasn't much I could have done differently. Sometimes the cards never come, and when something halfway decent comes along you're fated to run it into the one hand that has you dominated. As they say, that's poker.
Anyway, it was still a great charity event. The staff did a great job, everyone had fun, and money was raised. My good friend Kroon was the last celebrity standing, though he exited outside the money a couple hours later at the hands of Holly Lawler, who received a $400 bounty for doing the deed. The tournament eventually ended in a five-way chop between Pat Kellogg, Patrick Walsh, Eric Borcherding, Terry McCaughey and Steven King, each of whom took home $5,070.20.
This weekend I'm heading up to the Twin Cities for the Mid-States Poker Tour (MSPT) Season 5 finale at Canterbury Park, which is actually the first card room in which I ever played. I'll be playing the $1,100 Main Event.
Win or lose I plan on highlighting some of my more notable hands in next week's Hold'em with Holloway, so be sure to check back then.
Get all the latest PokerNews updates on your social media outlets. Follow us on Twitter and find us on both Facebook and Google+!