Hold'em with Holloway, Vol. 2: Playing in Poker Charity Events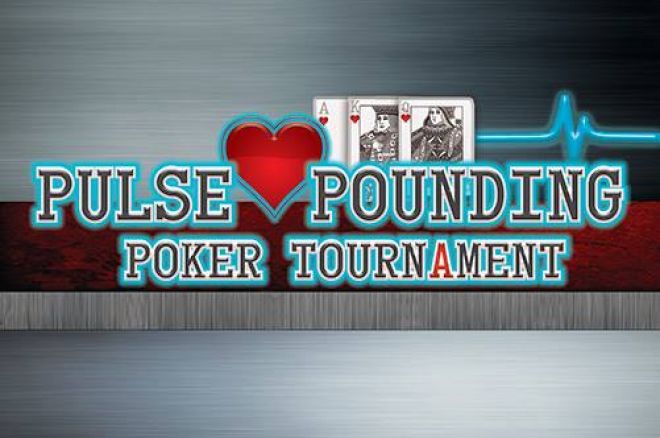 Welcome to the second edition of Hold'em with Holloway, my weekly strategy article here on PokerNews. Last week I highlighted the importance of making reads and trusting them. This week I'm going to shift gears a bit and talk about playing in poker charity events, the reason being that this weekend I'll be playing in the 4th Annual Pulse Pounding Charity Poker Tournament at Ho-Chunk Gaming Nekoosa in central Wisconsin.
The $330 buy-in tournament is held in memory of former table games employee Kevin Abbott, and raises money for the Foundation of Saint Joseph's Hospital.
"The Pulse Pounding Tournament event started in 2011," explains Nekoosa's poker room manager Adam Estes. "The previous year, we had a co-worker and friend named Kevin Abbott pass away. He loved poker, dealing and talking to people. We wanted to create an event to honor his memory and raise money to donate to help others in need at the same time. We chose the Foundation at St. Joseph's Hospital in Marshfield as our charity because Kevin had spent time there the past couple years before he passed."
Not only is the tournament for a good cause, I have been invited to serve as a celebrity guest for the second year in a row. That means I get free entry into the tournament, and any money I win will go to the charity. It also means I am a featured bounty, so anyone who knocks me out will receive $200. All of those details are significant and influence my pregame strategy.
When it comes to charity events, there are usually two different kinds: those where all the proceeds go to charity and those that give a portion of the prize pool to charity while awarding the rest to the players. The former is usually a no-holds all-in fest. However in the latter — which the Pulse Pounding Tournament is — play is a bit more serious.
Regardless of what sort of charity event it is, whenever you play one you should be in tune with two primary goals — raising money and awareness for the charity and having fun.
Of course when there is money on the line, players are bound to be a little more competitive, and that's okay as long as they don't lose sight of what they're there to do. Just remember, the tournament is primarily about the charity, not about individual players.
If you want to play for the win, go for it. If you want to gamble, that's fine, too. Charity tournaments should be judgment-free zones, and rightly so as oftentimes many participants who are simply in attendance to support the cause will have had little to no poker experience.
As an invited celebrity bounty, I feel that it's my responsibility not only to meet those goals, but to ensure that everyone else does, too. If you ever find yourself in a similar spot, I recommend you keep the following in mind:
1. Have Fun
I've already touched upon this, but it bears repeating. Charity events are designed to raise money for a good cause. That's a great thing and shouldn't be diluted by a bad attitude. Instead, there should be a social and jovial atmosphere among those who've come together for said cause. That's a special thing that deserves celebrating. Eat, drink, play poker. It really is that simple.
2. Be a Good Ambassador
As a celebrity guest, it's your duty to represent the charity. For the 4th Annual Pulse Pounding Tournament, that duty falls to former Green Bay Packer Derrick Mayes, local radio personality "Panama Jack," and myself. As such, I've determined to accomplish the following this weekend:
Ensure Everyone Has Fun — I'll do this by initiating conversations and keeping the energy level up. Basically I'll do my best to mimic

Daniel Negreanu

and hope people enjoy playing against me.
Don't Get Upset — Like everyone I get upset and go on tilt, but I can't allow that in a charity event, especially one where I'm a guest. I have everything to gain for the charity and nothing to lose, and that's a freeroll I can't get mad about no matter how bad the cards may run.
Make a Positive Impression — Ideally I want everyone to walk away having had a good time. If it takes me swallowing my pride or embarrassing myself, well, that's what I'm going to do in the name of charity. Humble brag: I find letting them try on my World Series of Poker bracelet (which I only break out for charity events) does the trick, though Mayes may overshadow me if he let's people try on his Super Bowl ring!
3. Play to Win
I've watched a lot of celebrity guests attend a charity poker tournament only to dump their chips intentionally. They're merely there to make an appearance. That's not me. I want to win every poker tournament I play, and in this case my winning would earn a lot of money for the charity.
It's important to remember that while people may not be relying on you directly, by playing your best you can achieve maximum value for the charity. I don't know about you, but I always want to take it to the max.
Poker is a great game, and personally I love when it changes lives for the better. Charity events help accomplish this goal, which is why you see hundreds of charity tournaments across the country. I urge you to find one near you and get involved. In the meantime, you can live vicariously through me this weekend on Twitter @ChadAHolloway as I give updates on my quest to raise money for the Foundation of Saint Joseph's Hospital.
For more information on the 4th Annual Pulse Pounding Charity Poker Tournament, visit the Ho-Chunk Gaming Nekoosa Facebook page.
Get all the latest PokerNews updates on your social media outlets. Follow us on Twitter and find us on both Facebook and Google+!