Hold'em with Holloway, Vol. 22: Consequences of Acting Out of Turn & Tossing in Chips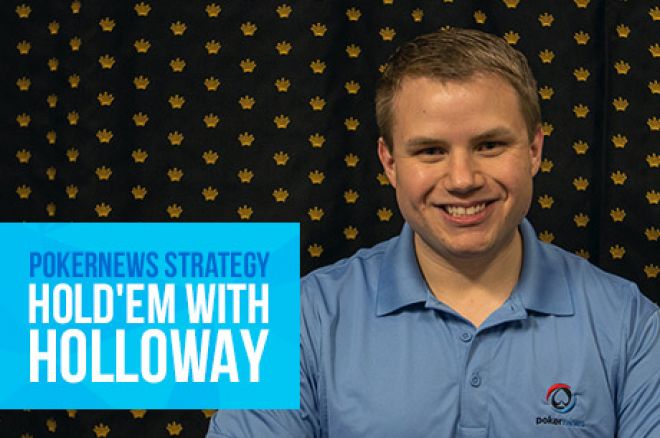 "Son, wait your turn."
Those were wise words my mother once told me when I was young. Granted, she was imploring me to be patient instead of throwing a fit whenever I had to wait in line, but those words are also applicable in poker.
Poker is a game built on a firm structure. The two players to the left of the button must post forced blinds, and then action proceeds in turn clockwise around the table. It's quite simple, but how many times does someone at the table have to be told "Wait your turn"?
Whether they fold too soon or disrupt action with an ill-timed bet, repeat offenders can become quite annoying. Oftentimes they'll be issued a penalty, at least in tournament poker. At other times karma takes over. In early March, I witnessed a hand that demonstrated just why it's so important to act in turn.
It happened in the 2015 RunGood Poker Series Horseshoe Casino Council Bluffs $675 Main Event, a tournament that crushed their $100,000 guarantee by attracting 426 runners and creating a prize pool of $251,340. Down to the final two tables, Fred Walker failed to act in turn, and it ended up costing him his tournament life.
It happened in Level 20 (8,000/16,000/3,000) when James Hall opened for 35,000 and Walker three-bet all in for 110,000. The problem was Walker had acted out of turn as action was still on Mike Lang, who told me after the hand he had planned to move all in. Instead, he just called, which meant since action hadn't changed, Walker's all-in raise stood.
Had it played out differently and Lang moved all in, Walker would have no doubt folded. As it was, Hall ended up getting out of the way and Lang snap-called to put Walker at risk. They tabled their cards:
Lang:

Walker:
The
flop didn't help Walker, though the
turn did give him a flush draw. Unfortunately for him, it didn't come in as the
blanked on the river. Instead of keeping himself in contention for the five-figure first-place prize, Walker's mistake resulted in him hitting the rail in 16th place for an undoubtedly disappointing $2,438 score. A costly mistake to say the least.
Amazingly, an equally bad mistake happened later in the tournament when it was heads up between Calvin Musil and Henry Gingerich. This wasn't an "acting out of turn" mistake, but still one under the umbrella of inattention.
In Level 28 (60,000/120,000/20,000), with nearly 2 million in the pot and a board reading
, Gingerich announced a bet of 1.5 million. Musil dropped in 125,000, which prompted Gingerich to table
for a wheel.
Musil thought Gingerich had bet "one hundred twenty-five," hence his drop-in call. The tournament director was called over and ruled that Musil's dropping of chips constituted a call of the entire bet. Musil didn't seem too pleased — not necessarily with the ruling, but more so with the mistake.
Gingerich won the tournament a short time later, while Musil had to settle for a runner-up finish and a bad taste in his mouth.
Acting out of turn doesn't always result in such a dramatic outcome; in fact, more times than not the consequence is a mere chastising from either the dealer or other players. Furthermore, remember that dropping in even a single chip signifies a call, something Robert Woolley was discussing recently when talking about chip-related rules in his "Casino Poker for Beginners" series. The examples described above could have been avoided had the players been paying attention, but let's face it, after grinding for hours on end, mistakes are bound to happen.
Poker is about capitalizing on your opponents' mistakes. Acting out of turn is a big one, and so is failing to verify a bet. Do your best to pay attention, and on those occasions your opponents make the mistake, don't feel bad about being the beneficiary. I assure you neither Lang nor Gingerich did.
What's the worst mistake you've made in poker that's cost you a boatload of chips? Let me know on Twitter @ChadAHolloway.
Get all the latest PokerNews updates on your social media outlets. Follow us on Twitter and find us on both Facebook and Google+!