Hold'em with Holloway, Vol 36: Unconventional Play Leads to Good WSOP Main Event Start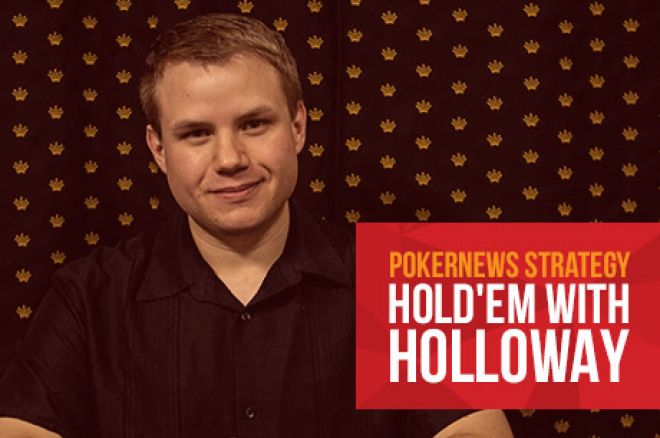 I wasn't planning to play the 2015 World Series of Poker $10,000 Main Event. I had the opportunity to play two years ago — people were more than willing to buy action after I won a gold bracelet — but I thought it was a one-time thing. I was wrong.
Midway through the summer, enough players again expressed interest in buying action that I decided to play the "Big One" for the second time. I joined the masses on Monday for Day 1c which drew a single-flight Main Event record with 3,963 players, arriving early to take my seat in the Black Section of the Pavilion Room.
The only two faces I recognized at the table were Chile's Nicolás Yunis, who was featured in a PokerNews piece late last year, and Laurynas Levinskas, who currently sits sixth on Lithuania's all-time money list with $671,421 in winnings. They were seated across the table and to my direct left, respectively.
Play at our table was cautious. No one was looking to play big pots and go broke. Three-bets were common, but postflop action stayed relatively quiet. Everyone seemed to be solid, and for the first couple of levels I sat tight, patiently biding my time.
Then, in the last hand of Level 2 (100/200), I decided to play an unconventional hand in an unconventional manner.
With
I just limped from early position. The M.O. of the table had been for someone to raise most every hand, so I expected a small raise to follow, which I would then call with my suited two-gapper. Sure enough, Levinskas popped it to 650.
It was a little more than I expected, but after the player in the big blind, who had just lost a big pot, put in the call, I knew I had to do the same. The
flop gave me a flush, so obviously I was pretty happy. The big blind checked, and instead of following suit and allowing Levinskas to continuation bet, I decided to play it a bit tricky.
I bet 600.
My intention was to make it look as if I had a small part of the flop, maybe one pair or a flush draw, and was trying to see the turn cheaply. I was hoping Levinskas would raise, but alas he just called. The big blind got out of the way.
The
turn wasn't scary, but instead of protecting my hand (Levinskas could be on a flush draw of his own), I gambled with a check hoping he would bet. He didn't take the bait. After he checked, the
completed the board on the river.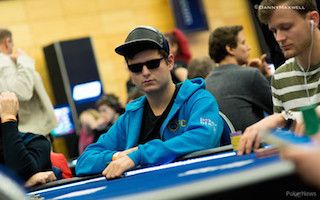 This was a great card for me. Levinskas had raised preflop, which indicated he had a decent hand (of course, that's not always the case). With such a wet board there was a good chance he had a piece of it. Even if he didn't before, the ace could have very well hit him (maybe he had the ace-high flush draw and ended up pairing, I'm not sure).
Confident my flush was the best hand (if he raised I obviously would have reconsidered), I tossed out two yellow chips for a bet of 2,000. It was a pretty big bet given the table and blinds.
Levinskas looked perplexed, and I don't blame him. I played it in such a way that it was damn near impossible for him to put me on a hand, let alone what was initially a weak holding. Anyway, you know where this is going. Levinskas called, I got paid, and the hand really kicked off my ascent.
Over the course of the next three levels I slowly and steadily chipped up, eventually bagging 68,500. Interestingly, we had only lost two players at our table the entire day (Levinskas was one of them), and I was never all in nor did I call another player's shove.
Play resumes for me and the other 2,746 survivors of Day 1c in at noon today. Rest assured, I will be covering more hands from my Main Event experience in upcoming editions of Hold'em With Holloway.
Want to stay atop all the latest in the poker world? If so, make sure to get PokerNews updates on your social media outlets. Follow us on Twitter and find us on both Facebook and Google+!