Chile's Nicolás Yunis Talks About the Competitive Nature of Poker and His Goals
Brenda Hinojosa

Giovanni Angioni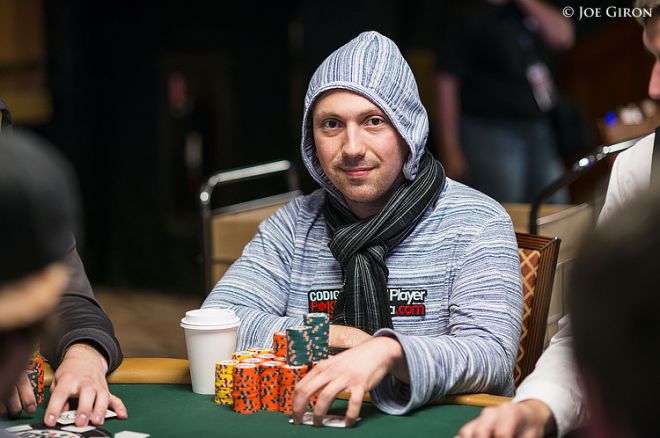 Although his good run at the 2014 World Series of Poker is probably what made his name known to many, Chile's Nicolás Yunis is a player with a solid record of online and live results.
During his seven-year-long career, the 29-year-old poker pro from Santiago, Chile, put together some remarkable results, such as a 16th-place finish at the European Poker Tour Sanremo in 2011, a fourth-place finish at the Partouche Poker Tour in Cannes in 2011, a ninth-place finish at the $25,000 High Roller at the 2012 PokerStars Caribbean Adventure, and many more.
After a quiet 2013, Yunis played the 2014 WSOP and cashed in four events, including the Main Event, for a total of $69,352. Yet, the $500,312 Yunis won on the live tournament circuit according to The Hendon Mob are only a small part of his success in poker. Known in the virtual world as "chilenocl," Yunis has already put together over $1.2 million in online tournament winnings, according to PocketFives. This number places him second on his country's all-time online tournament winners list behind Nicolas "PokerKaiser" Fierro.
Latin-America PokerNews' Brenda Hinojosa met with Yunis to discuss his poker career, his ambitions, and the importance for a player to keep the right people around.
PokerNews: Do you remember how you got your start in play poker?
Nicolás Yunis: My earliest memories bring me back to when I was a child and I used to play poker with my family during our vacations in the South of Chile.
I will never forget that one time when I decided to bluff all my chips, and my sister, who is a year younger than me, wanted to call my bluff. Some people who had seen her cards advised her to fold her hand and not call my raise. So, luckily and against her will, she folded. That was right before I took out my best smile and showed my bluff to everyone — and made her cry!
Then, some 10 years later, when I have moved to Boston for my university studies, I had the opportunity to watch the movie Rounders with my roommates. At that moment, the game became much more interesting to me, as I discovered that poker was actually a game of skill.
I remember that after Rounders we decided to play a tournament with friends, and the buy-in was $2. After one hour of play and a few beers, I left as the winner. That night I fell in love poker. The rest is history.
When did you realize that poker could be your thing, that you wanted to become a professional player and you had the skills for it?
From the very beginning, I felt a very strong attraction to the game, and that slowly became a passion. In my free time, I could not stop wanting to learn, to study, and to practice. At first, I had to learn a lot to start winning, but I never gave up. When I felt that things weren't going well, I took a break and then I deposited another $50 to try again.
However, at that time the idea of playing at a professional level was just a dream. First, I had to get my engineering degree to follow my father's and my elder brother's steps.
What kind of support did you receive to pursue your poker career?
My parents, of course, have always struggled to process the idea that I could have a long-term career in poker. In the short term, poker is a game where the "luck factor" plays an important role. Concepts such as short-term and long-term probability, variance, and expectations are not easy to understand for someone who does not study the subject well. Plus, we are talking about living through a "game."
I would say that even poker professionals themselves have trouble to fully understand some of these concepts, and this is the reason why many do not last.
Over the years, my results have improved and my parents have become more receptive. Especially since they know it is something that in the end makes me happy. Outside of my family, I have some key people who have supported me from the very beginning of my adventure and who have been essential to my performance and growth as a player. I'm talking about coaches, backers, and people who believed in me and supported me since before I had the results I have today.
Also, I have some personal friends outside of the poker world who always advised me to follow my dreams. This is something that I am very grateful of. It is important to surround yourself with people like that — with positive people who can encourage you. Without them, I do not know where I would be today.
What do you like the most about poker?
Competition. Thanks to poker I have discovered that I'm a very competitive person. I like to win, and I like to compete. I enjoy poker because it is a mental, psychological, philosophical, and sometimes physically challenge. At the same time, poker is a game that keeps you humble; it requires confidence, but not ego.
Do you live only from poker?
Yes, since I got my degree in engineering in 2008, poker has been my main source of income up until now.
Tell us about your most significant accomplishments in the poker world.
When I used to play the big international online sites, let's say between 2008 and 2012, I scored many good results. These include a Sunday Million final table, a second place in the Turbo Takedown — a tournament with a field of 17,000 players — and a victory in the Wednesday 1/4 Million.
At that time, I also started to travel and play live. That gained me first place in the Global Poker Index (GPI) rankings for Chile, and fourth place in the rankings of EPT Season 8, even if I have only attended about half of the stops on the calendar.
This year, I started to play online on sites that accept American players, mostly within the Merge Network. There, among others, I have already won the Sunday Big Ticket twice.
In 2014, I have also restarted to play live again. I had a good year at the World Series of Poker, and I'm back at number one in Chile, according to the GPI.
Which one of these is the most significant result for you?
My most significant result, so far, is to be on top of the GPI rankings in Chile. I believe to be the best of a country is something very special. I am also very proud to be Chilean, and I love to represent my country on an international level.
To finish the year as the best player on the Merge Network would be an even bigger achievement. I think the results in online tournaments are much more significant than ones from live events. When we discuss the online ones, we talk about a bigger number of tournaments, and that reflects the ability of a player in a more accurate way.
Tell us a little about your deep run in the WSOP Main Event this year.
It was a very nice and unique experience. The adrenaline that comes when you play for $10 million and the title of world champion can't be matched by anything else. It's the biggest dream of every poker player.
I went in the top two percent of the nearly 7,000-player field. I was very close, and I cannot complain. I had many interesting hands, and I have learned some important lessons. Hopefully, I will get another chance soon!
Are you exclusively a hold'em player? What do you think about mixed games?
Let's say that I play hold'em for 95 percent of my time. I love to learn mixed games, and I think that these are something that every serious poker player should learn for many reasons. Also, I do not know if hold'em will be as popular as it is today for long. I have not taken the time I need to be better at mixed games yet, but it's one of my goals in the medium term.
What's your take on poker in Chile?
I think the game is growing, and you can see that in the attendance of Latin America Poker Tour events, as we have broken records in the number of participants in Latin America.
Also, Chile has some of the best players in the world right now. My friend Nicolas Fierro was recently on top of the PocketFives rankings, and Alex Manzano, an expert high-stakes PLO player, joined the elite coaching training at Run it Once. I've always said that there is much potential in Chile, and now we are showing that with our results.
What are your plans for the last bits of 2014?
This month there's a $2 million guaranteed event at the Seminole Hard Rock in Florida. Then in December, I want to go to play the WPT Five Diamond World Poker Classic. It is a $ 10,000 buy-in event held at the Bellagio in Las Vegas, and I've never played it.
Next year in January, I want to go to the Aussie Millions in Australia. It's a tournament I have heard wonders about, but I have not yet had the pleasure to discover.
We have heard that you, Nicolas Fierro, and another top player in Chile have teamed up for a poker championship. Can you tell us more about that?
It is true. We have formed a team to represent Chile in the Poker World Cup. This is an event organized by the International Federation of Poker, an organization that promotes the development of poker on a global level and seeks recognition of poker as a mind sport. I believe this is very important event for our sport because it is a big step in helping people to play poker from anywhere and without legal problems.
Get all the latest PokerNews updates on your social media outlets. Follow us on Twitter and find us on both Facebook and Google+!