Sergio Aído Gets Ready for EPT Barcelona: "Motivation is Higher When You Play at Home"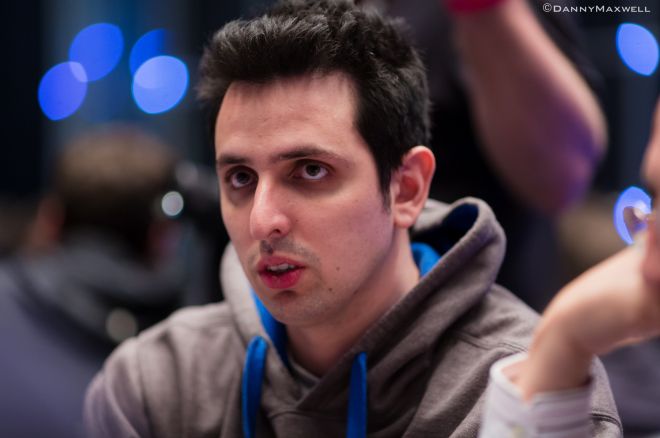 Barcelona, Spain is set to become the center of the poker world for the next 11 days as the European Poker Tour (EPT) celebrates its 100th event.
As part of our lead-up coverage to the event, PokerNews met with Sergio "petgaming" Aído, one of the country's top names in the game. Currently third in Spain's 2014 Global Poker Index national rankings, Aído has put together live tournament winnings of more than $600,000 in only two years thanks to victories at Barcelona's World Poker Tour National Main Event in 2012, as well as the 2013 Full Tilt Poker UKIPT Galway Festival High-Roller event and the 2013 UKIPT Main Event in London.
In Spain to enjoy a three-week vacation, the London-based Aído joined PokerNews to discuss his schedule for EPT Barcelona and share his views on what Spain could do to make poker more popular in the country.
PokerNews: I believe that playing an EPT Main Event "at home" is something always a little more special than usual. How do you feel about the upcoming poker festival in Barcelona?
Aído: Sure, it always feels very special to play an international event in your county. Media exposure is much bigger than usual, and both journalists and players pay even more attention to you and to what you do.
Then, you know, the one in Barcelona is one of the casinos that has seen me become a poker player in the early days. It was there that I won my first big tournament (the WPT National) and where I have also had a good result during partypoker's Big Game in 2013.
So, yes, motivation is higher when you play at home, and I also want to start this new EPT Season 11 well.
Your poker career has been a success so far, collecting more than $1.5 million in online tournament winnings and about $600,000 in live tournaments. So, if you were to give three pieces of advice to a new player who will come to Barcelona for his first EPT, what would you say?
I would suggest for him to play his game, not to look at the prizes and to have fun.
Are there any tips you can share for people to enjoy their time in the city during the EPT?
I would suggest people to take the opportunity to discover the city, as Barcelona has places and buildings that really deserve to be seen. And then there are also the beaches, the parties and the food.
I have to say that it's hard to spend many hours playing poker in a place like this, as Barcelona offers you a lot to do in your free time. I have also heard that PokerStars is organizing activities like jet ski rides and even a party with Roger Sanchez as a DJ.
Even if you are based in the UK now, I know you still have a strong connection with Spain. So, I wonder: what is your opinion on the Spanish poker scene right now? Did it reach its full potential or can it grow more?
Spain can express poker at a very high level. If you simply open PokerStars' lobby, you immediately see a great number of Spanish players doing very well in the highest levels of cash games and sit-and-gos.
Players like Cajakas14, RPerfumo, educa-poker or Jonyctt have nothing to envy from other international high-stakes players.
Hopefully Andoni Larrabe will manage to win the Main Event of the World Series of Poker so that Spain will sit on top of the world. But I don't think we have reached our full potential yet.
So, let's imagine that tomorrow that Spain, Italy and UK start sharing online player pools. Do you think Spanish online players are good enough to compete at the highest levels and not to be seen as "dead money" by the others?
The best Spanish players already compete in the global "dot com" market as they do not need to deal with the "dot es" regulated market since they live outside the country.
If something like what you describe should happen, I think that the average level of Spanish players would be quite similar to the one of Italian players. Which is a bit below the average level of UK players.
Things haven't gone too well for poker in Spain lately. What do you think could help poker to grow more — other events like the Barcelona Poker Festival, lower taxes, or a shared market with other European countries?
Without a doubt, I think the most important point would be to change the tax model applied to poker. It's absolutely unacceptable to have to pay 50% of what you win without getting anything in return.
If we start form there, then we can discuss other ways to help poker to grow in Spain. But that has to be the starting point.
Back to live poker: Besides Barcelona, which are your favorite cities to play poker?
My favorite place is Prague; during the past I have been traveling there with other Spaniards and the atmosphere is just great. I love the city, the parties, the time of the year (December) when the tournaments take place, and also the way events are organized.
This year I also liked Vienna a lot. I didn't know the city and it has really impressed me.
What plans do you have for the rest of 2014? Will we see you often around the circuit?
I am planning to play all the EPTs and also a lot of side events. I also would like to play the Aussie Millions in Australia for the first time, as it's a place that I would really like to discover. Also, I don't exclude a quick visit to Los Angeles to play some cash games there.
As for online, I am planning to take things a little slower than usual and play tournaments only on Tuesdays, Sundays and during some special series. In general, I wouldn't mind to dedicate poker a little less time than usual, so that I can try to enjoy other things a little bit more.
Get all the latest PokerNews updates on your social media outlets. Follow us on Twitter and find us on both Facebook and Google+!