Hold'em with Holloway, Vol. 23: When It Comes to Chops, Do What's In Your Best Interest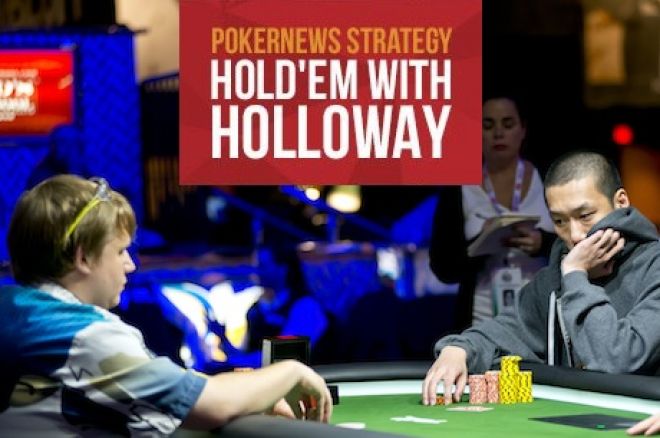 At the 2013 World Series of Poker, Team PokerStars Pro Jason Mercier gave me a nickname on Twitter while sweating me heads up at the final table of Event #1: $500 Casino Employees No-Limit Hold'em — "No Chop Chad."
The story behind it is simple. My opponent, Allan Kwong, and I took an impromptu break to talk about a chop. The WSOP doesn't allow chopping, but many players strike deals behind the scenes. The difference between first and second was more than $32,000, which was a lot of money for us both. I had the chip lead at the time, so I was in a good spot for a favorable deal.
In fact, we came very close to striking one, but then I decided it wasn't in my best interest to do so. What led me to that decision?
For as long as I could remember, I'd always dreamed of capturing a WSOP bracelet. That summer, only one player stood between me and realizing that dream. During our conversation, Allan said something along the lines of "you take X amount, I'll take X amount, and then we can just flip for the bracelet." That was the moment I knew I couldn't strike a deal.
The money was nice, but the bracelet had a great deal of value in my eyes. For me, it would be validation of the life I've chosen to lead. My read was that the money was what mattered most to Allan, and if I took that pressure off him, he wouldn't play his normal game. In other words, with just the bracelet on the line (which I doubt he cared about as much as me), he might have become a wild man. I had to keep him playing his game, which meant there needed to be money to play for to keep him in line.
What's more, I wanted to win legitimately. I probably could have worked a deal in which I gave up some cash and got the bracelet, but as tempting as that was, I couldn't do it. I didn't want a WSOP bracelet knowing that I had to work a deal to get it. No, I was going to win it or lose it on my own accord, and if the latter happened, at least I'd be able to live with that. Fortunately things went my way, and today I'm (obviously) thankful I made the decision I did.
Now, while I didn't chop in that particular instance, I'm not opposed to doing so if the circumstances are right. One tournament where I did chop was back at the 2011 WSOP Circuit Harrah's St Louis stop in a $235 Limit Omaha High event. The tournament only attracted 40 players, which created a prize pool of $6,940 that was to be distributed only to the top four finishers. When we made the final table, many of the remaining nine players wanted to work a chop.
Since one player was extremely short, I immediately turned down the idea, which of course upset a few people. Even so, I knew it was the best +EV decision, so I made it. Once the short-stacked player busted, the other players wanted to revisit the idea. At this point I was third in chips, but the blinds were high. Pretty much every hand was upsetting the balance of the game. I declined again, but they insisted I at least consider a chop, no matter how outrageous it may be.
I consulted with the two chip leaders, and together we came up with an wild deal that would see the three of us walk away with equal paydays of $1,800, the player fourth in chips (who wasn't too far behind me) get $1,000, two other players something like $500, and the two extreme short stacks their $235 buy-in back.
Why anyone in their right mind would take that deal, I don't know, but they did. How could two people, who had played for seven hours up to that point, be satisfied only to get their buy-ins back? Why even play in the first place? It didn't make sense, but since I was essentially able to lock up second-place money with eight players left, I took the deal.
Oftentimes the other players will try to peer pressure you into a chop — like they did to me in St. Louis --- but I recommend you never let this influence your decision. If anything, turn it to your advantage. You know they're anxious to chop, so use that as leverage when negotiating. If you can work a deal that is clearly in your favor, then do the smart thing and lock up the free money.
Just remember, other players can play hardball, too, and in such instances you'd better be willing to stand your ground and play it out. Also, if you're ever able to work a chop where you stand to get more than first-place money — like Dan Smith famously did in the Sunday Million a couple of years back — you'd better snap it up in a heartbeat. Likewise, don't ever be a part of a chop where someone gets more than first-place money, as that's just absurd. Anything can happen at a final table, and sometimes the risk is worth taking.
Get all the latest PokerNews updates on your social media outlets. Follow us on Twitter and find us on both Facebook and Google+!