Hold'em with Holloway, Vol. 73: Saying Goodbye with a Top Five List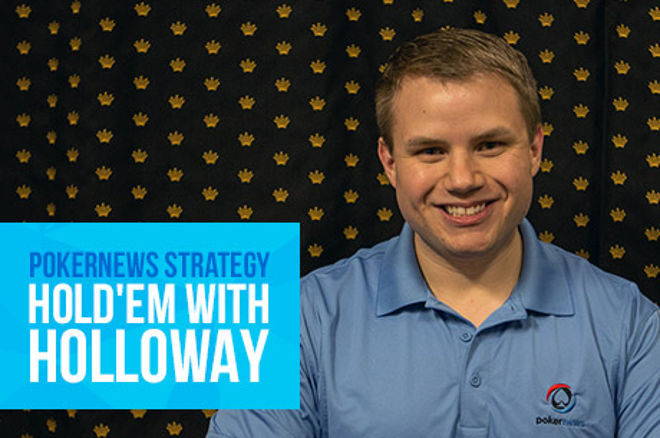 It has been a year-and-a-half since I launched this strategy column, and I'm sad to say that after 73 volumes — which have covered everything from bluff ranges to which players are left- or right-handed — this will be the last edition of Hold'em with Holloway.
That's because at the end of this week, my six-year stint with PokerNews will officially come to an end. For those who don't know, I've accepted the position of Media Director with the Mid-States Poker Tour (MSPT), meaning I will spend the majority of my time traveling to poker events around the Midwest. That said, I still intend to be a part of the overall poker community, and you're sure to see me at other stops, especially the World Series of Poker, throughout the year.
For this final volume of Hold'em with Holloway, I've decided to take a look back through the prior 72 and offer you my top five along with an explanation of why I chose each. Without further ado, here are my top five favorite Hold'em with Holloways.
5. Hold'em with Holloway, Vol. 9: Differences Between Rebuys and Reentries
The terms "rebuy" or "reentry" may seem interchangeable, and some casinos treat them as such; however, there are stark differences the two. To help educated the masses, I decided to write about those differences in my column.
You see, rebuy tournaments allow players to buy back in again once they fall below a certain chip amount or are eliminated. To do so, players remain seated, inform the tournament director of their desire to rebuy, and are given a new stack in exchange for their new buy-in.
The rebuy option is usually available up to a predetermined point in the tournament, meaning players can theoretically fire as many bullets as their bankroll allows. Rebuy tournaments were popular up through 2009, which is when they were largely phased out of the poker industry.
To learn more, click here.
4. Hold'em with Holloway, Vol. 11: When Will You Finally Break Through?
Over the last 18 months I've had numerous recreational poker players reach out to me asking for advice. One of them, Victor Doka, allowed me to use his story for my column.
Like so many players, Doka was frustrated and wondering when he was finally going to "break through" and realize some of the ambitions he had as a poker player. To address his concerns, I highlighted the accomplishments of Scott Davies, who was once like Doka but finally broke through in a big way to win the 2014 WSOP Asia-Pacific Main Event. You can read that piece here.
3. Hold'em with Holloway, Vol. 27: Great Laydown or Bad Fold on Poker Night in America?
At the end of April 2014, I had the opportunity to play in the Poker Night in America $25/$50 no-limit hold'em cash game at SugarHouse Casino in Philadelphia. The game took place over two days and featured a lineup that included Shaun Deeb, Phil Hellmuth, Darren Elias, Alec Torelli, Dan Shak, Tom Schneider, and Andy Frankenberger, among others.
It was during that game that I played a now famous hand against Torelli, who some believe made one of the greatest laydowns in poker history.
The hand — which also involved Shaun Deeb who three-bet preflop from late position — saw the flop come
to give me a king-high straight with
. Meanwhile Torelli had made a set of nines with
. Torelli led with a bet, and after I raised and Deeb folded, Torelli instantly folded his nines face-up!
To read my take on the hand, which will no doubt be one of the most interesting I ever play, click here.
2. Hold'em with Holloway, Vol. 43: The Value of a Reliable Poker Reputation
"There's nothing more important in poker than reputation."
That's how I started this column, and it's something I still believe today. If there's one lesson to be learned from Hold'em with Holloway, this is it. If you have a solid poker reputation, you'll always have people willing to help you out.
Unfortunately, some players have learned the hard way what having a bad reputation can mean in poker. For instance, Ben Warrington and Craig Bateman were both called out last year for their misdeeds, both of which I used in my column as examples to avoid.
Instead, I advocate for transparency, receipts, and settling your debts in order to maintain a solid poker reputation. You can read about how to do that here.
1. Hold'em with Holloway, Vol. 16: Chris Moorman Tells Me How Badly I Play Poker
After playing a big hand in a $60 buy-in nightly tournament, one that presented me with multiple decision points, I had the chance to run it by online poker's most accomplished tournament player — Chris "Moorman1" Moorman.
It's not everyday you can get a high-profile player to give you feedback on your game, but after reviewing his book, Moorman's Book of Poker, which was co-written with D&B Publishing's Byron Jacobs, I asked Moorman for advice and he provided me an explanation of how he would have played the hand differently.
My approach to the hand, which involved my having a flush draw with a pair, was promptly torn apart by Moorman, which provided me, and those who read his take, a valuable learning opportunity. Check it out here.
I want to thank all of you for taking the time to read Hold'em with Holloway each week. It's been my pleasure imparting poker knowledge, dissecting hands, and sharing with you some of my bad plays.
Be sure to stay in touch with me on Twitter @ChadAHolloway.
Want to stay atop all the latest in the poker world? If so, make sure to get PokerNews updates on your social media outlets. Follow us on Twitter and find us on both Facebook and Google+!