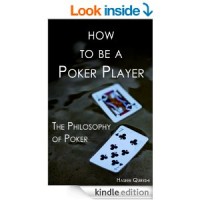 How to Be a Poker Player: The Philosophy of Poker
Author: Haseeb Qureshi
Year: Dec 2013
Print house: Amazon Digital Services, Inc.
Buy
What does it take to be a great poker player?
It's no secret that masters of poker think differently than ordinary people. In this truly groundbreaking book, Haseeb Qureshi, a retired world-class high stakes poker pro and instructor, takes you on a journey of rediscovering the game of poker from the inside out. He explores the depths of strategy, psychology, and philosophy within poker, and teaches you his uniquely scientific perspective on approaching the game.
Whether you've read all the books and want to take your game to the next level, or whether you're an amateur wanting to learn what it's all about, this game-changing book is a must-read. In the words of WPT World Champion David Williams, "Haseeb has written an amazing and ground-breaking book. There's truly nothing else like it. An absolute requirement for anyone serious about poker."