ThePokerAcademy.com Presents Accumulating Chips vs. Survival Part IV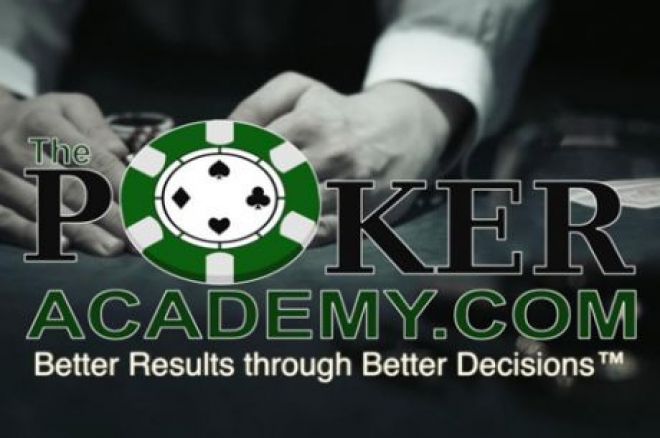 ThePokerAcademy.com is a new online education site led by Rep Porter and Rick Fuller. Their purpose is to teach you how to be a SIGNIFICANTLY better tournament player. ThePokerAcademy.com believes that having a good, solid understanding of tournament play, strategies, and dynamics is critical in this process. They firmly believe that poker is a game of decision-making, and that the best players in the world are the ones who consistently make better decisions. As such, their goal is to help you achieve "Better Results through Better Decisions."
Over the past few weeks, as the 2015 World Series of Poker played out at the Rio All-Suite Hotel & Casino in Las Vegas, ThePokerAcademy.com offered free poker content straight from Porter, a two-time bracelet winner who has already cashed numerous times this summer!
In first three parts of the series, they introduced the idea of your tournament life, discussed survival at the final table, and talked about the money bubble.
Today, the fourth and final part of the series, they are going to look at what happens when you actually make it into the money. Let's start by reviewing the 1,000-player field payouts, and then let Porter take over.
| Place | % Payout | Total Buy-ins | | Place | % Payout | Total Buy-ins |
| --- | --- | --- | --- | --- | --- | --- |
| 1st | 20.25% | 202.50 | | 16-18th | 0.74% | 7.44 |
| 2nd | 12.53% | 125.34 | | 19-27th | 0.61% | 6.12 |
| 3rd | 7.84% | 78.42 | | 28-36th | 0.51% | 5.11 |
| 4th | 5.69% | 56.92 | | 37-45th | 0.43% | 4.32 |
| 5th | 4.20% | 42.02 | | 46-54th | 0.37% | 3.69 |
| 6th | 3.15% | 31.50 | | 55-63rd | 0.32% | 3.19 |
| 7th | 2.40% | 23.96 | | 64-72nd | 0.28% | 2.80 |
| 8th | 1.85% | 18.47 | | 73-81st | 0.25% | 2.49 |
| 9th | 1.44% | 14.43 | | 82-90th | 0.22% | 2.24 |
| 10-12th | 1.14% | 11.42 | | 91-99th | 0.21% | 2.06 |
| 13-15th | 0.92% | 9.16 | | 100-117th | 0.19% | 1.90 |
Once you have actually made the money and are guaranteed that min-cash of 1.9 buy-ins, it takes a long time to gain another 1.9 buy-ins. You have to survive from 117th to 45th before you double your prize.
So right after you cash, the value of surviving crashes. You have to make it 18 spots to get more money and then you only add .16 buy-ins. The value of playing to survive here is very low.
All the payouts before the 16th-18th places are grouped in blocks of nine or more. This has the effect of creating some mini-prize bubbles, but those pay jumps are very small. The first is only .16 buy-ins, then .18, .25, .31, .39, .50... In the grand scheme, while this is real money, you should rarely alter your strategy to try and ensure that small bump. The cost in terms of running deep quickly outpaces the gain. The rare exception would be if you are very short and it looks like someone else is about to go broke.
The first place you should start to consider the value of surviving again would be as you approach 18th place. Here, the payouts start to change every three spots, and then you are quickly approaching the final table situation we discussed in the second article in this series.
When you make the money in a poker tournament, your focus should now be on playing deep into the tournament. With this particular payout schedule, just over 50% of the money goes to the top five spots. If you aren't getting to the top of the payouts at a decent rate, then you are going to have a hard time making money in poker tournaments.
To wrap up our overall view on surviving versus accumulating:
When the tournament starts, everyone should be playing to accumulate chips. This shouldn't change for anyone when 50% or more of the field is left.
After you pass the 50% of the field point, you can start to think about surviving a little bit if you have 30 blinds or less. And when you get within the last 15-20% of the players, the short stacks should start to think about surviving, the medium stacks maintaining, and the large stacks accumulating.
Once you pass the bubble, all players should look to accumulate and increase their chances to run deep in the tournament.
When you reach the point where payouts are no longer by the table, usually with two tables left, the value of surviving magnifies for all. It continues to grow right up until there are two players left. Then you just play for the win!
If you find this information interesting and useful, go to ThePokerAcademy.com to get started with a free tournament poker kit. It will include nearly two hours of videos on how to use your chips as weapons in tournaments, a series of articles on common misconceptions and problems in poker, a link to download PokerStove and a tutorial on how to use it, and a hand range booklet that will help you establish ranges right at the table while you're playing.
Also, be sure to like The Poker Academy on Facebook and follow them on Twitter @ThePokerAcad.
Want to stay atop all the latest from the 2015 WSOP? If so, make sure to get PokerNews updates on your social media outlets. Follow us on Twitter and find us on both Facebook and Google+!