Daniel Negreanu and David "Bakes" Baker Discuss WSOP Shootout Strategy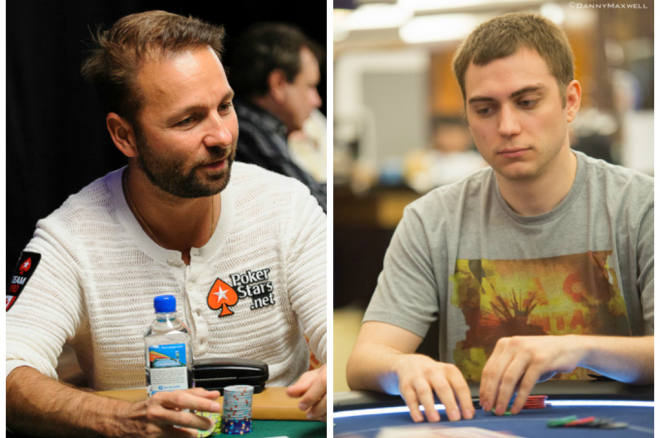 Event #6 of the 2014 World Series of Poker, the $1,500 No-Limit Hold'em Shootout, is one of two shootouts on the schedule this summer. Friday's event drew 948 players, all of whom were looking to win their table and advance to the second round.
For those unfamiliar with shootout tournaments, here's how it works: You remain at your original table until one player has all the chips. If you are fortunate enough to win your table, you advance to another table that includes other winners from the previous round. The process repeats until a final table is reached and one player is left standing.
We caught up with Daniel Negreanu and David "Bakes" Baker individually on Friday during the first round to discuss general shootout strategy.
PokerNews: Do you approach playing a shootout differently than you would a regular multi-table tournament?
Negreanu: I like shootouts better. You can really get to know your table and then win it. The important thing is to be careful in the early stages and don't go broke. You can't win it in the first few levels but you can go broke.
You really want to play tight early. Then when you get down to four- or five-handed, use all the information you have learned about your opponents to exploit them. Usually in these $1,500 events there are a lot of recreational players, so there is no need to make silly mistakes early.
Baker: You have to try and win all the chips. There are no bubble considerations; you just kind of play every hand and as you are playing the hand you make an evaluation and if the play is going to make you chips in the long run. If it will make you chips then you should generally take it and if not you should fold. There isn't really any worry about anything like survival.
I think the observation of the other players at your table is a little more valuable in a shootout. At a normal tournament and you play with the same players and are nine handed the entire time and then your table either gets broken or there is a lot of turnover and when there are new people, the dynamic changes.
In this tournament you are playing with the same players the entire time. If you pick up a tell or a read on someone in the first level, you might be in a position to exploit that read over and over in a heads up situation where you are playing every hand. In a normal situation you might only get to use that tell one out of nine times.
I try to observe a little bit more. I should be doing it all the time, of course, but I try to watch the people at my table and then just get more loose as I get shorthanded.
PokerNews: Do you play differently at different stages?
Negreanu: I play based on how my opponents are playing. So if my opponents are playing really tight, I'll open up. If everyone is playing loose and aggressive, I will play more passive. And I play that way throughout the whole thing.
It's like football. You take what they give you. If they are playing the pass, you run the ball.
Baker: I definitely start off … well, I wouldn't say I start off especially tight but this one rewards only first place and nothing else, so I am probably a bit more loose in these. In a normal sit-and-go you have three person payouts and in a multi-table you have the bubble to worry about. In this I would say I start out a bit more loose.
PokerNews: Do you think U.S. players are at a disadvantage in shootouts since they aren't able to play as many sit-and-gos online?
Negreanu: No. I don't think so at all. The structures are better with hour levels. They only have 10- or 15-minute levels online and it goes so fast. So no disadvantage at all.
Baker: Not necessarily in this event because it is similar to most casino sit-and-go structures. Anytime you're talking poker in general then US players are at a disadvantage because they don't have the access to playing options.
PokerNews: What type of player would you say this format is best suited for?
Baker: A sit-and-go player. If that is your main game. This will look exactly like what you are doing day in and day out. The structure is a little bit different, you play longer and have more short-handed play without antes. There is a couple levels in here without antes that most people won't have the proper ranges when they are playing four-handed. So a player that plays those levels more might have an advantage.