Alec Torelli's "Hand of the Day": Playing Big Pots Out of Position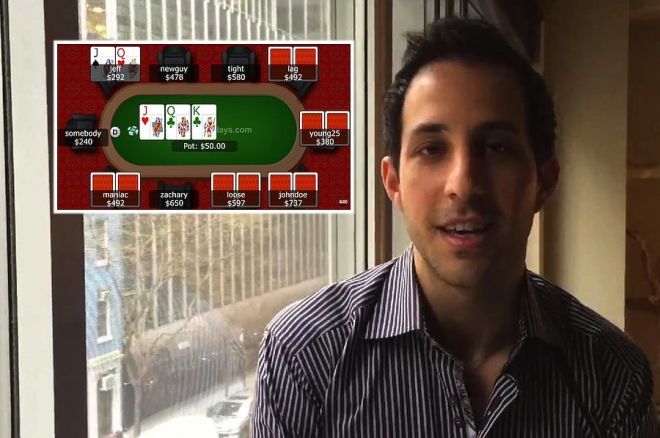 Alec Torelli is a poker professional originally from California, but travels the world full time with his wife, Ambra. Torelli has over $1.5 million in live tournament earnings (including two World Series of Poker final tables and two World Poker Tour final tables) as well as over $500,000 in online tournament earnings. Outside of poker he and his wife manage a million-dollar online business which travels the world with them.
In Torelli's "Hand of the Day" series he analyzes hands played by him and submitted to him by others. Today he reviews a cash game hand sent in by a reader who found himself playing a big pot from out of position, partly due to the fact that he was playing his last hand of the session and chose to get involved when he might not have otherwise.
* * * * *
Jeff from Taiwan is in a tough spot. He's about to quit for the night and finds himself in a multi-way pot with
in the small blind.
Never a good place to be.
Watch as he navigates his way through this hand and get my take on how he could have improved his chances of winning, then keep reading as I provide some further analysis below.
In this hand Jeff made one mistake that was the catalyst for all the others — he deviated from his otherwise solid strategy because he was about to quit.
Sometimes we find ourselves in spots we don't like. But there's still a decision to be made.
In my opinion, I think leading the flop in this hand is the way to go. Our leading range should be balanced with enough strong hands that our opponent cannot bluff us here nor raise with a range that doesn't have
smashed. Thus, we can safely fold if he raises.
Secondly, and more specifically with our exact hand, we don't want to give a free card. Our leading range should include the following:
nutted hands: ,
mediocre hands: , ,
bluffs/combo draws: , , , , and
Further credence is given to leading because of the fact that so many turn cards force us to fold. Meanwhile any
,
,
,
, or club will force us to continue.
To look at it another way, there are essentially 21 "outs" or cards on which we will have to fold. That means that we're a big underdog (70:30) to get to showdown on the river. An alternative line could be check-calling and then leading any blank turn. In this case the
would qualify, as it is essentially a blank.
The reason I prefer leading the flop to doing so on the turn is that you don't give a free card and you don't inflate the pot further than is necessary. Second, when your opponent merely flat-calls your flop bet, you are more confident that you can continue leading the turn for value (whereas when you check-call the flop you still know nothing about your opponent's range).
For a much more in-depth look into my thought process that I use during each hand I play, pick up a copy of my new book The Four Steps to Beating Anyone at Poker. In it I share the blueprint I use which will guide you through making the correct decision each and every time you are faced with one.
What would you have done in this hand? Share your thoughts in a comment below.
Want to be featured on future episodes of "Hand of the Day"? Simply submit your hands to Alec here. Also check out "AskAlec," a new series on YouTube where aspiring poker players can send in their questions and get feedback.
Follow Alec Torelli on Twitter, Instagram, through Facebook, or via his popular blog.
Want to stay atop all the latest in the poker world? If so, make sure to get PokerNews updates on your social media outlets. Follow us on Twitter and find us on both Facebook and Google+!