Dwyte Pilgrim Shocks Poker World Amid Accusations of Hustling Players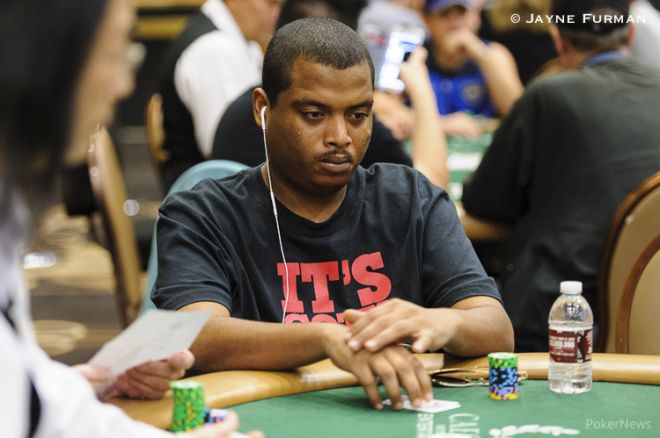 Few things are more valuable to a professional poker player than a solid reputation. Talented players known to be honest and upfront seemingly always have a stake. Even if they go broke, more often than not someone will lend a hand.
Unfortunately, the foundation of the poker world is built upon money, and while many pursue it fairly, others deceive and cheat. Oftentimes such swindlers run a ruse for years, either knowingly or unwittingly building a house of cards that inevitably comes crashing down.
This past summer, Ben Warrington's reputation took a hit when it was revealed that he oversold packages while competing in Las Vegas. It was the latest in a long list of similar infractions. Now, poker pro Aaron Massey has called out World Poker Tour Borgata Poker Open champion Dwyte Pilgrim.
Massey accuses Pilgrim of defaulting on a loan and vehemently refusing repayment. Since going public, Massey claims his accusations have been echoed by others. PokerNews recently spoke to both Massey and Pilgrim to get to the bottom of the story, which began when the two became friends in 2010, shortly before Pilgrim won the WPT Borgata Poker Open for $733,802. Over the next couple years the two stayed close, and in September 2012 Massey found success of his own when he won the Winstar River Poker Series Main Event for $651,559.
"We both played every live tournament and were at almost every stop together," said Massey. "In September 2012 I had my big win at Winstar and finally had money for the first time. He was ecstatic for me, and over the next four months we got even tighter. He would always text me encouraging things, building me up. He would talk about how we are about to do this thing together, and stuff like that. I kind of knew that he may be treating me differently because I won Winstar, but a lot of people were."
If this story isn't true, and I lend you money based on a lie, and I don't get paid back then it is the same as stealing.
In December 2012, Pilgrim proposed a bet with Massey – whoever finished higher in the CardPlayer rankings at the end of the calendar year would win $5,000 and a vacation costing a minimum of $2,500. Massey accepted and even outlined in his blog.
"In January 2013 we were at Borgata," Massey continued. "It was the day before the WPT Main Event. I had just won a prelim a few days prior, and Dwyte knew I had money in the safe in my room. He texted me and asked if he could come to my room to talk about something very serious and it had to be in person. He showed up somber, and started to tell me a story. He said that his bank account had been frozen just days prior. He said he got a notice that it would be frozen for 40 days as they cleared up the issue. He explained his story and then asked me if I could lend him $7,500."
At first Massey was reluctant, even asking for proof of Pilgrim's claims, but amid excuses and assurances, he eventually he gave in.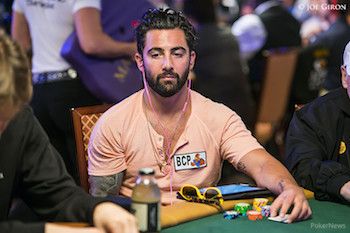 "I was weary, and I said to him, verbatim, 'If this story isn't true, and I lend you money based on a lie, and I don't get paid back then it is the same as stealing.' He agreed, got defensive, and once again mentioned our friendship as reason why he would never lie or steal from me."
Even though it wasn't to his advantage as far as the bet was concerned, Massey loaned Pilgrim $7,500 for two bullets and pocket money. Fast forward 40 days and Pilgrim hadn't repaid the loan, circumstances that haven't changed to this day.
"From that point until now, I have tried to setup every/any payment plan with him," said Massey. "I have asked for as little as $1/day. Then $1/week and he still said no. He has lied to me many more times about money coming in but he never follows through."
When Massey took the situation public, others who claimed Pilgrim had similarly fleeced them reached out. Some even revealed that Pilgrim had dropped Brian Hastings name to vouch.
"I immediately send it to Hastings and it turns out that Dwyte had scummed him too," Massey explained. "Hastings put Dwyte in some tournaments, including a Purple Chip bounty tournament at Parx that he chopped. Hastings never saw any of the money, and Dwyte claimed that Parx refused to let him cash out. Hastings also confirmed that he would never, and did not vouch for Dwyte. It was crazy. Weeks earlier I checked Dwyte's Hendon Mob and saw that cash at Parx. I immediately contacted him to pay me and he gave also gave me a story about not being able to cash out. He never mentioned someone put him in the tournament, and most of everything he says through text makes no sense, it's just a ramble.
The cash Massey is referring to is the $7,090 Pilgrim won for taking down the Parx Casino Big Stax XII $1,000 No-Limit Hold'em Purple Chip Bounty. PokerNews reached out to Hastings to see if he was familiar with the situation.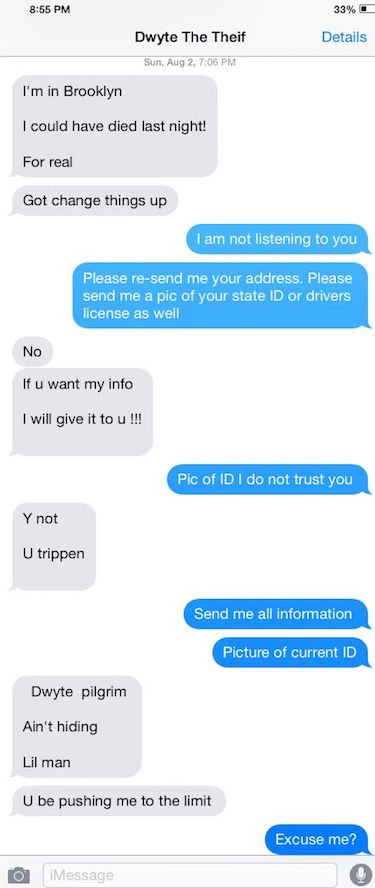 "I staked him in a few live tournaments this summer/autumn, he chopped a $1k bounty tourney at Parx for $9,600 total — including five $500 bounties — then claimed he couldn't get the other $7,100 from Parx due to his license being in poor condition and unverifiable," Hastings said. "He claims to date that he hasn't been paid out, but I have strong suspicion that he's not being truthful about that."
Massey provided PokerNews with texts between him and Pilgrim as proof of his attempts to recoup the loan, as well as Pilgrim's reluctance, or inability, to repay.
"He basically told me that if I kept talking to him that way that my life may be in jeopardy. He was even brazen enough to text me threats as well," said Massey. "As you can see, Dwyte will take advantage of anyone. The haves, the have not's, the flush, the bust, it just doesn't matter to him. He's a preservationist, a parasite, willing to survive by any means necessary. His prey is any human being with money. Anyone he can take advantage of. He is a self-serving con artist.
Massey continued: "It's unlikely that Dwyte will pay me back, because he has zero honor or integrity. I thought his name meant a lot to him. He always seemed very proud of his name, and his legacy. That is why it baffles me that he would risk ruining it all, instead of doing whatever he could to restore or maintain it. Had he agreed to pay me $1 or $10 or $20 when he saw me, I would've continued to protect his name. If he showed me any consideration at all as a friend, or even as a human being, I wouldn't have gone public like this."
When reached by PokerNews, Pilgrim issued the following statement:
In January 2013, Aaron and me had a POY bet. That same January I asked Daniel Negreanu if he wanted a POY bet. I was in a great situation, no worries no problem, you got to be if u ask Daniel if he want to have a POY bet.

Shortly after I had some problems. I asked three friends to help me. I needed cash for a month or two. They did, and everything was cool. In February, right after playing a $10,000 Main Event, I got some life changing news. From there I had some of the toughest times of my life.

I was in a financial bind that which took me out of playing for the rest of year. I wasn't able to pay back my arrangements on time. I've had some of the toughest years over the last couple years and never got back on track.

I never duck a call or text from anyone. I've always intended on paying, but honestly did not have it. If it wasn't for the thing that happened, I would have paid back on time. I'm sorry my mishaps hurt anyone, but it wasn't done with malicious intent.

I've got nothing but love for everyone who ever helped me. Moving forward, after I owed Aaron for a while he would call and his text would get aggressive. He called me on a rough night and I quoted a rap song, which he took as a threat. I instantly replied and apologized.

I play with hundreds of players a week. My family and friends all know my character. I'm ok with this whole situation, but hopefully we can fix it ASAP. At the end of the day we all take hits, but it's how you bounce back. Real homies ain't hating, and hating homies ain't real.

My pride and ego was high when I took myself out of the game. I was one of the strongest players in the world. It was easier to walk away than ask for help, especially when you are the one that everyone expects to be the one helping.

When you're at the top, no one knows who their friends are. When you're down, you know whom your friends. See you at the top.
Massey realizes that going public with the situation greatly decreases the chance he ever gets repaid, and he's fine with that it prevents anyone from finding themselves in a similar situation.
"I feel that we need to self govern in the poker community," Massey concluded. "Our voices together are loud, and at times we have been able to make a difference. It should be the same when it comes to issues like these."
To learn more about Massey's side of the story, which includes more specific examples of those he claims ahve also been affected by Pilgrim, check out his most recent post on the BCP Blog.
Want to stay atop all the latest in the poker world? If so, make sure to get PokerNews updates on your social media outlets. Follow us on Twitter and find us on both Facebook and Google+!
Executive Editor US, PokerNews Podcast co-host & 2013 WSOP Bracelet Winner.