Big Cheese: Ben Wiora Goes from Low-Stakes Grinder to Wisconsin State Poker Champion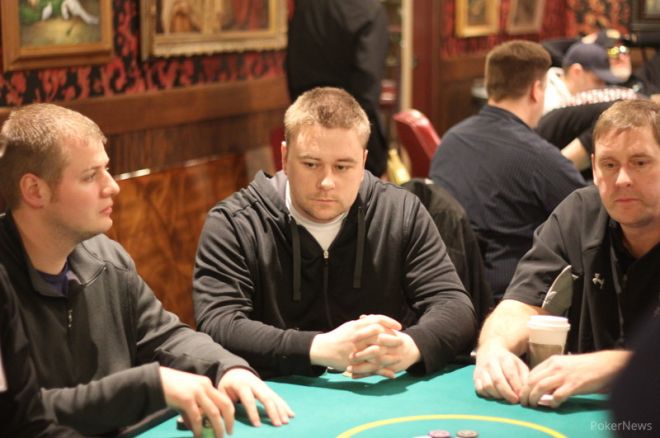 In late February, the Mid-States Poker Tour (MPST) held the first-ever Wisconsin State Poker Championship at Ho-Chunk Gaming Wisconsin Dells. The state's best poker players were in attendance, as were professionals from across the Midwest, but in the end, it was local player Ben Wiora who became the inaugural Wisconsin State Poker champ and took home the $114,512 first-place prize.
The six-figure score was nearly 10 times Wiora's previous largest, which was $12,848 for a runner-up finish in the World Series of Poker Circuit Horseshoe Hammond $580 Pot-Limit Omaha. It was life-changing money for the local boy from Mauston, Wisconsin, and he understands the importance of being able to play on home turf.
"I feel very fortunate," Wiora tells PokerNews. "Having familiar faces dealing the cards and playing at my home casino allowed me to be very comfortable from start to finish in the tournament. I also knew many of the players in the field which may have helped me as well."
Wiora's journey to becoming the Wisconsin State Poker champ began years ago when he was just 16. That is when he first learned to play, not by using poker chips, but substituting them with nickels, dimes, and quarters. Then, in high school, a close group of his friends played a weekly $5 no-limit hold'em cash game, and that's where Wiora was introduced to basic strategy.
Wiora, who graduated from Winona State University in Minnesota with a Bachelors degree in Business Administration, then began to take poker a bit more seriously during his five-year academic career. That's when he started to read books and move up stakes.
"That's when I discovered online poker, I had some early success online which got me interested in studying poker and taking it more seriously, when I really should of been focusing on my college education," Wiora says with a laugh. "I've been working on and off since graduating and have continued to play lots of hours of poker since."
Wiora quickly established himself as a winning cash game player, but he largely avoided tournaments. It wasn't until 2014 that he ventured into that realm, using Jonathan Little's Secrets of Professional Tournament Poker to study. With the MSPT Ho-Chunk Gaming Wisconsin Dells Main Event on the horizon, Wiora decided he was going to try to win his way in as cheap as possible.
"After playing about eight $65 super satellites, which advance 20 percent of the field into $250 qualifiers, I was able to collect two certificates," Wiora explains. "It then took me both $250 certificates to win my MSPT main event seat."
Wiora played Day 1b of the tournament, and he managed to finish among the 54 survivors 11th in chips with 139,500. Then, on Day 2, he both played and ran well, plus got lucky when it counted. For example, with 11 players remaining in Level 26 (20,000/40,000/5,000) Wiora opened for a raise to 80,000 under the gun and called a three-bet of 275,000 from small blind Zach Shelton. On the
flop, Shelton shoved for 866,000, and Wiora called.
Wiora:

Shelton:
Wiora was in big trouble, but then the dealer burned and turned a
, leaving Shelton with two outs. The
wasn't one of them, and Wiora began the final table as a big chip leader.
"I was feeling very lucky to have won a massive pot after getting it all in on the flop with the worst hand, but the turn bailed me out and also knocked out a very aggressive and very good player as the final table bubble," Wiora reflects. "I then had a dinner break and would come back as the chip leader at the final table. Having such a big chip stack and feeling comfortable with my opponents all the nerves just went away and it was time to play cards. I continued to run good, and it felt like it was meant to be."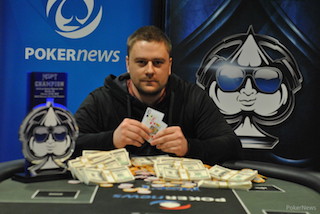 Indeed it was.
Wiora never relinquished the chip lead as one by one his opponents hit the rail, many by his own hand. Within hours he was heads up against Thomas Peebles with a big chip lead. Wiora played patiently, whittled his opponent down, and then finished the job.
"I was shocked I'd won such a big event, but at the same time, I wanted to keep playing," Wiora jokes. "The cards were going my way, I was focused, the adrenaline was pumping, and I was just having a such a great time at that MSPT final table."
Immediately after the win Wiora was congratulated by a slew of casino regulars, and the compliments continued weeks later on both Facebook and other social media outlets. While some players may immediately take their suddenly flush bankroll to Vegas or spend it on fancy items like those featured in the new PokerNews Lifestyle section, Wiora plans to put his money to good use.
"I'm going to pay off my student loan debt and put enough aside to pay the taxman when it's time," he reveals. "Other than that, nothing's planned except to just be smart about whatever comes next."
What comes next is a trip across the state for the MSPT Potawatomi Casino in Milwaukee from April 4-12. That tournament is expected to draw upwards of 500 players, which would create a prize pool over $500,000. He may also take a week to play in his first-ever World Series of Poker in Vegas, albeit at the small buy-in events.
"I plan to continue playing in cash games on a regular basis," Wiora concludes. "As far as tournaments go, I want to play in some more MSPT events. I think they did an amazing job with the entire tournament. Other than that, nothing's set in stone — perhaps maybe a few WSOP events this summer."
For more on Wiora, check out the recap of his MSPT Wisconsin State Poker Championship win by clicking here.
Get PokerNews on all your social media outlets. Follow us on Twitter and find us on both Facebook and Google+!