Called By Jack High: The Life and Times of Ellix Powers (1952-2015)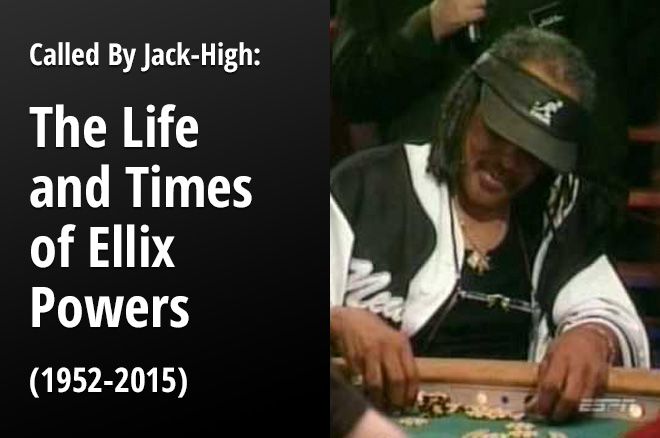 What happens when a poker player dies?
If a prominent player passes, such as David Reese, the poker world mourns. If it's a character of the game, like David Ulliott, those who were touched share their stories. However, for every "Chip" and "Devilfish," there are hundreds, if not thousands, of players who fade from view with nothing more than a metaphorical "seat open" to send them on their way.
Those who came to the game during the booming years, the ones where episodes of the World Series of Poker endlessly looped on ESPN, will be sad to learn that on Sept. 11, 2015, Ellix Powers, the man who they dared to call with "jack high," passed away at the age of 62.
He was broke, basically homeless, and a mere memory in poker's collective conscious, but even so, there's no denying that for one hour, minus commercials, Powers made the most of his time in the spotlight. He chatted up the table, tilted his opponents, and was unforgettably accused of disrespecting the game by Positively Fifth Street scribe Jim McManus.
What was shown on TV was poker at its best. Not so much the actual play, but rather the emotion, entertainment, and interaction that have seemingly disappeared from poker broadcasts. Love him or hate him, the dreadlocked Powers was a character, and he had a story to tell. Unfortunately, it's taken his untimely death for it to be heard.
From the Streets to Poker's Biggest Stage
Born on Dec. 15, 1952 to Elliott and Rosie Powers, Ellix was one of two children, the other being brother Arlandas. Because Elliott was an Air Force Colonel, the family moved around a lot. Eventually, Ellix graduated from high school in Sacramento and moved east to attend college in Kansas, where he met a girl. He followed her to Utah, they had a daughter, and then they separated. He also spent some time in the military.
A cocaine habit, a wife, and another daughter later, a divorced Powers headed to California a failure.
"There's nothing I know about him," his father previously said. "He didn't get a college degree; he's living under a bridge. He's been very disappointing."
Amid a crack addiction and homeless existence, Powers turned to religion, which would lead to him getting sober, at least for a time. As far as poker was concerned, he learned to play the game well before Chris Moneymaker made history in 2003, and despite Powers' first-ever cash being in a no-limit hold'em event, limit was his specialty.
"When he had his head on straight, in those rare moments, he was like the Stu Ungar of limit poker you might say," says Mike Millar, who became friends with Powers back in 2001. "He was pretty extraordinary. You might say he could sniff out weakness from here to New York City. He had an amazing knack that interested me very much as a poker player myself."
Millar, whose grandfather came over from Ireland and hosted poker games in Tulsa, one occasionally visited by Johnny Moss, was so impressed by Powers' abilities that he actually gave him a 60/40 staking deal, which immediately paid dividends when Powers won back-to-back tournaments in 2004.
The first saw him top a field of 243 players to win the Winnin' o' the Green $300 Limit Hold'em event for $27,335. Then, two days later, he outlasted 159 other players to win the $300 Pot-Limit Hold'em event at the same series. Millar immediately suggested a trip to the 2004 WSOP at the legendary Binion's Horseshoe.
After finishing 19th in the $1,500 Limit Hold'em event, his first-ever WSOP event, Powers jumped into the $5,000 variant, with backing from both Millar and Mickey Mills. The tournament, which was filmed by ESPN, attracted 213 runners, which created a $1,001,100 prize pool, and lo and behold Powers found himself at the final table.
"Instead of getting a good night's sleep, which I made him promise he'd do, he runs out partying with some girl he met in downtown Las Vegas," Millar reveals. "All night, doing drugs and drinking."
Powers late night not only caused him to miss extra screen time, but money, too.
"He missed an interview," Millar explains. "Knowing what a character he was, ESPN offered some money for an interview before the final day of play. In short, he doesn't show up. The interview was supposed to be at 10 o'clock in the morning. He showed up about an hour late for the final table, and he was absolutely delusional. The truth is, he really couldn't read his cards, so he played just a bluff game and managed to survive and get through several players."
That WSOP final table was the pinnacle of his poker career, and unbeknownst to most, Powers couldn't even see his cards, a revelation that makes sense if you go back and watch his antics.
"I guess he was so completely out of it he tried stopping to see his cards and made astonishing remarks, insulted some of the other players," Millar continues. "TJ Cloutier was at that final table, and he said, 'TJ, you couldn't win this table if your life depended on it. You don't know how to close. You're not a closer. Never have been, never will be.'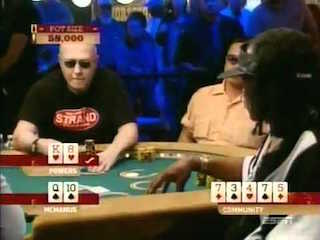 "I liked TJ, we all did, so I didn't appreciate his behavior one bit at the final table. He attracted a lot of attention, so a lot of people cheered for him. He was definitely the crowd favorite. He had everything going for him except his mind. He was just stoned, drunk, and he arrived an hour late to start with. Then he'd go back and forth talking to his friend and signing autographs for all the people there. Very charismatic to say the least. Despite his bad behavior, he seemed to attract lots of fans, but he spent more time going back and forth smoking cigarettes outside and signing autographs than he did at the final table.
"Later I would learn that's because he couldn't read his cards anyway, but he had such an immense chip stack that he couldn't help but last awhile. When it became clear he wasn't looking at his cards, people began to call. Then he makes this announcement, 'What is wrong with you people? Aren't you happy? I'd be happy with $20,000.' I cared because half of that money was supposed to be going to me, it was 60/40 in my favor, and so I cared a hell of a lot. He didn't care."
Powers' behavior at the final table was met with mixed reactions. Cloutier put up with him before bowing out in ninth place, while Johnny "World" Hennigan admitted he thought it was entertaining. Then, of course, there was McManus, who would soon be berated by Powers for calling him down with jack high, which in actuality was queen high.
"Even in limit hold'em, it was obviously a terrible call, and Ellix is the reason I made it," McManus remembers. "What most people watching the ESPN broadcast didn't know was how long his antics had been going on — about five hours — before I said what I said, and how close at least one other player was to physically assaulting him. What I'd failed to gather in the heat of the action was that Ellix suffered from substance and mental health issues. If I had picked up on that, I hope I wouldn't have been hostile toward him, since I have close family members who suffer from similar problems."
Powers' behavior was both polarizing and controversial, but there was no denying its effectiveness.
"It's almost like he went out of his way to be obnoxious to people, to upset people sometimes, but he could make that work for him at the poker table," Millar remembers. "He could sniff out weakness, and think of the perfect way to push someone's buttons and get them way off their game. I've never known such a character."
Life After the WSOP on ESPN
Unfortunately, Powers' ability to put players off their games did little good when he couldn't even see his own cards. McManus went on to recoup his chips, winning a big pot with a flopped set of sixes which Powers persistently bet, and after the elimination of Danny Dang in eighth place, Powers followed him out the door in seventh for a career-high score of $40,040, nearly a third of his $125,841 lifetime earnings.
"I got to know him pretty well after, and he asked me to help him find clients for his poker-coaching business," recalls McManus, who went on to finish fourth for $70,080. "Giving me a stack of his business cards, his idea was 'Jim McManus recommends getting poker advice from Ellix Powers.' Even if his client list was limited, I certainly didn't blame him for cashing in on his fame, most of which stemmed from his successful efforts to put opponents on tilt."
For the curious, after Patty Gallagher took her leave in third place, Hennigan defeated An Tran in heads-up play to win the tournament for $325,360. As for Powers, the money didn't last long, and he soon found himself back on the streets.
"Not too many people would prefer to be homeless than having a nice place with all the money he won," says Millar. "Let's put it this way, I don't know how much all together his 40 percent was of these wins that took place during the first half of 2004, but you could bet your bottom dollar that after giving money away to help people, paying back loans, and blowing some money on booze and drugs, that he would be broke within weeks of each tournament. Consistently, he would go broke."
In the years that followed, Powers spent his time either sleeping in parks or crashing on couches. At one point, he lived in a van, but after failing to register it and racking up a copious amount of parking tickets, it was seized by parking authorities. Somewhere in between, filmmakers made a movie about him in an attempt to cash in on his notoriety, but it never made it out of art-house theaters.
"He would stay broke, coming to me once in awhile," Millar explains. "As limit poker faded from popularity and no-limit took over, his style did not seem to adapt easily to no-limit poker players. I would not consider him a strong no-limit poker player. I can definitely testify Ellix was right up there with Stu Ungar in terms of talent when he had his head on straight. Limit poker was his game, and when he was even close to sober, my god, he was an awesome player."
The Last Days of Ellix Powers
Powers' health problems were no secret. Even on the ESPN broadcast viewers could see his well-being was questionable. Most noticeable were issues with his legs, which required the use of a cane. However, thanks to his time in the army, Veteran's Affairs gave him free operations, which greatly improved his mobility.
"It helped him a lot physically, but nothing helped him mentally," says Millar. "His mind continued to deteriorate with the constant alcohol and drug abuse. In his mind he was living life to the fullest, but it was in all the wrong ways."
In recent years, Powers' developed digestive problems that left him more or less incapacitated. Fortunately another friend of his, Phillip Penn, agreed for him to come up from Arizona to help him get back on his feet. For lack of a better term, the two became roommates.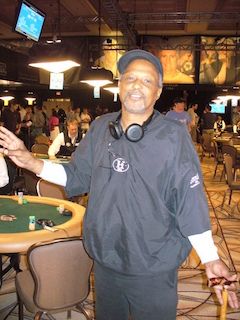 They occasionally visited local rooms such as Commerce and The Bicycle Casino, but over the years Powers' love of the game faded.
"He didn't have as much of a passion for poker in his later years," admits Penn. "He did play, as a matter of fact he made a final table at the Bicycle Club a little bit before he passed. He told me he was going to make one more run at the WSOP if not this year the following year. He'd been playing poker since he was young, but he didn't have the desire and drive to play poker like he did in his earlier years. He got a hand of poker in every now and then."
Ultimately, Powers wouldn't get the chance to return to the WSOP. On Sept. 11, Penn woke to discover his friend had passed in his sleep from what he would later learn was an undiagnosed heart condition.
"I don't even know if he knew he had a problem with his heart," says Penn. "I guess the doctors didn't know either. He had gone to the doctor that day, ironically. On the 10th, he went to the doctor, came back, and I think it happened sometime that night."
Together, Millar and Penn set about contacting Powers' mother in Colorado. She then informed Powers' estranged daughter, who made the trip from Temecula to take care of funeral arrangements. Powers was cremated, and today his ashes rest in Riverside National Cemetery.
"He didn't really talk a whole lot about it," Penn says of Powers' television appearance. "As a matter of fact, his mom, daughter, and family didn't even know about his accomplishments in poker. I don't think he wanted the spotlight on him. What people didn't know is how nice a guy he was. That guy would give you the shirt off his back. He was one of the rare people who on Valentine's Day would send his mom a card. He made sure to go out and get a card. He was very family oriented. He always talked about his mom, how he wanted to see her before he died, and wanted to make sure she was okay.
"This guy, instead of throwing bread away, he'd toss it outside so the birds would have something to eat. That's a part of Ellix people didn't know. He had a very strong faith in God. He had very little tolerance for ignorance. If you were on the side of him where he liked you, then he would do anything for you, but if you were on the other side, he wouldn't hesitate to put you in your place. The way he talked to you, the way he treated you, he didn't even want to be around people if he didn't feel they had a good character or a good heart. He didn't have a filter when it came to telling people how he felt. That's the thing I'll remember most about him."
Upon learning of Powers' death, McManus echoed those sentiments.
"I'm sad to hear of Ellix's passing," McManus said. "He was a decent, funny man who had an extremely tough life in LA and Las Vegas. The endlessly replayed clash between us is probably the lowlight of my poker career, and the highlight of his. Ellix Powers was a good man who deserved to make more final tables and many more days in the sun."
Ellix Powers' seat may now be open, but while in the game he showed the world that despite his demons, he wouldn't be beat with queen high, let alone jack high.
Want to stay atop all the latest in the poker world? If so, make sure to get PokerNews updates on your social media outlets. Follow us on Twitter and find us on both Facebook and Google+!