Jeff Fogel's 2,513-Mile Journey: From 3-5 Years to Live with ALS to the 2015 WSOP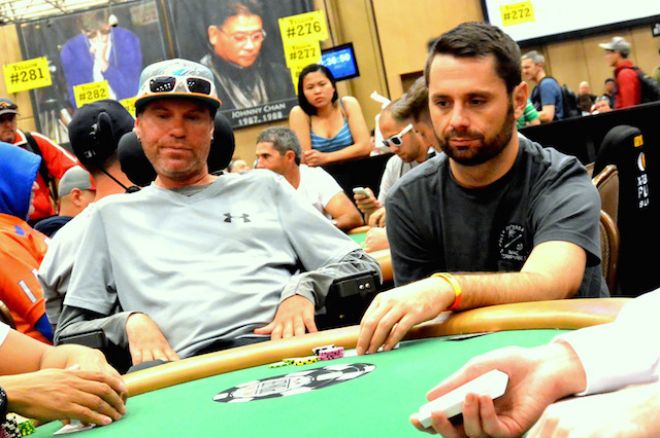 In June 2012, Jeff Fogel notched the first tournament in of his career when he took down the World Poker Tour Regional Series Coconut Creek $165 No-Limit Hold'em Bounty for $1,801. Two weeks later, had another nice score, finishing runner-up in a Wynn Summer Classic $340 No-Limit Hold'em event for $4,540. Few knew that months earlier he'd been diagnosed with amyotrophic lateral sclerosis, also known as ALS or Lou Gehrig's disease.
ALS affects the nervous system with the progressive degeneration of motor neurons, which in time painlessly shuts down the body. It's the same disease theoretical physicist Stephen Hawking has suffered from since 1963, which is when doctors gave him just two years to live. Fogel was given three to five.
The start of the 2015 World Series of Poker was already a few months into the estimate. In the intervening years, Fogel, who coaches flag football and basketball, went from simply experiencing trouble with his right arm to being completely immobilized.
"A month later I thought maybe it'd go away, maybe I pulled something I wasn't sure," Fogel explained. "The muscle atrophy was increasing, and I started to go through some tests. The doctors diagnosed me with ALS. It started in my right arm. That was three years ago. They told me three-five years, but I'm still living my life, I'm still coaching, still being active."
Despite being confined to a motorized chair, Fogel was able to make the trip to the WSOP, thanks in no small part to his friends and a dedicated group of poker players from South Florida. It happened a few months before the WSOP when Fogel invited his friend, Mike Moed, and his wife over for a sneak peek at Who is Lou Gehrig?, a film that tells the story of Fogel's ALS diagnosis. While not yet released, the film, which successfully raised $66,710 on KickStarter, has already garnered quite a bit of praise from the film festival scene..
It was during that visit the two began to talk about the forthcoming WSOP, something Fogel wished he could attend; however, he simply couldn't afford it. Fogel's funds were devoted to his primary care, so Moed suggested they turn to the poker community for help. Thanks to the efforts of friends and players like David Kaye, Howard Hobbs, Steve Karp, Matt Waxman and others, enough money was raised to send Fogel to poker's biggest stage.
"We raised about $2,000 and I was able to rent a van out here, play a couple tournaments," Fogel explained. "Those guys, I'm just blessed to have them in my life now. It's just awesome."
Not only did Fogel require a wheelchair-accessible van, he also required a caretaker at his temporary home, not to mention assistance when playing poker. You see, without the use of his arms Fogel needed to rely on someone to peel his cards. Once again, his friends stepped up to the player in the record-breaking THE COLOSSUS.
All of Fogel's friends took a turn revealing the cards after they'd been dealt. Fogel eyed them, and then took it from there by verbalizing his action. For example, in one early hand, the blinds were 75/150 when Fogel announced a raise to 350 from the hijack. Karp, who was on peeling duty that day, obeyed and put in the necessary chips, which was called by the lady in the big blind. The
flop saw the big blind check-call a bet of 525, and then both players checked the
turn. When the
completed the board on the river, action repeated itself.
"Nice check," the lady suggested and then claimed a flush before tabling the
. Clearly she'd misread her hand, and Fogel had Karp table the
for the win. Fogel went on to bag up 36,000 on Day 1, putting him 1,153rd among the surviving players. On Day 2, he worked that up to 262,000 (152nd of 506), and ultimately fell in 158th place for $8,155 on Day 3.
"It was a good feeling and a lot of fun," Fogel said with a big smile. "I really didn't expect to go that far. It was my first WSOP cash. It's just exciting to go deep in such a prestigious tournament that I made history in. Very honored, and I'm blessed that I went that far."
He continued: "I'm very blessed to have my friends, to have people like this in my life. It's real easy for them to say no, but we all flew out together, we all planned the trip, and I'm just happy man, I couldn't be in a better place right now. This place is like Disney World for adults."
Fogel, who learned to play poker years ago on partypoker, is no longer in Vegas. He's back home in Pembroke Springs spending time with his mother, sisters, and at the Michael Ann Russell Jewish Community Center. He still coaches, has an impending movie release, and generally does his best to keep busy.
"I'm just going to continue living and enjoy my life, be active you know," said Fogel. Only time will tell if Fogel is able to make it back out to the WSOP, but in the meantime he'll keep himself content with the fact that he defied the odds in history's largest-ever live poker tournament. He has high hopes he can do it in life too.
For more on Fogel, and the upcoming Who is Lou Gehrig? Film, check out this Inside South Florida clip:
Want to stay atop all the latest from the 2015 WSOP? If so, make sure to get PokerNews updates on your social media outlets. Follow us on Twitter and find us on both Facebook and Google+!