Bryn Kenney Looks to Get Even at the Poker Masters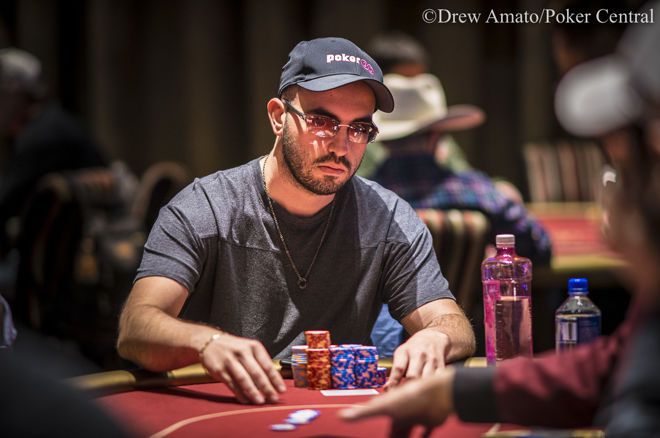 Over the years, poker fans and players are often left wondering how the biggest and best players in the world are performing, but the public numbers we see are often not an accurate representation of what's really going on.
Wins and losses are decided on the turn of a card and once a given result is etched into the accounting sheet, it cannot be undone. One tournament leads into the next one; before you know it an entire festival has wrapped up, and within the blink of an eye another month has passed. As a top professional, you can't be led by any of those time-based metrics, as playing poker for a living is a never-ending quest for self-improvement, profit, and maintaining a lifestyle filled with the freedoms this game can provide.
"I'm happy with how I'm playing, which ultimately is all that matters. I can't control luck."
Bryn Kenney is one of the best examples of someone who's been at the top for many years and remains blatantly unafraid to share both the good and the bad. The candid Long Island born pro currently prepares himself for the upcoming Poker Masters kicking off inside the PokerGO Studio today, as he looks to get even on what on the surface looks like a terrific year with $4.8 million in earnings to date.
"This year has been tough because I haven't had a major win yet despite many deep runs. The number of big buy-ins just ads up, but in all honestly things could be a lot worse. I'm happy with how I'm playing, which ultimately is all that matters. I can't control luck."
Numbers Can Lie
Exemplary of the volatility of grinding the biggest buy-in events, Kenney explains he's actually down on the year. The numbers say that this is Kenney's third biggest year already with still plenty of time left on the calendar, but it's safe to say that time isn't going to be used to pad stats or look at leaderboards; it's used to get even.
Leading up to an expensive stretch that included the Big One for One Drop and the Triton Super High Roller Series on Jeju Island in South Korea, Kenney was still in the black, but this recent turn for the worse hasn't affected him.
"I don't think about standings, I just go out there and play my game."
"My confidence only takes a hit if I think I'm playing poorly, so I try my best to make sure it's not correlated to how I'm doing because short term numbers don't mean anything necessarily."
During last year's inaugural edition of the Poker Masters, Kenney finished second behind Purple Jacket winner Steffen Sontheimer. Coming off a small win during EPT Barcelona, Kenney sounds as motivated as ever to perform well and gives himself a chance to get some standout results.
"I love the Poker Masters series, I love the staff at ARIA, and I believe they run the best tournaments. Combine that with the great setting inside the PokerGO Studio makes for a great atmosphere to play in and be comfortable."
Despite losing on the year well past the midway point, Kenney still feels confident he can turn it around but this isn't going to come at a high cost, because he full well realizes that pacing himself and being sharp for any given event is worth more than firing away to get unstuck.
"Of course, I think I'm the favorite."
"I'm feeling great about my game, although in the coming months I'm also looking forward to relaxing and not traveling so much."
The Poker Masters gives Kenney seven straight opportunities to win big with the Purple Jacket up for grabs at the end of this tough week of high-stakes battles. The standings and one-off performances, however, aren't on Kenney's mind just yet.
"I don't think about standings, I just go out there and play my game. To win the overall standings last year I needed a run in the $100k, which I didn't, but still had a very fun and profitable series."
Looking Ahead
The schedule for this year's Poker Masters is tweaked, something which Kenney provided extensive feedback and help for. The entire series, covered by PokerNews Live Reporting with every final table live streamed on PokerGO, brings No Limit Hold'em Short Deck to North America, as well as No Limit Hold'em tournaments with buy-ins ranging from $10,000 up to $100,000 and a $25,000 Pot Limit Omaha tournament.
"Of course, I think I'm the favorite," Kenney speculates on a potential Purple Jacket win, "I'm here early, relaxed, getting my mind right, and I'm just gonna crush it or at the very least give it my best."
While he's got plenty of accomplishments to boast about, including his current eighth place on poker's all-time money list and a whopping $18.5 million in live tournament earnings since the beginning of 2016, Kenney firmly believes that looking back is not something a poker pro can afford to do.
"The past doesn't matter to me, I think about the present and the future and do my best to get myself where I want to be. Sometimes, when things are going poorly, you need to walk before you can run, and right now I'm just feeling good, I love the competition on the highest level, and have fun playing the game. Those are the most important things."
Keep up on all the high-stakes Poker Masters action as the PokerNews live reporting team brings live updates from the tournament floor from Sept. 7-15. You can also watch the final table action streamed live on PokerGO.