Jonathan Karamalikis Bags in WSOP Circuit Sydney $2,200 Main Event Day 1A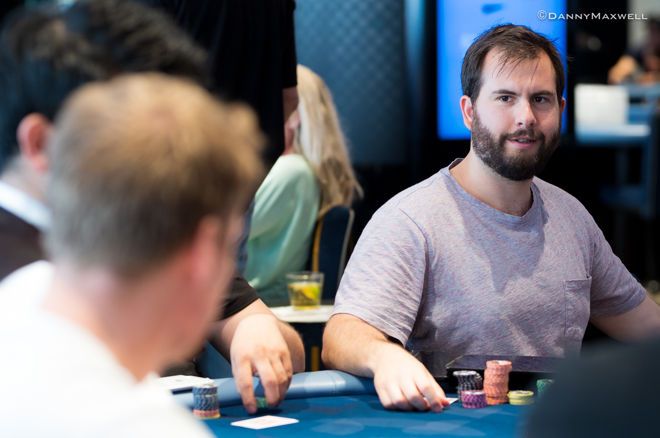 Day 1A of The Star Sydney World Series of Poker Circuit $2,200 Main Event brought out 170 entries but by the end of the day only 31 players had survived the first 14 levels of play. Plenty of notables make it out to play and among them, Jonathan Karamalikis, who is fourth on Australia's all-time money list, survived the day with 144,000 chips.
At the end of the night though, Michael Confos was the most notable as he bagged the current chip lead heading into Day 2 with 366,000. Confos won a huge pot against Stan L. towards the end of the night when he rivered a flush to crack aces.
Not all were as lucky as Confos though. Among those who played on Day 1A but didn't survive were the likes of Gautam Dhingra, Stevan Chew, Sam Khoueis, Gary Benson, Billy Argyros, Andrew Hinrichsen, Hari Varma, Jason Gray, and The Star Sydney $5,000 Challenge winner Matt Wakeman. Wakeman floated with an above average stack several times throughout the day, but in the end he wasn't able to stay afloat and hit the rail just before the end of the night.
WSOPC Sydney Day 1A Survivors
But it was still an exciting day for some, one being Mladen Vukovic. Fresh off a deep run in the $5,000 Challenge here at the Star Sydney, Vukovic was able to build up a massive stack in the middle of Day 1A. For hours, Vukovic couldn't seem to lose a pot. He knocked out several players including Michael Seymour. In the hand, Vukovic won a race with ace-queen against Seymour's fours and that would push him over the 300,000 chips mark. Vukovic finished the day with 298,000 chips which was good enough for the fifth biggest stack so far.
Michael O'Grady also had eventful day. O'Grady started off the day active, playing a multitude of pots against his stacked table. At one point he doubled through Stevan Chew after turning two pair against Chew's top pair. But the talk of the day happened in a massive pot between O'Grady and Najeem Ajez.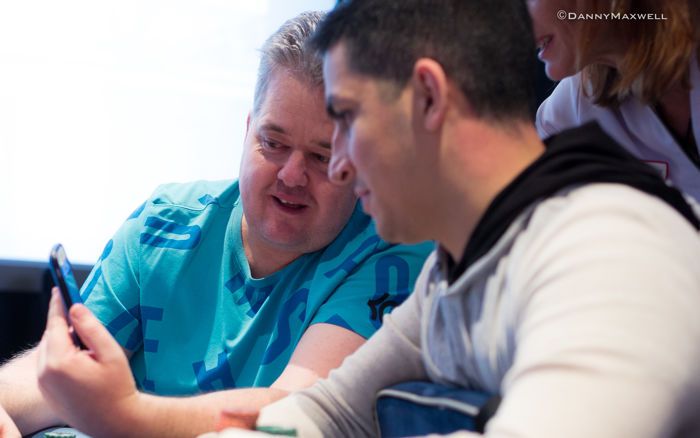 According to one of the staff members, O'Grady had moved all in on a flop of
after a bet and a raise from Ajez. Ajez was in the tank and at one point said to O'Grady, "I'll show you one if you show me one." O'Grady agreed and Ajez showed the
. O'Grady showed his
, assuming that Ajez's hand was dead.
Immediately after this, Ajez said, "I call." And as his hand was not dead yet, it didn't hit the muck, his action stood. Ajez turned up his other card, the
revealing a flopped straight with
. O'Grady was still live with outs to a flush or a straight holding
so the floor instructed the rest of the hand to be dealt out.
The turn was the
which was safe for Ajez, but the river was the
. With that, O'Grady was awarded the pot, making a flush. Ajez was eliminated from the tournament with a shorter stack. After the hand, players at the table continued to discuss the ruling and whether or not Ajez was attempting an angle against O'Grady.
In the end, O'Grady ended up with a massive stack of nearly 250,000 while Ajez hit the rail. O'Grady wouldn't make it through the day though and lost most of his chips after having a rough few levels to end the night.
Some other notable survivors from Day 1A include Brendon Rubie (106,000), Rahul Rastogi (225,000), Jordan Westmoreland (281,500), Julius Colman (193,500), Luke Martinelli (334,000), Jarred Graham (90,500), and Ricky Kroesen as well who finished the night with 339,500 chips, which was good enough for second place in the flight.
Action continues on Saturday, December 8th at 12:30 p.m. with a brand new flight of players for Flight 1B, the second of four flights. Players who survived this flight will combine with the other survivors on Saturday, December 15th where they will play down into the money and beyond. Be sure to stay tuned to PokerNews as we will continue with updates for the remaining days.